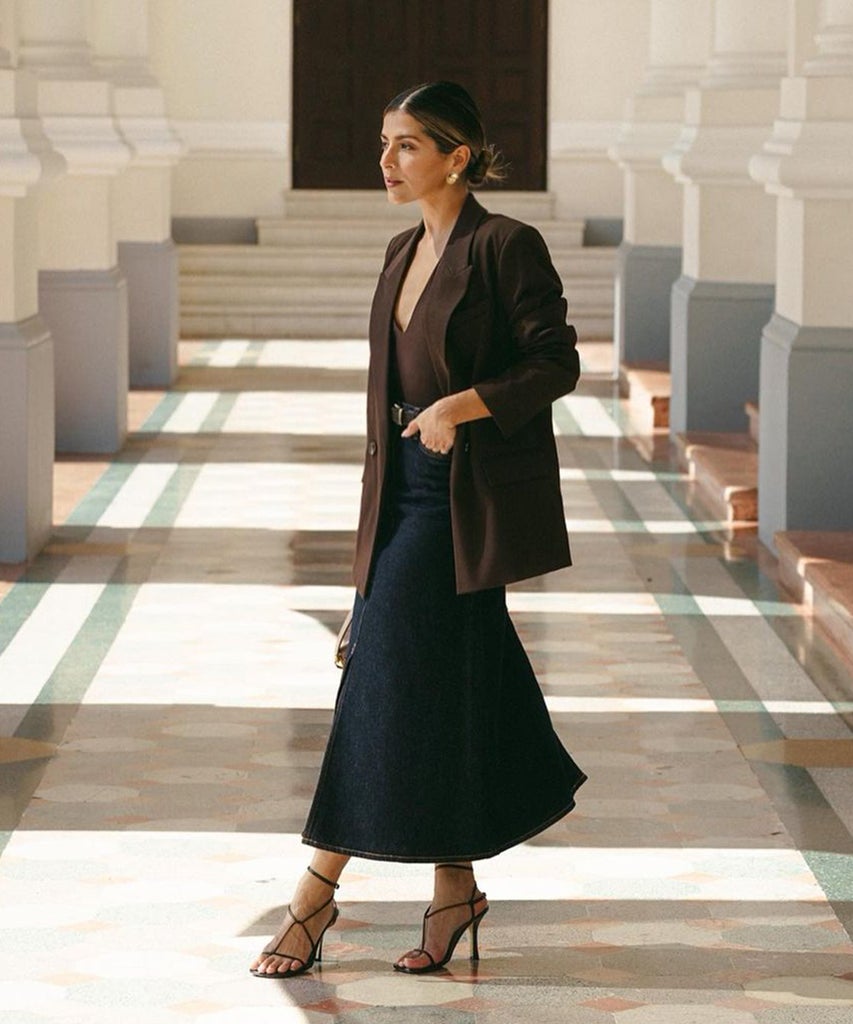 As a fashion editor, I tend to lean on 10 key items when getting dressed for work during the year's coldest months. From midi skirts, to knee-high boots, to versatile knitwear, I know I can put an outfit together in the (literal) dark, as long as I have these items at hand.
Dressing for the office is a skill that can be tricky to master. It's easy to get bored with our rotations of suit trousers and blazers, or feel stuck between wanting to express ourselves and sticking to the office dress code. While it sounds like a separate, curated work wardrobe is the solution (i.e., a lot less stress in the mornings) it's not always realistic—especially if you're trying to curb your consumption or, like many of us, don't have that much disposable income.
When it comes to dressing for work during the winter, a whole new set of struggles crops up. Like—how do you stay warm and cosy while still looking professional? Are there ways to creatively style summer dresses and tops for the colder months? How do you keep fashion fun when you're commuting to work in rain, snow and below-zero temperatures?
The good news is, there are tons of ways to make office fashion easier and more fun this winter.
Scroll on for ideas on how to revamp your winter office wardrobe, along with inspiration from 10 stylish content creators.
Midi skirt
The versatility of the midi skirt is endless. From denim midis, to flowy, peasant-styles, to tailored midis for more corporate settings, these are definitely a key player for winter days at the office. Pair your midi skirt with a bodysuit and blazer like Pam Arias does here, or with a jumper or long-sleeved top. Just layer with tights (or jeans if you're daring!) and you're sorted.
A well-cut blazer
You'll likely have a few blazers already hanging in your wardrobe (or perhaps, too many to count) but ask yourself, "Am I actually wearing them, or are they simply collecting dust?" The problem many of us have with blazers is that we haven't found the right cut or shape for our bodies. One rule of thumb: your blazer should align with your everyday style, and work effortlessly with the rest of your wardrobe. There's the oversized dad look, the slim style, the cropped alternative, and so many more to play with. Don't shy from colour either, as Mecca James-Williams breezily demonstrates, transforming jeans and a white vest into a pitch-perfect office look.
Chunky boots
PSA: if you can't stomp through rain and snow with them, your winter boots are not chunky enough. While these are another obvious practical choice, let this be your reminder that you can have fashion and function when it comes to winter footwear. Look for platforms or grippy soles and materials like rubber and leather to ensure extra comfort on your lunch break walks. Go for equal parts chunky and stylish; just like Olivia Lazuardy's off-white Chelsea boots.
Wide-leg trousers
Wide-leg trousers are here to stay, and they'll be carrying a lot of weight in our wardrobes this winter. Whether you're keen on wide-leg jeans (and if your office allows them) or a wide tailored trouser, this loose silhouette makes it easy to pair with all kinds of tops. Also thanks to the roomier fit, you can layer tights underneath if the weather calls for it. Pair with loafers or boots, à la Polly Sayer above, or even trainers.
Layerable tops
Layering is your best friend during winter, and that applies to your workwear, too. This is a great way to get more use out of your summer tops that are too thin for winter, or lack enough coverage for the office. Got a tube top that you wore loads during the summer? Style it over a long sleeve button-up for an edgy office look. Similarly, pair a strappy top over a long-sleeve in the same (or complementary) colour and you've basically designed something completely new. Take tips from sustainable fashion creator Izzy Manuel who has creatively layered some secondhand gems—then have some fun making your own double, or triple, threats…
Knee-high boots
Knee-high boots are *the* shoe of the year. Gaining popularity over recent seasons thanks to the reign of the cowboy boot, these guys are now as essential to the modern wardrobe as your favourite pair of trainers. Not only can you wear knee-high boots all year round, you can use them as a hack for wearing shorter hems past their designated seasons. Here, Dylana Suarez shows us how it's done, pairing this The Kooples co-ord with her AGL boots.
Durable tights
Ever thought of the perfect outfit during the morning before work, and then realised you don't have a solid pair of tights? Or worse: you discover that the ones you do have are ripped? This is your sign to invest in a proper pair of tights—in other words, ones that offer enough thickness to last multiple wears or ones that have five-star reviews. Don't be afraid to play around with colour and pattern, too, just like Zeena Shah does in her purple pantyhose.
A long tailored coat
We've said it before and we'll say it again: long coats are the one this season. Tailored dusters, floor-length blazers, all-weather trenches—what these all have in common is that they'll pair well with almost any outfit. Save yourself the morning drama and secure an extra-long coat that suits your style and keeps you warm. While you're at it, steal Ren Gray's style with this monochromatic look that's perfect for work and play.
Versatile knitwear
This one is dedicated to our emotional-support jumpers. While a good quality knit will tend to be on the pricier side, it is usually worth the investment (and the more sustainable the better). Not only will your knit last you many seasons, it can also double as a money and energy-saving solution during those winter WFH days, too. Plus there are tons of ways to style and layer your most versatile jumpers—layer over skirts and dresses, pair with jeans or trousers, or take inspiration from Nicole Ocran who sports her fair-isle over a t-shirt and under a blazer.
Loafers
In search of a formal work shoe that can still withstand the winter elements? Have a pair of loafers to round out your footwear arsenal and you'll never struggle with this dilemma again. Like the blazer, the loafer has graduated past its stereotypical frumpy past and has officially entered its cool girl era. Thanks to the influence of trends like Balletcore and Parisian style, and the adoption of loafers by celebs (like Hailey Bieber and Kendall Jenner) and content creators (see Lauren Chan above), the loafer gives you plenty of ways to style skirts, trousers and dresses for the office and beyond.
Like what you see? How about some more R29 goodness, right here?
The Fashion Items R29 Editors Loved This Month
5 Coat and Jacket Trends For Autumn 2023
How To Style Wide-Leg Jeans This Fall