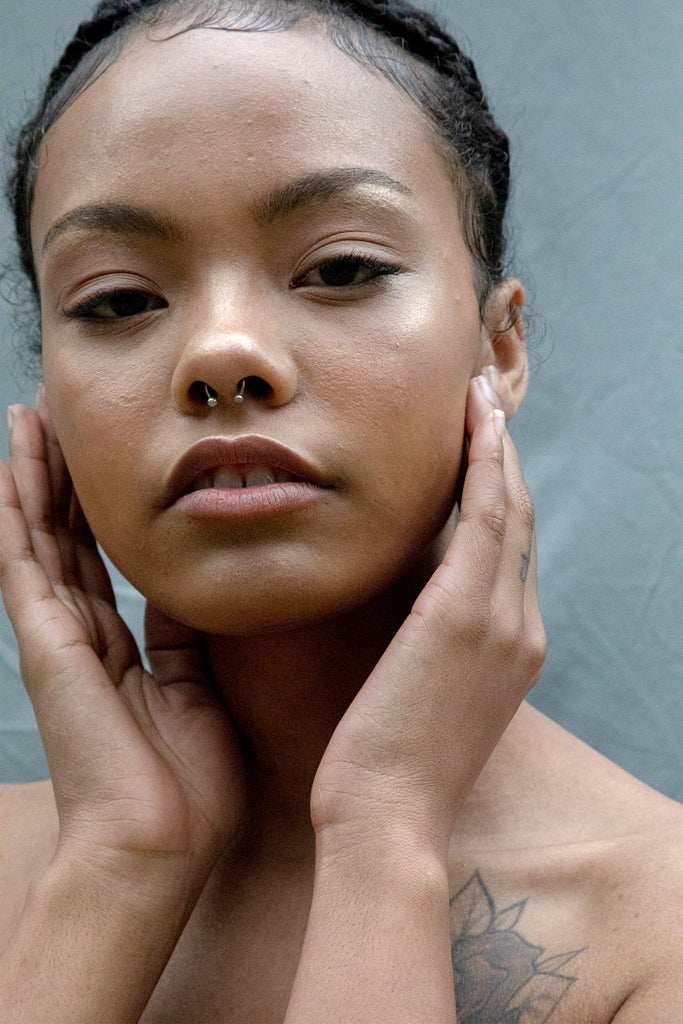 The mercury is slowly but surely dropping, and that means a handful of things. First of all, it's probably time to replace your beaten up winter boots. Secondly, you might want to start hinting at what you'd like for Christmas (it's never too early). And finally, now is a good moment to rethink your winter skincare.
With the cold weather and central heating joining forces, it's only a matter of time before your skin feels the effects. Cue irritation, dry and flaky patches in odd places and that uncomfortable, tight feeling (to pinpoint just a few gripes).
Ahead, consultant dermatologist Dr Alia Ahmed highlights the advice and smart hacks that you might find useful if your skin plays up with the change of season.
Apply Your Most Hydrating Products To Damp Skin
"In winter the humidity is low," said Dr Ahmed, "so we need as much moisture as we can to protect our skin barrier." When you apply products on top of damp skin, Dr Ahmed continued, you're adding in moisture (from water) and trapping it in with your skincare. "But there's no need to be excessive with it. Keep your skincare in the bathroom and after you've showered that's the best time to apply moisturiser specifically to damp skin. The same goes for the body." This is even more beneficial if your moisturiser contains a humectant (something that locks in moisture), such as hyaluronic acid, polyglutamic acid or glycerin, all of which are typically found in face creams.
Ditch Fragrance From Your Skincare
For a select few, especially those with sensitive or reactive skin, fragrance or nice-smelling essential oils in skincare can be aggravating. If you usually tolerate fragranced skincare products in the winter, that's fine, said Dr Ahmed. However, it could be a different story for others. "People tend to be more sensitive and more likely to experience irritation around this time," explained Dr Ahmed, "and even a fragrance in a cleanser — something you wash off — can cause irritation."
For that reason, you might want to stick to what dermatologists refer to as "bland" skincare: simple products that are fragrance-free. R29 rates SVR Sensifine Cream Cleanser, £11.20, Avène Tolerance Hydra-10 Moisturising Cream, £13.74, and Starface Clear As Day SPF 46, £18.99.
Dr Ahmed also has some smart perfume advice, particularly for those who experience eczema or dry skin on their neck when the colder weather hits. "In the winter, we tend to wear more occlusive clothing," said Dr Ahmed, like rollnecks and chunky scarves. "If you wear perfume and put any occlusion over it, the skin barrier is likely to be more sensitive and could cause an itchy, irritated neck." In other words, keep fragrance to your clothes or even spritz it through your hair.
Try "Skin Flooding"
TikTok's skinfluencers love a layering technique and ahead of the cold weather, some are turning to serums that contain two ingredients in particular: polyglutamic acid (which draws moisture into the skin, making it hydrated and plump) and niacinamide (otherwise known as vitamin B3, which improves skin hydration). Then they're following that wave of hydration with moisturiser or sunscreen. We're coining it "skin flooding".
"This is actually quite a good idea," confirmed Dr Ahmed, especially if your skin really feels the effects of the cold. "The layering technique is helpful," she added, "as it's a good way to add moisture to your skin without occluding it with heavy moisturisers," which can potentially clog skin. "Niacinamide in particular is helpful for the skin barrier because in winter your skin barrier gets disrupted anyway. What I would suggest, however, is leaving a little time between application so that everything is absorbed properly."
R29 rates The Inkey List Polyglutamic Acid Serum, £14.99, and Naturium Niacinamide Serum 12% Plus Zinc 2%, £18. Also try Typology Plumping Serum with Polyglutamic Acid 3% + Red Seaweed Extract, £21.50, and The Ordinary Niacinamide 10% + Zinc 1%, £5.
Avoid Over-Moisturising
If you're getting dry skin, it can be tempting to pile on a skin-cocooning moisturiser. You might even reapply it throughout the day. But Dr Ahmed hinted that overdoing it could result in more harm than good, especially if it contains pore-clogging ingredients like paraffin oil, petrolatum, lanolin and mineral oils. "Dry skin might not solely be because it's cold outside or too hot inside your house," she said. "It could be because of inflammation on the skin. A lot of people over-moisturise and make the problem worse, resulting in flaky, scaly skin." The solution is layering, as above. "Layering is so much better," said Dr Ahmed. You're giving your skin a chance to absorb thin layers, rather than bombarding it with something thick and cloying.
Avoid These Cleansing Mistakes
Foaming cleansers are great, particularly for oily and acne-prone skin, but some experts denounce them as drying in the winter months. If you're using one and it works for you, that's great. Dr Ahmed said not to throw it away. But for dry skin, she prefers a creamier cleanser in the winter. It pays to use it effectively.
"Most people don't use cleansers the way they're supposed to," said Dr Ahmed. "Many of us don't rub it in enough and so they don't feel the benefits." Try for at least a minute. Another mistake is not washing it off properly. "You should do 10 to 12 good splashes of water to remove it all," she added. "That's super important."
Dr Ahmed likes to balance things out by using a foaming cleanser in the evening to remove makeup and sunscreen, and a gentle, creamy cleanser in the morning. She also recommended cleansers containing PHAs (polyhydroxy acids). "These cleansers are really good for winter," said Dr Ahmed. "Firstly, they are more gentle than your usual exfoliating acids. Secondly, PHAs keep skin hydrated. That's a little tip."
Try Scientia Pure Clarity Deep Clean PHA Cleanser, £24, Ole Henriksen Truth Juice Daily Cleanser, £25, or Trinny London Better Off AHA/PHA Gel Cleanser, £28.
Invest In A Moisturiser Mist
Face mists have come a long way and they're more substantial in texture, which is ideal ahead of winter. R29 rates Dermalogica Hyaluronic Ceramide Mist, £49, Laneige Cream Skin Mist, £19, and Dr. Jart+ Ceramidin Cream Mist, £22.50.
"These are quite helpful and handy," said Dr Ahmed. "In winter, your skin changes a lot and it depends a lot on the outside and inside environment. Having something like a mist that you can put on without hopefully disrupting everything else you've put on your face [like makeup and sunscreen] is a really good idea." If you are acne-prone, you might like to use a moisturiser mist in place of an actual pot or jar of moisturiser. "Having a light mist which is easily absorbed and then applying sunscreen over that is probably better," said Dr Ahmed.
Try "Skin Cycling"
"People think that they have to stop using active ingredients [like retinol and exfoliating acids] when the weather is colder," said Dr Ahmed. "But you can use them — just more effectively and not as often." Dr Ahmed suggests trying "skin cycling", a TikTok sensation with promising results. It consists of using retinol one evening, an exfoliating acid the evening after, then two nights of using a very simple moisturiser with no active ingredients at all to give your skin a little break. Then repeat.
"You might also want to scale down the percentage of your active ingredients during the winter to allow you to get skin benefits but reduce irritation," said Dr Ahmed. For example, if you're coming to the end of your 5-7% glycolic acid toner, look at trying a lower percentage product next. The same goes for retinol, which can exacerbate dry, irritated skin in the cold.
Dr Ahmed concluded that it's important to consider wearing sunscreen daily, even in the winter, but especially when using any of the above ingredients. This is because they can make skin sensitive to sunlight.
At Refinery29, we're here to help you navigate this overwhelming world of stuff. All of our market picks are independently selected and curated by us. All product details reflect the price and availability at the time of publication. If you buy or click on something we link to on our site, we may earn a commission.
Like what you see? How about some more R29 goodness, right here?
Meet Ectoin, The Ingredient Your Dry Skin Needs
Do You Really Need Vitamin C For 'Good' Skin?
5 Hard Skincare Lessons I Learned At 30 Years Old