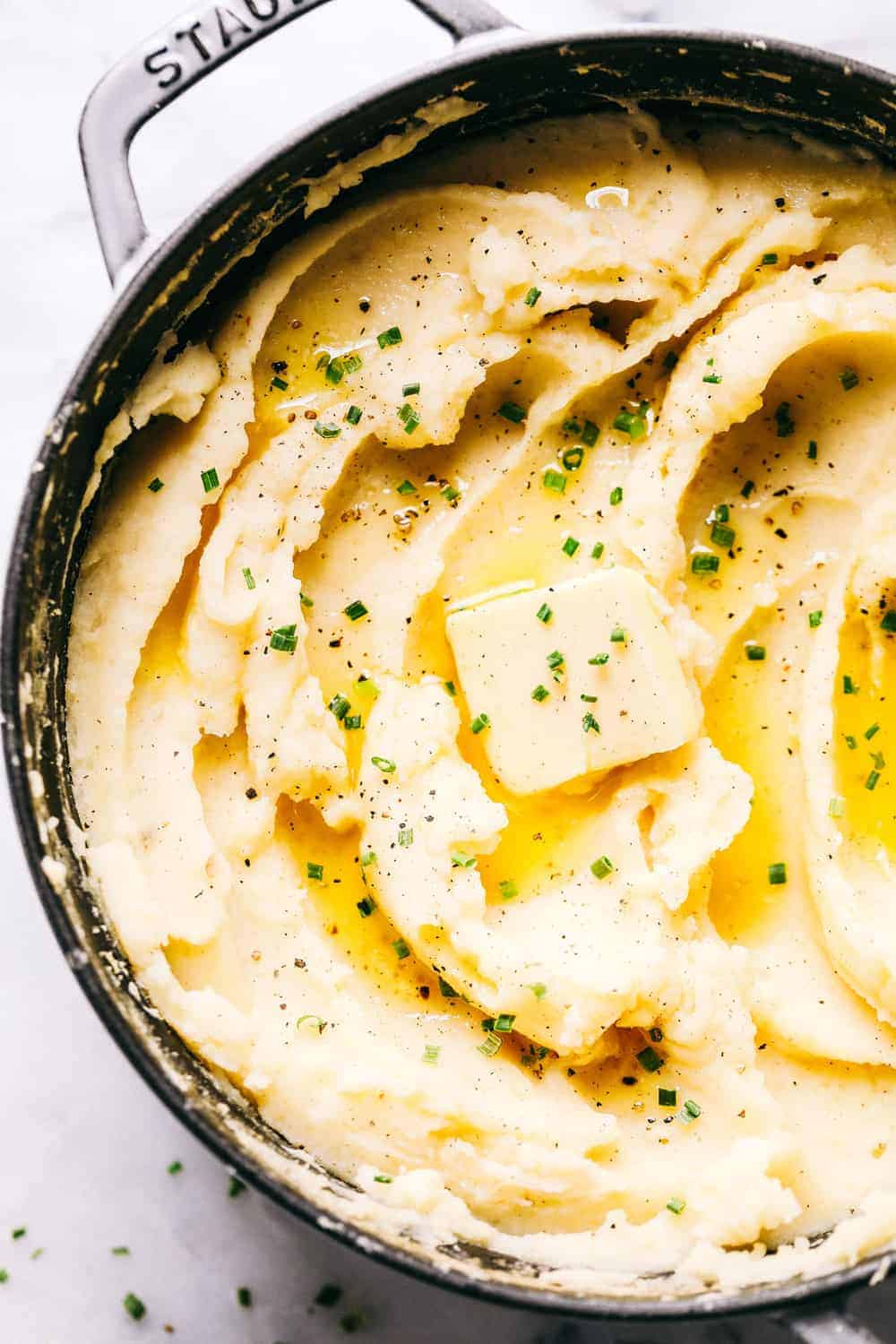 My dad's famous mashed potatoes are always the star of the dinner table! Perfectly creamy, buttery, and they have such amazing flavor. People are always begging him to make the recipe!
These mashed potatoes are the best way to complete any holiday meal. They go perfectly with my garlic herb prime rib, honey glazed ham, or spatchcock turkey!
The Best Recipe for Buttery & Delicious Mashed Potatoes
I have a little story to tell you. Growing up, I didn't like mashed potatoes. (Crazy, I know!) But there was one special recipe that would get me to eat mashed potatoes and LOVE them. That is my dad's mashed potato recipe. Maybe I have just been spoiled growing up and only had the best that it seems no other recipe can compare. Whatever it is, we can always count on my dad's mashed potatoes being the star of the dinner table.
What has taken me so long to get these on the blog? I really have no idea. Maybe there has been a bit of intimidation of making my dad's famous mashed potatoes. I never have had to! But it just so happened that he came over and was able to make this recipe for you AND teach me all of his tips and tricks for making his famous mashed potatoes. They're so buttery and amazing, trust me, once you try them it will be the only recipe you want to use.
A Reader's Review
These are the best mashed potatoes I have ever tried! Thank you for the delicious and easy recipe!
Charlene Soukup
Ingredients You'll Need
The good news is, this recipe for mashed potatoes uses super simple ingredients. The key here is the ratios that are used! Check out the recipe card at the end of the post for exact measurements.
Potatoes (Russet or Gold): These are the heart the dish. Both are great for achieving the perfect buttery texture.
1% Milk: Pour in a bit of milk for creaminess. It adds richness without making things too heavy.
Unsalted Butter: Butter, (and a lot of it) is what makes these potatoes so irresistible. I used unsalted butter since we add seasonings separately.
Lawry's Seasoning Salt: Add this to taste to give your potatoes delicious savory flavor.
Pepper: A simple seasoning that helps to tie all the flavors together! Add to taste so your potatoes turn out just how you like them.
Freshly Chopped Chives (for garnish): These bring a burst of freshness and a hint of onion flavor, making your mashed potatoes look and taste gourmet. You could also use fresh herbs! Rosemary and parsley are both great options.
How to Make the Best Mashed Potatoes
Potatoes so good, they'll be the star of Thanksgiving, Christmas, Easter, you name it! Here's how to get them tasting great every time you make them:
Prepare Your Potatoes: To start, peel and cut your potatoes into about 1/2 -1 inch cubes. Place them into a large pot and wash the starch off until the water runs clear. Fill the pot with cold water to fully submerse the potatoes. Add a dash of salt.
Boil: Boil the potatoes for about 15 minutes or until they are fork tender. Then drain the potatoes and add milk, butter, and salt.
Mash, Adjust Flavor: Using an electric hand mixer, beat the potatoes on high until they start to form peaks. If the potatoes still seem thick and need to be creamier, add additional milk. Also add additional salt to taste. (You can also mash them with a potato masher.)
Tips for Success
Don't Skimp on the Butter! Butter will be your best friend in this recipe. The secret to perfectly creamy and delicious mashed potatoes is the butter. Not the most diet-friendly recipe out there, but it tastes seriously amazing!
Don't Add Too Much Liquid: This will make your potatoes runny. It's better to start with a fourth a cup of milk and add more as needed, then to end up with runny mashed potatoes.
Salt to Taste: I wrote to add 2 teaspoons of salt in the instructions. BUT we probably add closer to a tablespoon. Everyone has different preferences so add more if needed.
What Can I Add to My Mashed Potatoes?
Here are a few of my favorite mix-ins! Add one or all for a version of these potatoes that is extra flavorful with amazing texture. Note: these are all optional, so feel free to add what you like and omit what you don't! The recipe is developed to be served as-is.
Garlic (add 3-4 cloves of minced garlic, fresh is best!)
Cream Cheese (this will make them even creamier and add a bit of tang.)
Sour Cream (another way to add creaminess and tangy flavor!)
Chopped Green Onions for that classic 'loaded' flavor.
Bacon, because everything is better with bacon!
Parmesan Cheese for nutty, savory flavor.
Storing Leftovers
Let's be real, leftovers are one of the best things about Thanksgiving. So, if you have some of these amazing potatoes left over, here's how to keep them tasting fresh and delicious for a few more days!
In the Refrigerator: Transfer any leftover mashed potatoes to an airtight container and then pop them in the fridge. They'll stay good for 3-4 days. When you're ready to enjoy them again, warm in the microwave in 30-second intervals or over the stove on medium-low heat.
Keep Them Soft! If your potatoes get a bit dry, a splash of milk can work wonders to revive the smooth, velvety texture.
More Mashed Potato Recipes to Try
With Thanksgiving just around the corner, here are a few more great recipes to add to the dinner lineup:
Side Dishes
5 hrs 15 mins
Dad's Famous Mashed Potatoes
My dad's famous mashed potatoes are always the star of the dinner table! Perfectly creamy, buttery, and they have such amazing flavor. People are always begging him to make the recipe!
Servings 8
Calories 1592kcal
Author Alyssa Rivers
6-8

russet or gold potatoes

1/4

cup

1% milk

1/2

cup

unsalted butter

2

teaspoons

Lawry's seasoning salt

Optional garnish: freshly chopped chives
To start, peel and cut your potatoes into about 1/2 -1 inch cubes. Place them into a large pot and wash the starch off until the water runs clear. Fill the pot with cold water to fully submerse the potatoes. Add a dash of salt.

Boil the potatoes for about 15 minutes or until they are fork tender. Drain the potatoes and add milk, butter, and salt.

Using an electric hand mixer, beat the potatoes on high until they start to form peaks. If the potatoes still seem thick and need to be creamer, add additional milk. Also add additional salt to taste. (You can also mash them with a potato masher.)
Originally posted November 11, 2018
Updated on November 12, 2023
Calories: 1592kcal | Carbohydrates: 162g | Protein: 36g | Fat: 95g | Saturated Fat: 60g | Cholesterol: 250mg | Sodium: 5615mg | Potassium: 5359mg | Fiber: 32g | Sugar: 3g | Vitamin A: 2935IU | Vitamin C: 145.7mg | Calcium: 480mg | Iron: 41.4mg