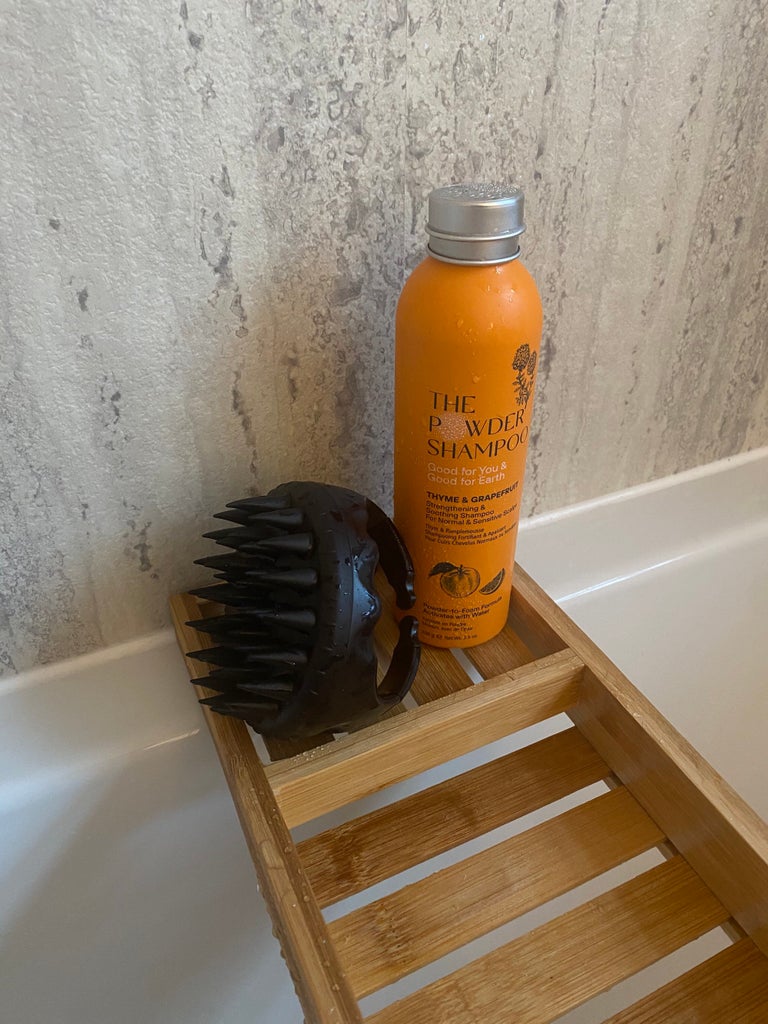 You don't need to be an expert to know that the beauty industry has a serious problem with single-use plastics and recycling. Even if we each do our part to put every bottle, pot and jar in the correct bin every month, there's no guarantee that these materials will get a second lease of life. And that's just the packaging side of things: It's also what goes into making our favourite formulas that is currently causing major discussion. The latest debate is water in beauty products. Did you know that a standard bottle of shampoo or conditioner contains between 75% and 85% water? This means that you're only getting between 25% at most and 15% at the least of actual, active shampoo ingredients — aka all the goodness that you're splurging on.
The Powder Shampoo is aiming to challenge and change this. It describes itself as a "planet-first, plastic-free and plant-powered brand", creating powder-to-foam formulas in plastic-free aluminium bottles that make your shower routine more sustainable and better for both your hair and bank account. "How?" we hear you cry — the same question we asked the brand ourselves when it reached out for us to test. Basically, its powders (which are also vegan and cruelty free FYI), are waterless and don't require any fresh water during production. In theory, this means that they last a lot longer than traditional shampoo; according to the brand, you get 100 more washes per Powder Shampoo bottle, and each customer saves five litres of water each time they buy.
Sulphates, silicones, parabens (preservatives which prolong the shelf life of products), phthalates (binders and plasticisers), and synthetic fragrances often get a bad rap in beauty. None of these ingredients are inherently bad, however some people with sensitive skin may find that ditching sulphates, and fragrance in particular, is beneficial for them. The brand doesn't use any of the above. Rather, it uses an array of 25 botanically derived ingredients and eight micro-encapsulated essential oils, from healing spirulina to strengthening rice protein. With all this, The Powder Shampoo hopes to cut down plastic and water use in the beauty industry and encourage customers to keep and refill their OG aluminium bottles (with the brand's recyclable and compostable paper bag refills) or yearly supply kits. That means no complicated return processes. It even plants one tree for every product sold in a bid to offset carbon emissions and its goal is to plant one million trees by 2030.
Sounds all too good to be true, right? Curious, three R29 editors with three very different hair types decided to test out three different formulas: Invigorating & Stimulating, Exfoliating & Balancing and Strengthening & Soothing. At the end of the day, we wanted to find out whether — despite all these amazing qualities — The Powder Shampoo is really a worthy alternative to our usual buys (enough to have us ditching the plastic bottles to give them a permanent spot in our bathrooms). Read on for our honest thoughts.
At Refinery29, we're here to help you navigate this overwhelming world of stuff. All of our market picks are independently selected and curated by us. All product details reflect the price and availability at the time of publication. If you buy or click on something we link to on our site, we may earn a commission.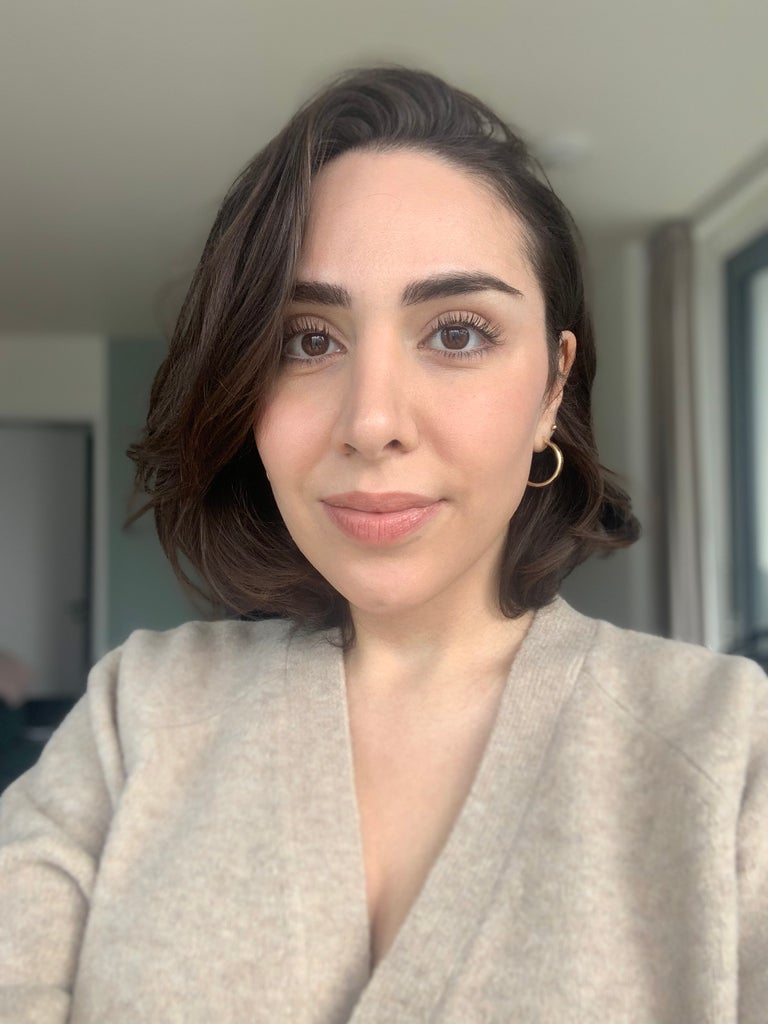 Tested by: Jacqueline Kilikita, Deputy Beauty Director.
Hair type: Thick, wavy hair. Scalp tends to become flaky.
"I was sceptical about powder shampoo at first. Would it lather up a treat like my trusty L'Oréal Elvive Hydra Hyaluronic Shampoo, or fall flat, quite literally? Would it leave behind residue, like dry shampoo? And would I have to use half the bottle for it to work? A capful was enough to prove me wrong. On contact with water, it created a substantial amount of suds that made washing my thick hair both enjoyable and simple — something I thought I'd never say. I think that's because you're encouraged to create the lather in your hands, rather than directly on your scalp or in your hair. This made it really easy to distribute the shampoo throughout my mid-lengths, ends and scalp. When I rinsed out the suds, I really couldn't tell the difference between my current shampoo and this powder version. It left my hair feeling soft, clean and airy.
"I can't speak for its stimulating properties just yet, as I want to finish the entire bottle first, but I think this would make a great travel companion, especially if you're prone to suitcase spillages. It's slightly more expensive than my current shampoo, but I could've gotten away with using far less product. I also like that one tree is planted for every bottle sold. However, I'm not swayed by the 'clean' messaging. This is an unregulated term in the beauty industry, so it doesn't mean much. In this case, the shampoo is water- and plastic-free (both of which are better for the environment). It's also sulphate-free — but sulphates can be very beneficial when it comes to cleansing your hair thoroughly. They help remove product buildup, which can lead to scalp issues. For this reason, I'd alternate this shampoo with a version that contains sulphates to keep my hair and scalp happy in the long run."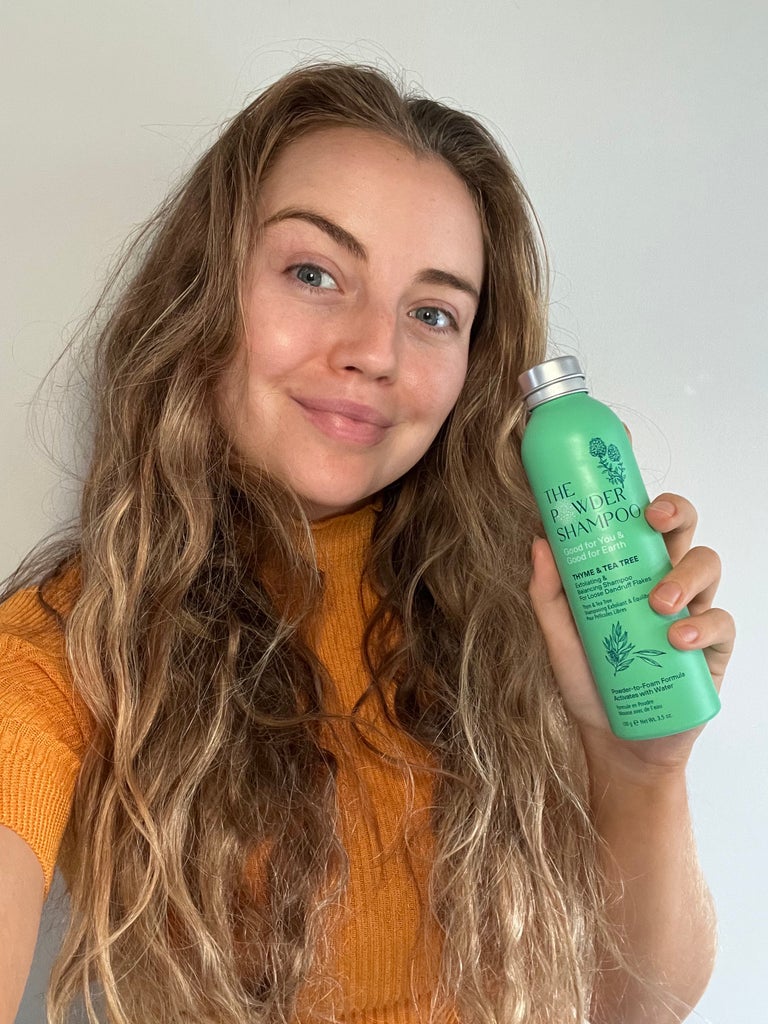 Tested by: Lauren Cunningham, Affiliate Freelance Contributor.
Hair type: Thick, long, curly and dry (with a dry, sensitive scalp).
"There's been a lot of conversation around water in beauty products recently, prompting the rise in "water-free" formulas and solid shampoo bars, none of which I've been that impressed with just yet. It's not that they're bad in any way, but old habits die hard, right? Despite grand marketing claims or sustainable stance, I've not yet been swayed away from standard bottles of liquid-filled shampoo like my favourite We Are Paradoxx Moisture Shampoo. I also have very thick, curly, long and dry hair, so try not to change my hair routine too often as finding something that works isn't always easy.
"While I can't say I've now thrown all of these away in favour of The Powder Shampoo, this is the closest I've come to considering that the water-free alternatives may actually be worth the swap. It's incredibly easy to use, lathered up just like my standard shampoo (so long as you mix it with lots of water) and left my hair feeling clean without drying it out in any way. The thyme and tea tree scent isn't for me, giving medical or dog-shampoo vibes (IMO), although it did seem to clean my scalp of any dead skin — an ongoing issue with my dry skin (especially as we head into winter), and the core reason why I chose this formula. Saying this, I would definitely like to try the thyme and grapefruit scent. I reckon this powder formula would definitely come in handy when travelling because it's so much lighter than a normal liquid shampoo bottle and doesn't encroach on your liquid allowance. So long hotel testers and splurging in the airport Boots!"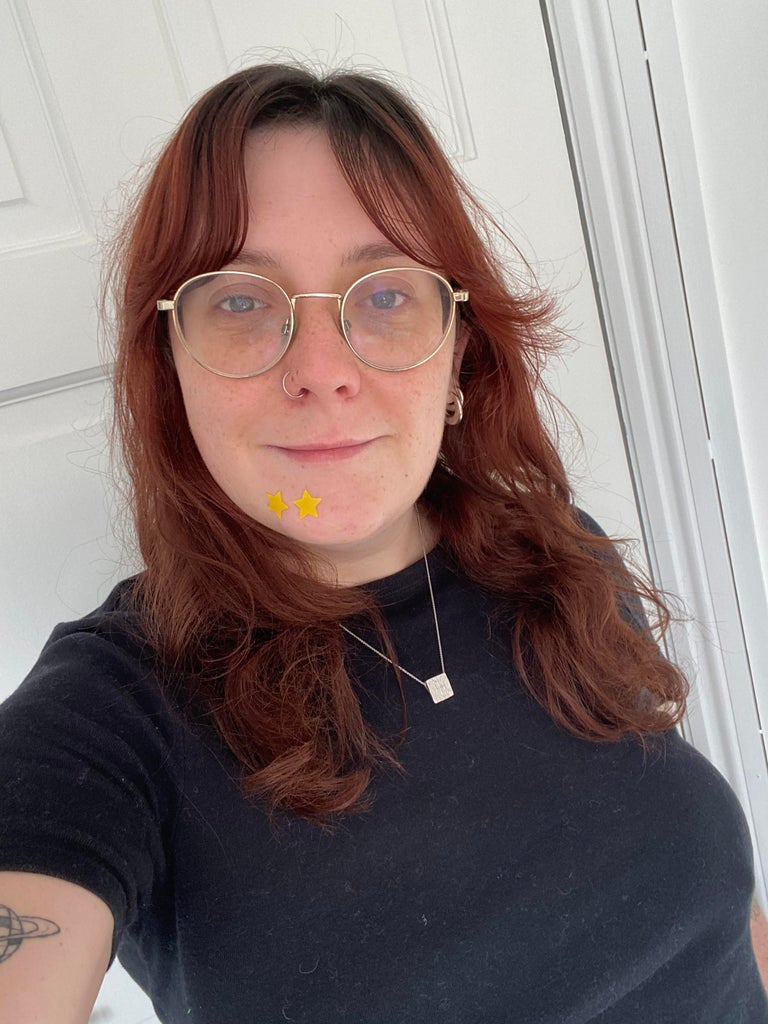 Tested by: Esther Newman, Affiliate Writer & Content Producer.
Hair type: Weak, fine and wavy. I also colour my hair — naturally a dark brown, now a deep cherry red — which means it's dry and can get frizzy.
"Having delved into the world of coloured hair for the first time this year, I'm always on the hunt for gentle, moisturising shampoos that won't stress out my already-weak strands but will give it tons of moisture (typically, this has been the Monday Moisture Shampoo or Kérastase Chroma Absolu Bain Chroma Respect Shampoo). Before testing, I honestly didn't have high hopes for The Power Shampoo. How could a powder save and soothe my poor, colour-damaged tresses to the same degree? While I can't say that I've totally been proven wrong, I can see myself buying it again — if only for how much less product I use every wash (a small palmful of powder versus one or even two massive globs of liquid shampoo) and how quickly it lathers up.
"With so much less product, my hair does still feel thoroughly cleansed and my scalp is not irritated. However, my dry, coloured hair then also needs a lot of moisture to stop it looking straw-like and frizzy, and The Powder Shampoo doesn't offer powder conditioners, so I am still reaching for my usual big brand names and weekly hair masks to keep it in top condition (which does feel like it defeats the point!). Also, I'm sadly not convinced that this powder formula does much for my natural waves, which look rather lacklustre in my selfie (here I used The Powder Shampoo followed by my Monday Moisture Conditioner — the frizz I attribute more to the drop in temperature and central heating). Potentially, I think this is just not the right formula for me, but unfortunately, the brand doesn't have a dedicated product for dry hair.
"Smell-wise, this formula has a light fruity scent, which is refreshing and not too overpowering. Another of my gripes is that, though the product lends itself to travel (and the brand suggests this is the perfect travel companion in its own comms), in my own experience having commuted into London for several overnight work trips over the last few weeks, I found the packaging can easily lead to spills. The top of the aluminium bottle — where the powder comes out — looks like a classic talc powder bottle or salt shaker, with several small holes. The metal cap lid has grooves that supposed to help it grip onto the bottle, which I had thought was enough security, but found instead that — after one especially bumpy train ride — this can easily be shaken off. I now will be taking extra precautions and taping the lid down, just for peace of mind."
Like what you see? How about some more R29 goodness, right here?
Sorry, But These 7 Hair Products Are A Scam
7 Tips A Trichologist Gave Me For Healthy Hair
I Tried TikTok's Most Hyped Hair Brand & I Love It