You've got to hand it to The Ordinary, it always keeps on top of the most talked-about skincare trends. It was one of the first brands to really champion beta glucan (a hydrating ingredient that experts say works 20% harder than hyaluronic acid) in its latest Natural Moisturising Factors moisturiser. And when we all fell for niacinamide (which minimises excess oil production and fine lines and acts as an anti-inflammatory), it brought us the bestselling Niacinamide 10% + Zinc 1% (a snip of the price of other serums on the market at just £5). It makes sense, then, that the brand's scientists are leaning into one of the biggest beauty movements right now: skin barrier support.
What is the skin barrier?
Everyone has a skin barrier. It's the name given to the outermost layer of your skin, which prevents water loss and stops harmful things like bacteria from getting inside. When your barrier is happily intact, skin feels soft and supple. When it isn't, you can expect flaky, dry, rough or red skin that's usually sore to the touch. You might associate a damaged skin barrier with cold weather, when high winds and central heating both have a hand in zapping skin of moisture. However, anything can throw your skin barrier off balance, including over-cleansing, using skincare ingredients like retinol and exfoliating acids incorrectly or too frequently, and too much UV exposure (sunburn, we're looking at you).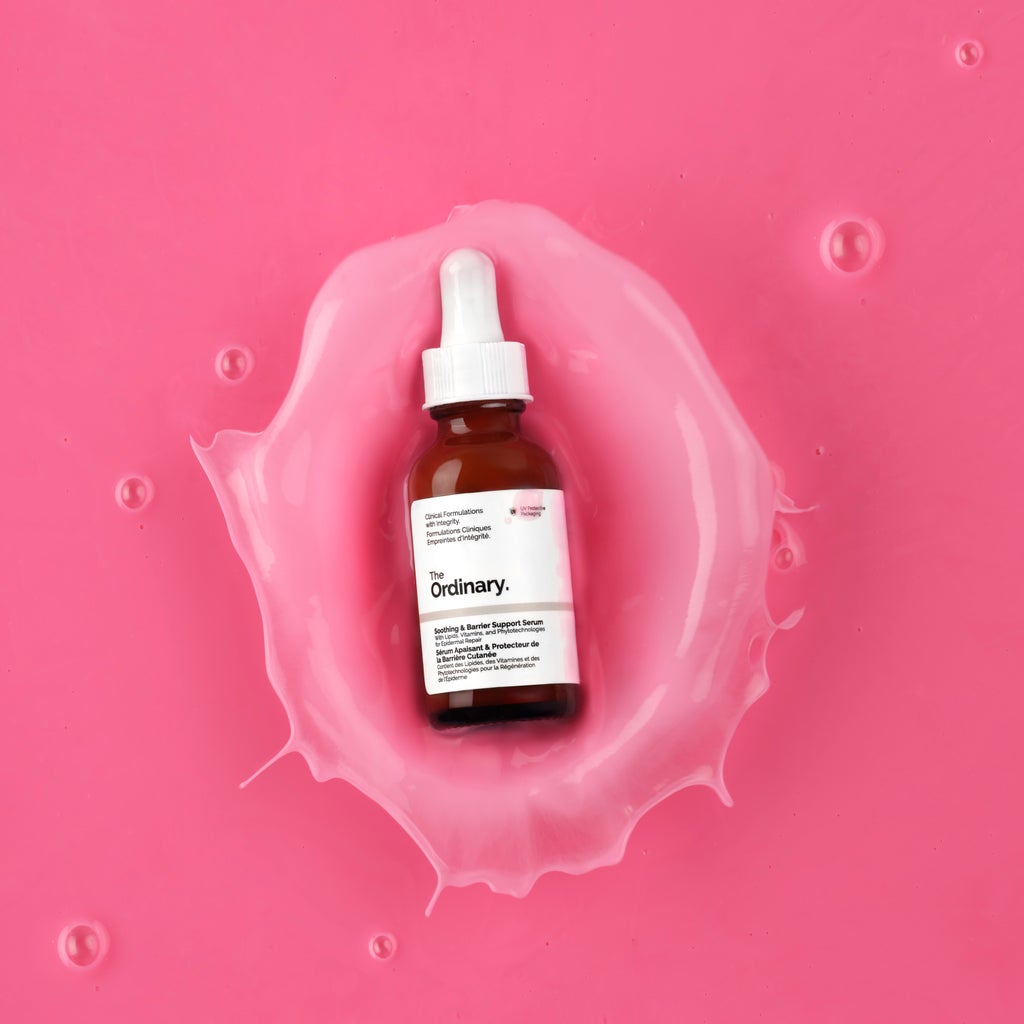 Products that claim to fix and maintain the skin's barrier aren't exactly new but The Ordinary has added Soothing & Barrier Support Serum, £17.30, to its burgeoning skincare family. The brand claims that the new product helps to improve the look of uneven skin texture, soothes the appearance of redness associated with dry skin and promotes radiance. This all sounds promising but what exactly is inside it? I was the first beauty journalist to receive a sample in early July and of course I made a beeline for the ingredients list.
Which ingredients are in The Ordinary's Soothing & Barrier Support Serum?
First up, lipids, an umbrella term for fats and oils. Without subjecting you to a science lesson, the lipids in this serum are ceramides, essentially fatty molecules which hold the skin barrier together. Ceramides occur naturally in the skin but our reserves often run low, resulting in dry, itchy and inflamed skin. Serums and moisturisers containing ceramides help to replenish these reserves. Then there's vitamin B12. Compared to vitamin C and vitamin A (aka retinol), this vitamin is often overlooked in skincare but various studies have shown that topical application is beneficial, particularly for atopic dermatitis, a condition that results in dry, itchy and cracked skin.
Gallic acid derivatives also make up this soothing serum. Gallic acid (which comes from plants) is an antioxidant so it helps protect skin against environmental aggressors like pollution and UV. (That said, wearing a high factor, broad spectrum sunscreen is still a must in the daytime.) Combined with niacinamide and redness-reducing centella asiatica, this serum sounds like the perfect addition to anyone's skincare routine, not just those prone to redness, dryness or sensitivity.
Is The Ordinary's Soothing & Barrier Support Serum any good?
First I had to get past the Pepto Bismol-esque appearance. No other serum in my routine is bright pink! The inclusion of fermentation-derived cyanocobalamin (basically vitamin B12) is responsible for the fuchsia hue, according to a brand representative at The Ordinary. I have to admit that the serum has a slight whiff of cardboard but it's not bad by any means. I'd rather this than something perfumed as fragrance often irritates my skin. Happily, the smell dissipates quickly, as does the product. It doesn't leave behind a pink tinge, nor does it feel tacky.
I've been using this serum every day for almost a month now, after cleansing and before sunscreen in the daytime (Trinny London See The Light Moisturiser SPF 50, £45), then after cleansing and before moisturiser in the evening (Vichy Minéral 89 72HR Moisture Boosting Cream, £22). At first I thought, How special can a moisturising serum be? But I didn't realise just how much my skin would benefit from this extra moisturising step. No matter how hard I try to stay out of the sun, outdoor dinners, drinks and catch-ups with friends mean my skin has felt rather frazzled this summer. To keep my breakouts under control, I also sometimes use tretinoin, a high-strength retinoid that can make skin dry. Incorporating this serum into my routine has helped to alleviate parched areas and flaky pieces of skin typical of retinoid use.
While I can't say I've noticed any difference in the faint lines underneath my eyes or on my forehead, my skin tone has vastly improved. In the last week, I've not felt the need to wear any foundation or concealer, just a little blush to add colour to my cheeks. Used in tandem with retinoids, I'm certain this serum has resulted in fewer breakouts and blackheads, too (that'll be the niacinamide, which controls sebum).
At £17.50, this serum is pricier than others in The Ordinary's repertoire. It doesn't necessarily target a certain skin issue, like Alpha Arbutin 2% + HA, £9.90, which is great for hyperpigmentation or Aloe 2% + NAG 2% Solution, £12.90, for helping to fade post-acne marks. However, that means everyone can use it. Sure, lots of skincare nowadays boasts similar ingredients, particularly ceramides and antioxidants, but I like that they're all in one place in this serum, which is still relatively affordable considering. Is it a must for post-summer skin? Probably not, but I am sold on its lightweight approach to boosting moisture.
The Ordinary Soothing & Barrier Support Serum, £17.30, is available to buy at www.theordinary.com now.
At Refinery29, we're here to help you navigate this overwhelming world of stuff. All of our market picks are independently selected and curated by the editorial team. If you buy something we link to on our site, Refinery29 may earn commission.
Like what you see? How about some more R29 goodness, right here?
The Ordinary's New Moisturiser Isn't For Everyone
I Injected Myself For Tanned Skin & I Have Regrets
All The Products A GP Prescribed Me For Great Skin