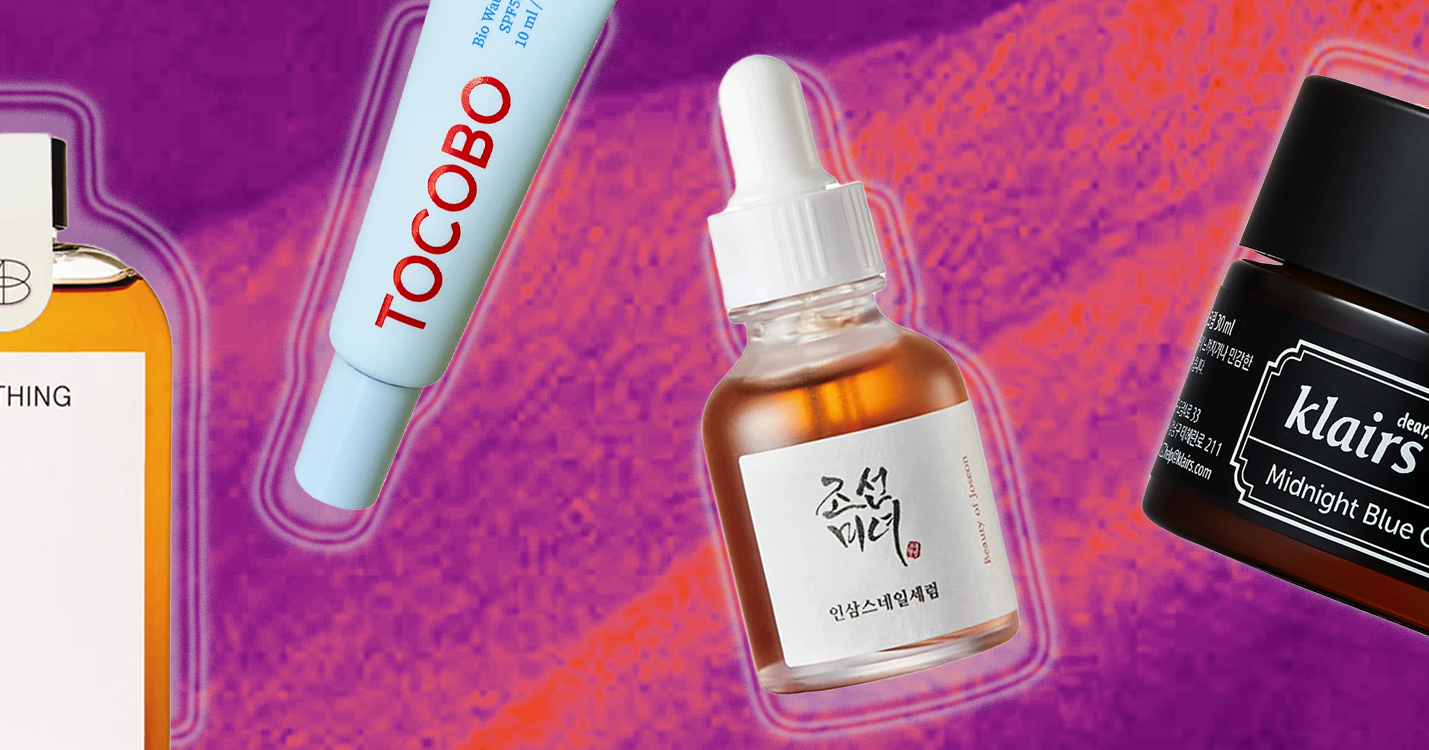 K-beauty, for all its influence in the UK, is largely misunderstood by the uninitiated. Often, it's defined by its most intriguing, eye-catching, and out-there ingredients (snail mucin anyone?), or futuristic, sci-fi looking products destined for social media clout (see Dr Jart+'s slightly terrifying Cryo Rubber Mask). For many, the only thing they know is the complicated 10-step skincare routines with all the gadgets and gizmos, lotions and potions. But that is only a partial glimpse into the juggernaut that is K-Beauty -– and some of it is an outright fiction. I have to admit, I was guilty of believing much of this. That is until I sat down with Jin Kwon, K-beauty expert and founder of TONIC15: the go-to shopping destination in the UK and Europe.
Acknowledging that the world of K-beauty can sometimes be overwhelming and intimidating to newbies, Kwon's goal is to combine her insider knowledge with a rigorous testing process to help make the industry more approachable and accessible — to "share brand and product stories that often get lost in translation," she tells R29. The result is a highly-curated range of cult classics and newly hyped brands across skincare, hair care and makeup, plus a wealth of insider information and beauty guides.
So who better to walk me through the skincare trends, brands and practices actually being used by Koreans themselves (and to help dispel some of those popular stereotypes)? Read on as Kwon breaks down the key ingredients to get excited about, how they can work each skin type and the products to be added to your cart. (Spoiler: that 10-step routine stereotype is a total myth.)
Even better, you can now shop all the products included in this piece as part of Tonic15's Black Friday sale: 25% off site-wide!
At Refinery29, we're here to help you navigate this overwhelming world of stuff. All of our market picks are independently selected and curated by us. All product details reflect the price and availability at the time of publication. If you buy or click on something we link to on our site, we may earn a commission.
Forget the Korean-beauty 10-step skincare routine myth
"It's the biggest K-beauty misconception," Kwon tells me, referring to the notion of a 10-step skincare routine. "It does not exist in Korea." Rather, in mega metropolises like the South Korean capital Seoul, it's the impact of pollution (Korea has notoriously poor air quality), extreme weather and stress that are the main concerns. As such, Koreans prioritise gentle, soothing and non-irritating skincare, especially at home, whereas the "deeper treatments" or "hard work" as Kwon puts it, tends to be left for dermatologists (who, she explains, are easy to come by in Korea).
As well as this, incorporating too many products into one routine is known to clog skin and further exacerbate skin conditions such as acne. It's also expensive to keep up. "Start slow — if you make an extreme change with your skincare, no matter how gentle the products are, this can potentially cause irritation, and when this occurs it's difficult to know which product or ingredient is the culprit." Everyone has different skincare needs and it is more important to find products that work best for you."
Start with cleansers, toners, essences & SPF
Really struggling to know where to start your K-beauty journey? The trick is to just start replacing products within your existing routine with Korean skincare formulas once you've run out. "Because Korean skincare emphasises hydrating, soothing and strengthening the skin barrier, I find categories like cleansers, toners or essences and SPFs are especially strong for K-beauty, so this is a good place to start when selecting products to slot into your routine," Kwon says.
The top trending K-beauty ingredients to look out for
If you have a damaged skin barrier, irritated skin or are prone to sensitivities consider adding centella asiatica into your routine, says Kwon. Commonly known as asiastic pennywort or tiger grass, it's a potent antioxidant and rich source of fatty and amino acids that help fight free radicals (unstable atoms in the atmosphere that can cause skin damage like pollution and dust), and support the natural healing process. "It's traditionally been used in Asian medicine to treat minor wounds and skin conditions such as psoriasis, but now its become a staple ingredient in modern K-beauty skincare products because it works wonders to help calm and diminish redness, while improving hydration by reducing water loss from the surface of the skin." Those with oily skin can benefit from this wonder ingredient, too. Kwon notes that centella asiatica's antibacterial properties can help treat papules, small, red bumps caused by clogged pores.
Kwon recommends One Thing's Centella Asiatica Extract, £14.90, for a potent, one-ingredient hit. She suggests layering it for extra skin soothing moisture. "Korean people tend to layer their toners several times to help lock in the hydration," she explains, but also mentions that you can add it to a spray bottle as an on-the-go mist or add a few drops to your moisturiser as a quick boost. I've only been using the Centella Asiatica Extract for a few weeks now but I have already noticed an improvement in my dry, sensitive complexion, especially after a heat wave-driven hay fever flare up. When used as a toner, I've noticed it's helped my skin retain my expensive moisturiser (Charlotte Tilbury's Magic Cream, £52 if you want to know) to help it feel less flaky and dry. Those with oily skin will benefit, too.
Another of Kwon's favourite products is ISOI Cicago Cica Speedy Calming Pads, £24.90. "When my skin feels especially irritated, dehydrated or red, I use these handy pads as an SOS," she explains. "I apply three over my cheeks and forehead or wherever my skin is sensitised as I would a face mask." As they're pre-soaked, they're perfect for travel. (I've been popping these in my bag for weekend trips away.)
Not to be mistaken for a potion ingredient from Harry Potter, mugwort is a weed that is hailed as a healing herb — it's another favourite of traditional Asian medicine for its antibacterial and antifungal properties, used to treat inflammation, bacterial infections and circulatory disorders. (At traditional bath houses you can even soak in the healing herb). "​​In Korea, mugwort is used like tea tree oil to detoxify, clear and soothe problematic, unhappy skin," says Kwon. "It's naturally rich in vitamins A and C and really helps to increase the production of proteins that help form the skin's barrier. With fewer 'holes' in the barrier, skin retains water more effectively."
If you're looking to incorporate this magic ingredient into your routine, Kwon suggests I'm From Mugwort Mask, £8, best applied in a thick layer to cleansed skin and left to sit for 15 minutes. While she loves the texture, I did find it a little strange at first; like a thick, squidgy jelly that felt a little drying on my skin (like a clay mask). Despite this, the mask leaves skin feeling cooled and refreshed, the appearance of my pores minimised and redness calmed (I'm yet to have a break out whilst testing, but can already tell that this will be a blessing come any hormonal, period-induced acne). I just found I needed to follow it up with plenty of moisturiser to counteract the drying-out sensation. It also has a light herby scent that I love but that I can imagine those who hate fragrance in their skincare products might not.
Another of Kwon's top mugwort products is One Thing Artemisia Capillaris Extract, £14.90, a lightweight, watery toner that works best as skin prep — especially as it absorbs quickly, doesn't leave behind a sticky residue and sits nicely under other products. I've taken to using this mostly in the morning as I've found it helps boost radiance and lends a glow, but Kwon says she decants hers into a travel-sized spray bottle for use throughout the day.
One product to keep an eye out for is the Beauty Of Joseon Matte Mugwort & Camelia SPF 50+, £20. It's a handy sun stick for on-the-go touch ups and a heavy helping of mugwort in the formula means it allows skin to stay hydrated and calm while protecting against UV rays.
Though it has gathered a lot of traction recently thanks to TikTok (and especially the popularity of COSRX Advanced Snail 96 Mucin Power Essence, £24), snail mucin has been used for years in Korean beauty products. Why? "It moisturises, boosts collagen production and helps with skin healing and regeneration," Kwon says. While she tells me that all skin types can benefit from snail mucin, dry or dehydrated skin especially will make the most of its super-hydrating properties. As a lifelong vegetarian, I find the concept of using such a closely associated animal by-product on my skin a little icky, but Kwon promises that most brands like cult favourite CORSX and newcomer Beauty of Joseon both adhere to strict cruelty-free practices, "Especially since snails produce the most mucin when they're well rested and comfortable," she explains.
Kwon is excited about the recent launch of Beauty Of Joseon Revive Serum Ginseng + Snail Mucin, £14. "If you've got dry, dehydrated skin or are also concerned with fine lines and wrinkles, this is the serum you'll want to use," she tells me. "I love how it really boosts skin's elasticity and makes a difference with restoring glow as well as plumping out any lines around the outer eyes and cheeks."
"Rice water is a very traditional Korean beauty ingredient," notes Kwon. "While its benefits are countless and widely known in Korea, they're not shouted about as much elsewhere. It's rich in antioxidants, vitamins A, C, and E and minerals that not only improve pigmentation but also blemishes and spots, too." It's gentle enough for dry, sensitive skin but those with oily complexions will also find it amazing for whisking away excess oil. Try I'm From Rice Toner, £26. "It's made from organic rice that's grown free from pesticides and the benefits are visible on your skin. My skin is simply more balanced, radiant and smooth even from the first application," she says. I would have to agree — I far prefer I'm From's milkier and creamer texture compared to that of Laneige Cream Skin Cerapeptide Toner, £29.50, which I've previously tested, and my skin has been looking brighter and dewier (hello, glass skin!). Don't just take our word for it, TONIC15's product page is packed with countless reviews from those on their second, third, or even sixth bottle.
Like honey, propolis comes from bees — it's a mix of tree sap and beeswax that bees use to make their nests with (you'll often see it nicknamed as "bee glue"). "It's very rich in antioxidants, is anti-inflammatory and antibacterial too, [so] it's been used for centuries in traditional medicine to heal wounds," Kwon explains. "It's another ingredient that's long been used in classic K-beauty formulas because of how it works on scarring, pigmentation and texture concerns. [It also] calms sensitivities and protects skin from sun damage all in one." For oily or acne prone skin, Kwon recommends By Wishtrend Propolis Energy Boosting Essence, £22, as a gentle, daily essence that helps balance skin's pH levels and even texture. "I use it to treat any breakouts or when my skin is exceptionally problematic," she says." For dry skin, she spotlights Dr. Ceuracle Royal Vita Propolis 33 Cream, £32. (Like Kwon I've started using this as a rich, indulgent last step in my night routine, the inclusion of royal jelly boosting its super-hydration properties); and I'm From Honey Mask, £35. "This is the ultimate wash-off mask because there's real honey used in the formulation, so it feels rich and creamy. It targets dry, flaky skin but it doesn't leave any stickiness once it is rinsed off," says Kwon.
The best new K-beauty brands to have on your radar
Launching soon on TONIC15, Beauty of Joseon is already a cult favourite in Korea, loved for its lightweight formulas.. "Their newest launch is Light On Serum: Centella + Vita C, £14, which gives skin a real lit-from-within radiance thanks to a non-irritating form of vitamin C paired with soothing and hydrating centella asiatica."
"The ethos behind One Thing is on spotlighting the potency of single ingredients," says Kwon. "They offer single ingredient extracts like antioxidant-rich green tea, calming centella asiatica or brightening niacinamide 10% that can all be used on their own or layered together to personalise your skincare routine to exactly what suits you and your skin."
Vegan makeup brand Amuse has become a favourite for the amount of choice they offer. "Lip tints and balms with any finish you can imagine," Kwon describes. "From velvety to dewy, to super glossy or even high-shine jelly."
"TOCOBO has such a range of cleansers, toners, essences and creams that it will easily slot into any skincare routine," Kwon tells us. "It's a brand that's really making waves in Korea because it offers simple, vegan skincare staples that use only the necessary ingredients for glowing, glass-like skin. The Bifida Biome Essence, £24.75, for instance, uses a special probiotic fermented from coconuts to really hydrate and plump skin. It's a favourite at TONIC15's HQ."
Like what you see? How about some more R29 goodness, right here?