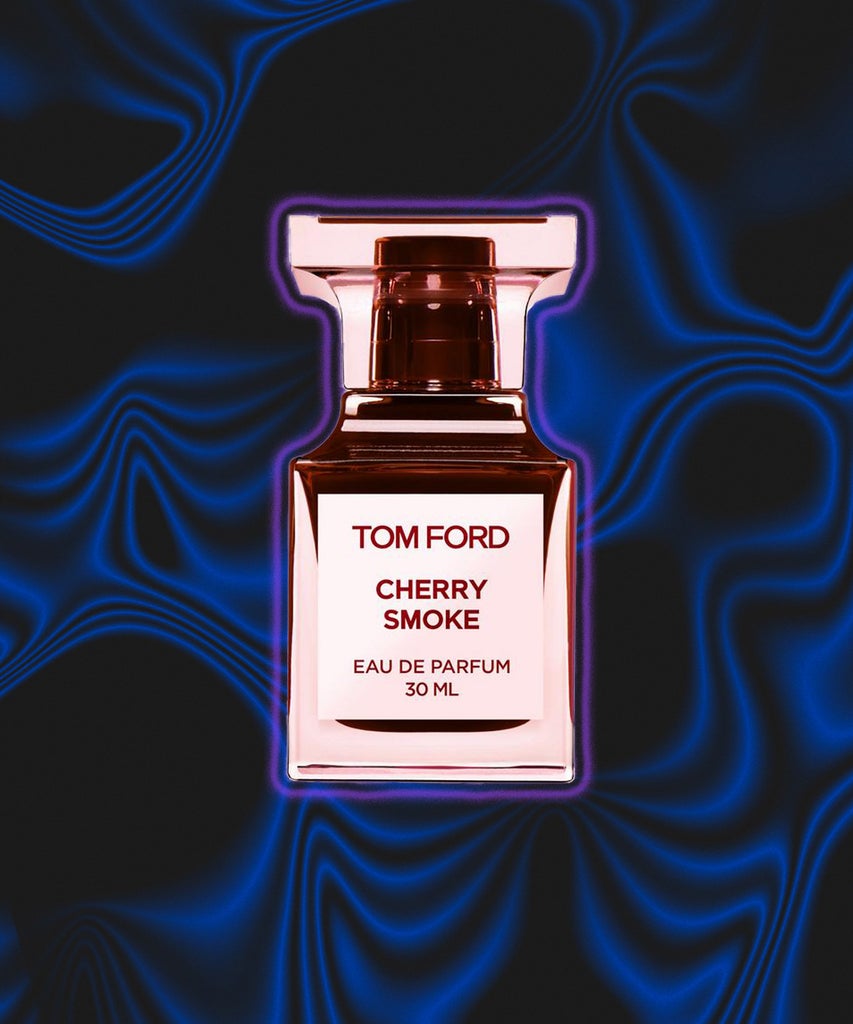 The days are drawing in, pumpkin spice lattes are back on the menu and chunky knits have infiltrated the shops. It's obvious: autumn is right around the corner. As the new season ushers in cooler weather, so too arrives a significant shift in energy. When things get cosy and moody in equal measure, it's little wonder that most of us feel the need to shelve the sprightly scents that saw us through summer in favour of something more brooding.
You could head to #PerfumeTok, where you'll find an abundance of autumn-inspired perfumes vying for your attention. But the reviews — not to mention the notion of 'blind buying' without sampling first — can be overwhelming. If you have no idea where to start, let some of the industry's most knowledgeable experts guide you.
Here are the seven autumn perfume trends that are going to be everywhere this season — and how you can shop them from the comfort of your duvet.
Caramelised Smoke
Bonfires are synonymous with autumn and it seems the smoky notes are coming for fragrance. Diptyque Feu de Bois (wood fire) and Maison Margiela Replica By The Fireplace are already reigning supreme. This time around, however, there's a much sweeter edge. Think: toasted marshmallows and burnt caramel.
The ingredient responsible for this smoky-saccharine scent is ethyl maltol, says certified fragrance specialist, Eudora Nwasike. "This is a synthetic ingredient, which gives off the smell of burnt sugar," says Nwasike, who explains that it's one of the most recognisable notes inside the perfume that recently became a cultural phenomenon: Maison Francis Kurkdjian Baccarat Rouge 540.
"Other popular perfumes that feature these cosy, toasty notes are Kerosene Unknown Pleasures Eau de Parfum, £165, Jeroboam Insulo Eau de Parfum, £100, and Raghba Lattafa Eau de Parfum, £13.99," says Nwasike, the latter of which is an affordable favourite that has just found fame on TikTok. Also try Boy Smells Hinoki Fantôme, £105, a blend of smoked leather and clean guaiac wood, Tom Ford Cherry Smoke, £290, with smoked wood, tangy cherry and honey-like saffron, and new Guerlain Tobacco Honey Eau de Parfum, £290.
Sheer Scents
The trend for 'quiet luxury' and the abundance of neutrals in fashion is being bottled for autumn, says Natalia Ortiz, fragrance expert and chief commercial officer at The Fragrance Shop. Although most people tend to lean towards darker, more intense scents for autumn, fresh perfumes with a sheer, gauzy and clean quality are set to usurp them this season. "An example of the perfect sheer scent would be something like Calvin Klein Eternity, £45, which opens with fresh notes of mandarin and freesia, but has spicy carnation and warming sandalwood in the dry down," says Ortiz.
Sheer scents also encompass a powdery, comforting warmth at the base, adds Ortiz, making them perfect for snug autumn days and nights. Also try Diptyque Orphéon, £148, which balances cooling cedar wood with cosy tonka bean, Phlur Father Figure, £96, with suede-like orris root, creamy sandalwood and green fig, and Prada Infusion de Figue EDP, £125, with juicy mandarin, honey-esque fig accord and slightly bitter galbanum — a Persian gum resin.
Lemon Sherbet
If you aren't taken by the heavier fragrances which command autumn, consider lemon sherbet. It's an extension of the aforementioned 'sheer' scents trend, which sits between gourmand (bold and treacly) and something a little more tarte. There's only one lemon sherbet-esque perfume taking TikTok by storm currently: Akro Bake Eau de Parfum, £80, the brainchild of renowned perfumer Olivier Cresp (of YSL Black Opium, Thierry Mugler Angel and Marc Jacobs Daisy Eau So Fresh). Bake EDP is a mega mix of sprightly lemon zest balanced with notes typical of autumn baking like dark rum and brown sugar. Also try The Perfume Edit Citrus Fresco, £9.99 (bitter lemon with heady patchouli and chopped wood) and Jo Loves Amber, Lime & Bergamot, £115, which lends skin a dose of warmth thanks to the addition of amber, suede and patchouli.
According to perfumers Ruth and Nic Mastenbroek, gourmand fragrances like these are going nowhere fast. "It's the unusual focal points for some of these [perfumes] that we've taken note of," they say, "and perfume launches call out ingredients or names that you wouldn't ordinarily expect in fine fragrance." They point to D.S. & Durga Pistachio Eau de Parfum, £158, which is creamy and nutty. Then there's Kayali Yum Pistachio Gelato 33 Eau de Parfum, £79, which combines pistachio with whipped cream, marshmallows and hazelnut.
Perfume Layering 2.0
Fragrance layering is an art, says Nwasike. If you're tired of smelling your signature scent everywhere, this is a smart way to create something unique to you without straying too much from the perfumes you like. First up: comforting vanilla and warm, resin notes like amber. "Combining these notes creates an enticing aroma that is rich, sweet, smooth and powdery," says Nwasike, who loves Initio Absolute Aphrodisiac, £220 (vanilla and heady white flower) with Maison Francis Kurkdjian Grand Soir, £165 (all-encompassing benzoin — a natural resin — and herbaceous tonka bean). If you'd rather spend less, try Zara Hipster Oud, £22.99 (amber and rose) with & Other Stories Perle de Coco Eau de Toilette, £28 (coconut, vanilla and caramel).
Sandalwood and cinnamon is another winning combination, says Nwasike. "Expect an addictive, soft creaminess with a sweet and comforting yet spicy touch." She recommends Matiere Premiere Santal Austral Eau de Parfum, £205 (almond milk, benzoin and tonka bean) alongside Armani Magenta Tanzanite Eau de Parfum, £280 (cinnamon, coffee and bourbon vanilla). If you're on a budget, look to Zara Sand Desert at Sunset, £25.99 (cinnamon and chocolate) and Autograph Fired Sandalwood Eau De Parfum, £19.50 (burnt sandalwood and orange).
Lastly, try oud and saffron, says Nwasike. "This is a formidable pairing which contrasts a sensual, dark earthiness with a spicy leathery aspect. It's Intimate." Gucci Intense Oud, £155, and Thameen Rivière Extrait de Parfum, £180, is Nwasike's ultimate combination, but try Zara Perpetual Oud, £22.99, veiled over & Other Stories Sardonyx Fire Eau de Toilette, £28, if you're on a budget.
Skin Scenting
If perfume layering feels like mental gymnastics, try skin scenting. "Skin scenting is all about finding your signature by considering how fragrance reacts with your skin," explains Ortiz. "Like skincare products, your skin will react to fragrance based on its pH balance (how acidic it is)." A person's pH level is as unique as a fingerprint, adds Ortiz, so your body chemistry can alter the way a fragrance smells over time. This is why, when initially testing a perfume in person, it might be a good idea to come back to it a few hours later rather than purchasing it immediately.
"It's all about the composition of the fragrance," says Ortiz. "The top notes are usually the lightest, and are fleeting, but they create the first impression." These are the notes that will stand out in the initial spray. "Then come the 'heart' [or middle] notes which create the body of the fragrance before it moves down to the base notes, which are the foundations of the fragrance," says Ortiz. "The base notes are the long-lasting notes that linger way beyond the first spritz," clinging to your skin and clothes for hours — even days. As Ortiz says, perfume smells different on everyone. The woody fragrance that is so intoxicating on a friend might not be as powerful on your skin and vice versa, so your best bet is to secure a sample, take it home with you and to take your time.
Zeitgeist Notes
Bold florals such as patchouli, skin-like musk and powdery amber are typically associated with the perfumes of yesteryear. (Chanel No.5, Guerlain Shalimar and Elizabeth Arden Sunflowers all spring to mind.) They reigned supreme from the 1920s through to the '80s because they all have one thing in common, says Ortiz: They are hypnotically confident aromas which symbolise the bohemian spirit and rebellion of each era. These notes are being reinvented for autumn 2023, says Ortiz, and they're nothing like their cloying counterparts. Instead, there's a cool freshness for balance — a nod to the chilly, autumn weather. "Courréges L'Empreinte EDP, £92, bottles the zeitgeist with amber accord [sweet and spicy], patchouli [an earthy, rich floral] and ambrox [clean and woody]." Also try Ghost Deep Night Eau de Toilette, £33, which offsets lush rose and vanilla with refreshing white wood and apricot, and new Tom Ford Café Rose Eau de Parfum, £106, with syrupy rose and coffee.
Sugar & Spice
For Nwasike, autumn calls for perfumes that occupy a cosy space between sweet (think toffee apples) and spice (like pumpkin pie). Together, fragrance notes such as vanilla, amber, sandalwood, cinnamon, saffron and oud create the perfect warmth, says Nwasike — an antidote to the autumn chill. Vanilla in particular is known to trigger a sense of comfort and to evoke a feeling of homeliness thanks to its popularity in baking, while oud (often referred to as liquid gold, it's that expensive) is musky and all-enveloping, much like a well-worn blanket.
Try Kayali Invite Only Amber | 23 Eau De Parfum Intense, £107, with oud oil, vanilla, sandalwood, amber and chocolate hazelnut, or Parfums de Marly Althaïr Eau de Parfum, £230, with cinnamon, vanilla and praline. If you'd like to spend less, Zara Bohemian Oud, £22.99, marries oud with vanilla, leather, cocoa and incense. Also try new Burberry Goddess Eau de Parfum, £68, with vanilla and amber.
Refinery29's selection is purely editorial and independently chosen — we only feature items we love! As part of our business model we do work with affiliates; if you directly purchase something from a link on this article, we may earn a small amount of commission. Transparency is important to us at Refinery29, if you have any questions please reach out to us.
Like what you see? How about some more R29 goodness, right here?
Why Phlur's "Father Figure" Perfume Is Going Viral
The Celebrity Fragrances R29 Editors Actually Wear
Turned On By Natural Body Scent? You're Not Alone