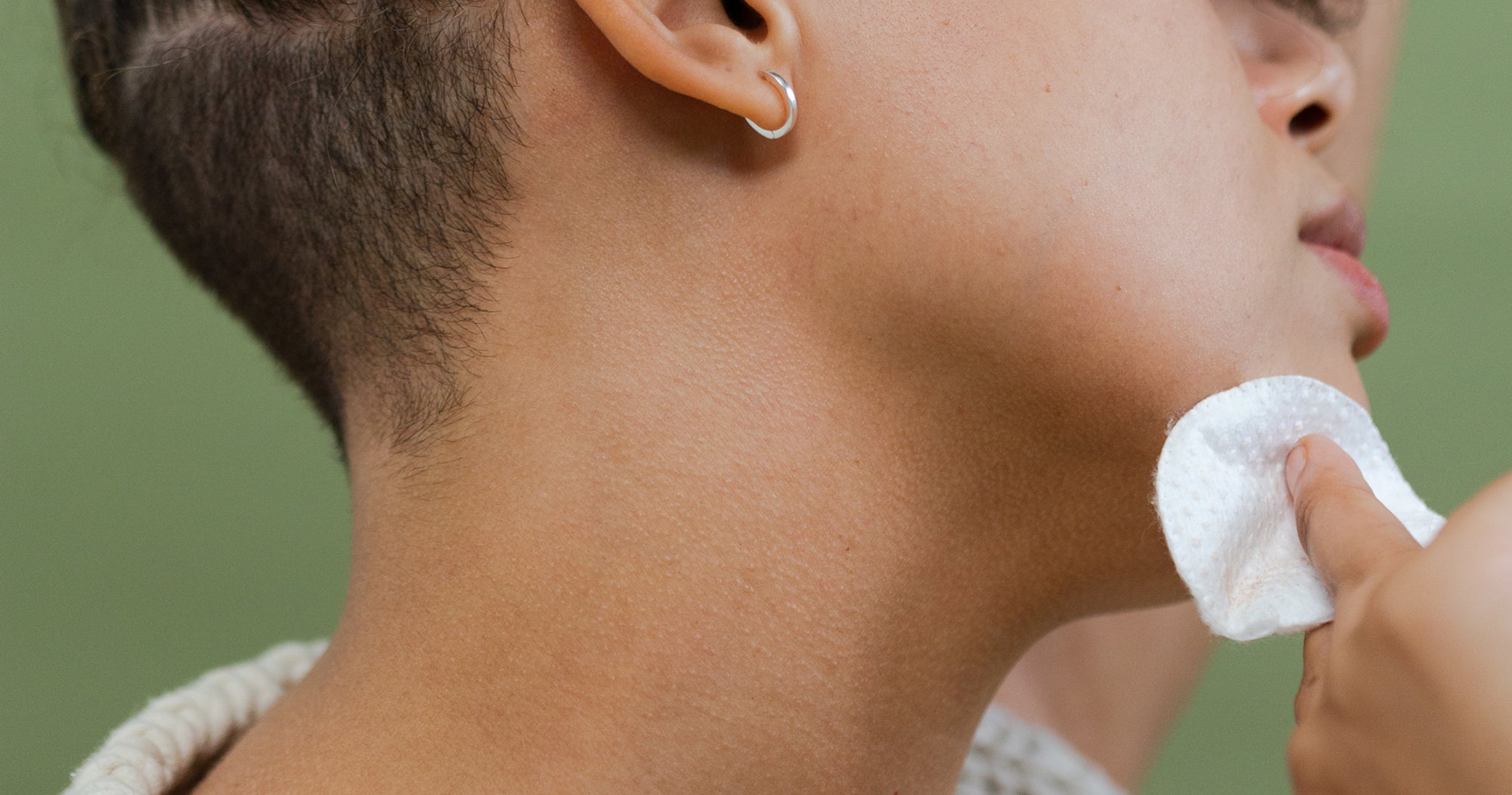 After another year of relentless summer heat, you'd be forgiven for welcoming autumn with open arms. That being said, with the promise of cosy evenings and actually being able to enjoy hot drinks again comes a host of skin gripes.
The combination of cold weather and harsh central heating can make skin tight, dry and sensitive. And the lightweight serums you've come to rely on in the sunny months for healthy, happy skin soon might not cut it. Then there are ingredients like retinol and exfoliating acids, which tend not to get on well with dry skin.
You don't have to swap out all of your products, though. Ahead, consultant dermatologist Dr Alia Ahmed reveals the savvy autumn skincare tips she shares with her patients, mostly making use of what you might already have at home.
Rethink Your Cleansing Routine
Dr Ahmed isn't a fan of foaming cleansers. "The added ingredients which make them nice and foamy are usually the ones which end up removing some of the natural oils on your skin," she says. As a result, Dr Ahmed prefers switching to a creamy cleanser to prevent your skin from drying out further. If you're on a budget, she suggests mixing the foaming cleanser you already own with a little bit of moisturiser (the plainer, the better), which can help to alleviate the stripped, tight feeling.
When you reach the end of your existing cleanser, try The Ordinary Glycolipid Cream Cleanser, £11.10, The Inkey List Oat Cleansing Balm, £11.99, or CeraVe Hydrating Cleanser with Hyaluronic Acid for Normal to Dry Skin, £10.93, which are nourishing and gentle but cut through makeup and SPF quickly.
There's a school of thought that cleansing your skin in the morning is unnecessary as it leads to even drier skin. Dr Ahmed disagrees. "Effective cleansing is very important because you need to think about the products which are absorbing into your skin afterwards," such as your serums and moisturisers. "I hear so often that patients just use water in the autumn and winter because their skin is dry, or that they only cleanse in the evening because that's after they've worn makeup. But you do need to cleanse in the morning because of all the sweat, dirt, grime and stuff on your pillowcase that you pick up overnight." Again, a gentle, creamy cleanser won't strip your skin.
Listen To You Skin Barrier
Your skin barrier changes with the weather, says Dr Ahmed, who doesn't recommend having the exact same skincare routine throughout the year. But there's just one simple switch. "Where a serum [for example, containing vitamin C or hyaluronic acid] may have done the job for you in the summer, you might like to use the same ingredient in moisturiser form in the autumn and winter," says Dr Ahmed. Serums are very lightweight in texture and Dr Ahmed suggests that they might not be substantial enough to moisturise your skin when the drying weather hits.
If you use vitamin C in the morning, look for the ingredient in a slightly thicker, more moisturising product. Try Ole Henriksen C-Rush Brightening Double Crème, £37, Face Theory Amil-C Whip M5 SPF 30, £20, or Bliss Bright Idea Vitamin C + Tri-Peptide Moisturiser, £19.95, all of which contain vitamin C to shield your skin again dulling environmental factors such as pollution. Follow with sunscreen for extra moisture and protection.
Likewise, you could just follow the serum you already have with a moisturising sunscreen (a better option if your skin tends to get oily or clogged when you layer skincare). R29 rates Bondi Sands Sunscreen Lotion SPF 50+ Fragrance Free, £7.99, and Glow Recipe Watermelon Glow Niacinamide Sunscreen, £25.
Change Your Pillowcase & Towels Regularly
This summer was a sweaty one so if you were diligent about changing your bedding, hats off to you. Don't slack now. Dr Ahmed suggests that alongside a dedicated cleansing routine, changing your pillowcase every two to three days (and washing your face or bath towel regularly) is a must for keeping your skin barrier happy. Why? You'll probably want to avoid treating breakouts on top of sensitive autumn and winter skin as typical spot-busting ingredients like salicylic acid and benzoyl peroxide can irritate and exacerbate dry skin further.
Look For A Moisturiser With These Key Ingredients
Dr Ahmed says that lots of her patients tend to think hyaluronic acid — a deeply hydrating ingredient, which locks in moisture — is the best for protecting skin in the colder autumn weather. But we already have this ingredient in our skin naturally, she says. When the temperature drops, Dr Ahmed suggests bolstering your skincare routine with a moisturiser containing niacinamide (also known as vitamin B3). Not only does niacinamide prevent excess oil, it minimises water loss (reducing dryness and irritation).
Ceramides — the fats which hold your skin together — are also a great shout if your face tends to become red and flaky. Try The Inkey List Omega Water Cream Moisturiser, £9.99, The Nue Co. Barrier Culture Moisturiser, £45, or Byoma Moisturising Gel Cream, £10.39, all of which combine niacinamide and ceramides.
Buffer Active Ingredients, Like Retinol & Exfoliating Acids
Ingredients like retinol (which encourages shiny new skin cells, minimising hyperpigmentation, fine lines and breakouts) and exfoliating acids (like glycolic, salicylic and lactic acid) can be harsh when overused. If your skin is already dry thanks to the cooler weather, using either could make parched skin worse. For autumn and winter, especially if your skin gets aggravated easily, Dr Ahmed suggests applying your moisturiser (it should be something quite bland and simple) 30 minutes before products containing these active ingredients, to create a thin barrier. You'll still get the intended effects, just not the irritation.
Wear Sunscreen (Regardless Of The Weather)
Dr Ahmed believes it's essential to wear sunscreen all year round, particularly now that climate change is such a serious issue. "We're exposed to much more intense rays than ever before," says Dr Ahmed, who cites a study by the American Academy of Dermatology emphasising the importance of sun protection. "Climate change is causing more sun damage and driving skin conditions," says Dr Ahmed. "I say to my patients that if they can see in front of them, it means they need to wear SPF — unless it's nighttime in a dark room with the door closed." Neither the weather nor your skin colour matters — sunscreen makes for great, year-round sun protection.
Introduce Antioxidants Into Your Skincare Routine
Antioxidants help fight away the things that your skin is exposed to outside, such as pollution (of which there is a higher level in colder months). Look out for moisturisers containing vitamin C, vitamin E and ferulic acid. Dr Ahmed also rates leontopodic acid, an under-the-radar antioxidant found in The Body Shop's Edelweiss collection. If you're on the lookout for a more nourishing, protecting moisturiser, try the Smoothing Day Cream, £30.
At Refinery29, we're here to help you navigate this overwhelming world of stuff. All of our market picks are independently selected and curated by the editorial team. All product details reflect the price and availability at the time of publication. If you buy something we link to on our site, Refinery29 may earn commission.
Like what you see? How about some more R29 goodness, right here?
This Is How To Talk To Your Doctor About Your Skin
How To Build A Skincare Routine For Your Skin Type
Dermatologist Skincare Routine For Hay Fever