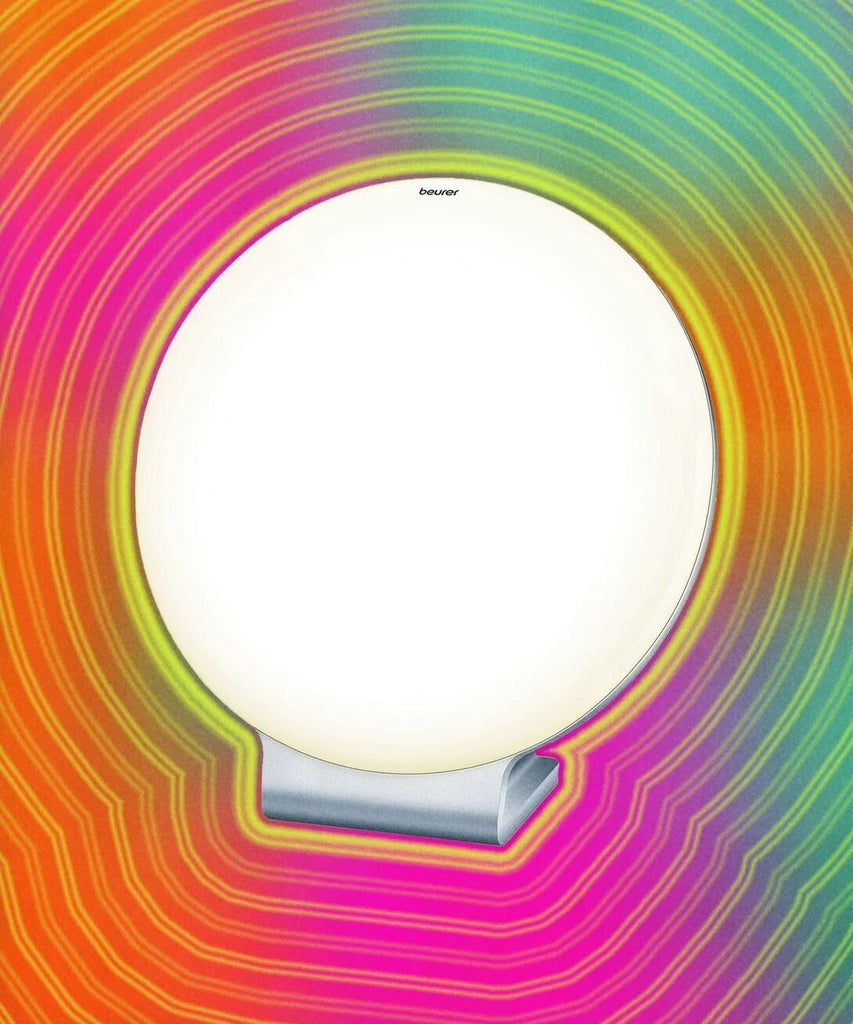 Sometimes, knowing a dark and gloomy autumn is coming can be more depressing than the season itself. If you're someone with seasonal affective disorder (SAD), you may already be brainstorming ways to combat the autumn and winter blues. One common (and science-backed) method for easing the symptoms of SAD is light therapy, which can involve sitting or working in front of a SAD lamp that mimics natural light or swapping your smartphone alarm for a wake-up light.
Of course, investing into something so important to your health and happiness is no mean feat, which is why we've done the leg work for you — testing out the very best models on the market from the industry's top brands (yes, including Lumie, Beurer and Philips), everyday for a month. Read on for our honest reviews and discover which is right for you and your lifestyle.
At Refinery29, we're here to help you navigate this overwhelming world of stuff. All of our market picks are independently selected and curated by us. All product details reflect the price and availability at the time of publication. If you buy or click on something we link to on our site, we may earn a commission.
How do SAD lamps work, what are the benefits & what is the best way to use them?
Contrary to popular belief, not any old light will do the job of tackling SAD. According to the Centre for Environmental Therapeutics (CET), there are important criteria that you should keep in mind when purchasing a SAD light or alarm lamp — especially considering that the NHS doesn't provide or regulate SAD lights (it does recommend light therapy but notes that it is up to the individual to choose a fully certified manufacturer and product). As mental health charity Mind explains: "The NHS doesn't usually provide light therapy because there isn't yet much evidence to show it works, although some people find it helpful."
The CET states that your chosen light should provide 10,000 lux (the measurement used for light intensity) at a comfortable sitting distance of 16 to 24 inches away from your face (and following manufacturer's instructions). It should be white, not coloured, because blue light doesn't have therapeutic benefits. If the lamp uses fluorescent bulbs, it should also have a screen over it to filter out harmful UV rays. In order to reduce glare, aim the light to shine over your eyes — not directly into them.
If you want to try a SAD lamp or alarm light, it's best to check first with your doctor who can advise whether it's a suitable treatment. Likewise, if you have any problems with your eyes, talk it through beforehand with your optician.
The best way to use a SAD lamp, as recommended by medical professionals, is within the first hour of waking up in the morning for about 20 to 30 minutes; simulating the first rays of sunshine that we would typically receive in the summer. You can use it with your eyes open, but — just like the sun — don't look directly at the light. In comparison, the purpose of a wake-up light is to replace your alarm clock or phone in waking you up. You set your desired wake-up time and the lamp will gradually grow brighter from this time onwards, just like your very own mini sunrise. With some models you can also set nature-inspired ASMR sounds to help wake you, like birds chirping or waves — and similarly, with some models you can set a 'sunset' evening alarm and sounds to send you to sleep.
"This is undoubtedly the most stylish SAD lamp on the market — it looks more like a sleek piece of Scandi decor than the solution to my November-to-March slump. It's not all style over substance, though. Since unpacking this bad boy and installing it in front of my desk, I've noticed a huge difference in my energy levels and emotional stability.
"I haven't been diagnosed with SAD but I am definitely the poster child for Sad Girl Autumn (it's all Taylor Swift's evermore on repeat, crying randomly every day, no energy past 3 pm and rewatching Gilmore Girls for the hundredth time because that's all my poor brain can cope with). I live in a basement flat so even though my desk faces the window, on the brightest of autumn or winter days I barely see any sunlight once it dips down behind the houses opposite. Usually, I'm okay in the morning — I take my multivitamins, vitamin D gummies and ginger shot, make a coffee to go and head out for a walk (I find getting actual sunlight on my face, fresh air and exercise is a lifesaver in the autumn and winter). It's in the afternoon when the sun disappears that the Halo comes into its own for me. Since using it I've been managing to get through the mid-afternoon dip without caffeine to prop me up.
"Using the Halo is easy. Once it's set up (all you need to do is slot the legs into the body and plug it in), you can play with the touch-sensitive buttons to find the right balance for you. The Halo offers a combination of cool and warm light, which is ideal for those, like me, with light-sensitive eyes. I only really use the softer, warmer 'evening mode' light as I find the alternative can give me headaches, especially as I tend to have my Halo on for most of the afternoon and evening (lacking the surface space, it's doubling up as a general lamp).
"The Halo includes an orange backlight, which isn't therapeutic, more just for vibes. My only criticism is that this is tricky to turn on and off: it needs a good whack on the outer body. All in all, though, I'm thoroughly impressed." — Esther Newman, Affiliate Writer & Content Producer
"I don't know if I can actually classify myself as having SAD. There are a lot of reasons to feel grim come winter but I do think that dark mornings have a lot to do with it, especially because I normally begin my work day at 7.30 am.
"This SAD lamp was incredibly easy to set up and I popped it straight on my work desk in the hope of brightening my mornings. As silly as it sounds, I do think I have tricked my brain into thinking this little light is the sun after months of use. I sit facing no windows so on dark mornings I shine this bad boy straight ahead and bask in its brightness. Initially, I felt the glow was harsh and artificial but the more I used it, the more it felt natural in the space (though I make sure I don't stare straight into it for too long). No, the big circle light doesn't look like a golden sunrise but it does make you feel AWAKE, which for those of us who can't handle coffee is much appreciated in the morning. The instructions suggest two hours of use a day but I keep it on for the entire work day as it feels like it keeps me more engaged.
"Previously I would have said that SAD lamps were a gimmick but working from home in my bedroom, in the dark, made me willing to try anything and I actually think I would feel a little lost without it now. Call it a placebo but it has made my mornings easier and I look forward to turning it on and plunging my room into brightness. It doubles up as a great selfie light, too!" — Alicia Lansom, Associate Editor
"Look up SAD in the dictionary and you'll likely find a photo of me, faded and curled at the edges, all glazed eyes, dour expression and pallid complexion. It's just my autumn and winter state of being. I really struggle in the colder seasons, with low energy and low motivation to go out and do anything. So I was so excited to test out the lamp.
"First thoughts: the design, with its plug-in and on/off button function, is very simple and easy to set up. The instructions advise you to use it for half an hour every morning, pretty much as soon as you wake up. So on days when I'm working from home, I'll have a shower, make my coffee and sit in front of it while going through my emails. After using it for several months, I can genuinely say it works. It's not to say that I don't get tired but after using it for half an hour every day, I feel wide awake, with very little of the groggy, creaky feeling I have in the mornings. And I struggle less to get through the day, including that little mid-afternoon hump.
"It has worked so well on me and my boyfriend that he started using it on our little lemon tree (she's an outdoor gal but has been losing leaves due to the cold) and I could swear that she's looking a little perkier these days. It's now a daily staple of my life. I 100% recommend it." — Maybelle Morgan, Senior Editor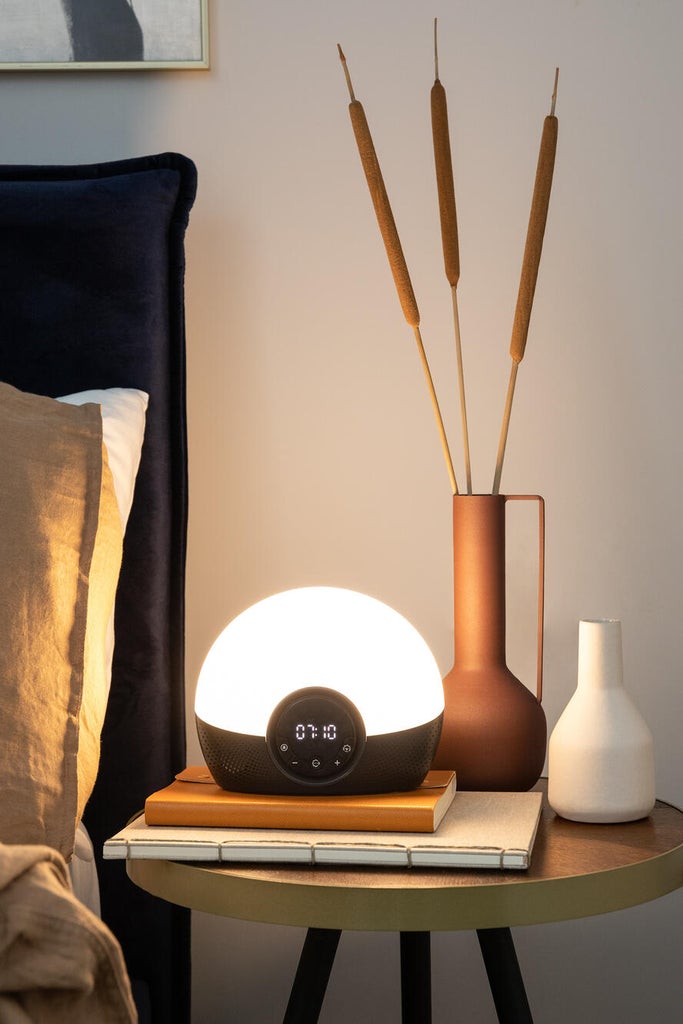 "I am a summer girlie at heart. A sufferer of dry skin and eczema, the cold weather and lack of vitamin D just isn't for me. Don't get me wrong, I like cosy, pumpkin-spiced autumn and the run-up to Christmas but if it were up to me, I'd permanently be on a beach. I feel particularly affected by winter's dark mornings and evenings, and often find myself aggressively jolting awake with each chime of my phone alarm, grumbling to myself like The Grinch. So I was super keen to try Lumie's Bodyclock.
"It took some getting used to but once I got the hang of it, it was super simple to use. The light gradually comes on 20 minutes before my alarm (designed to regulate our circadian rhythms) and I now wake to the pleasant sound of birds chirping rather than the violent siren of my phone. I absolutely love it. Catch me floating awake from my slumber like someone in a Disney film or cartoon Sandy in the intro of Grease. I pop the Bodyclock on my desk as I work from home to double as a SAD lamp, giving a warm glow that I'm convinced has helped boost my mood significantly and therefore my productivity. At night I set the gradual fading sunset for 20 minutes and quickly drift off. 9.5/10 for me, it's changed my life!" — Kelly Washington, Social Editor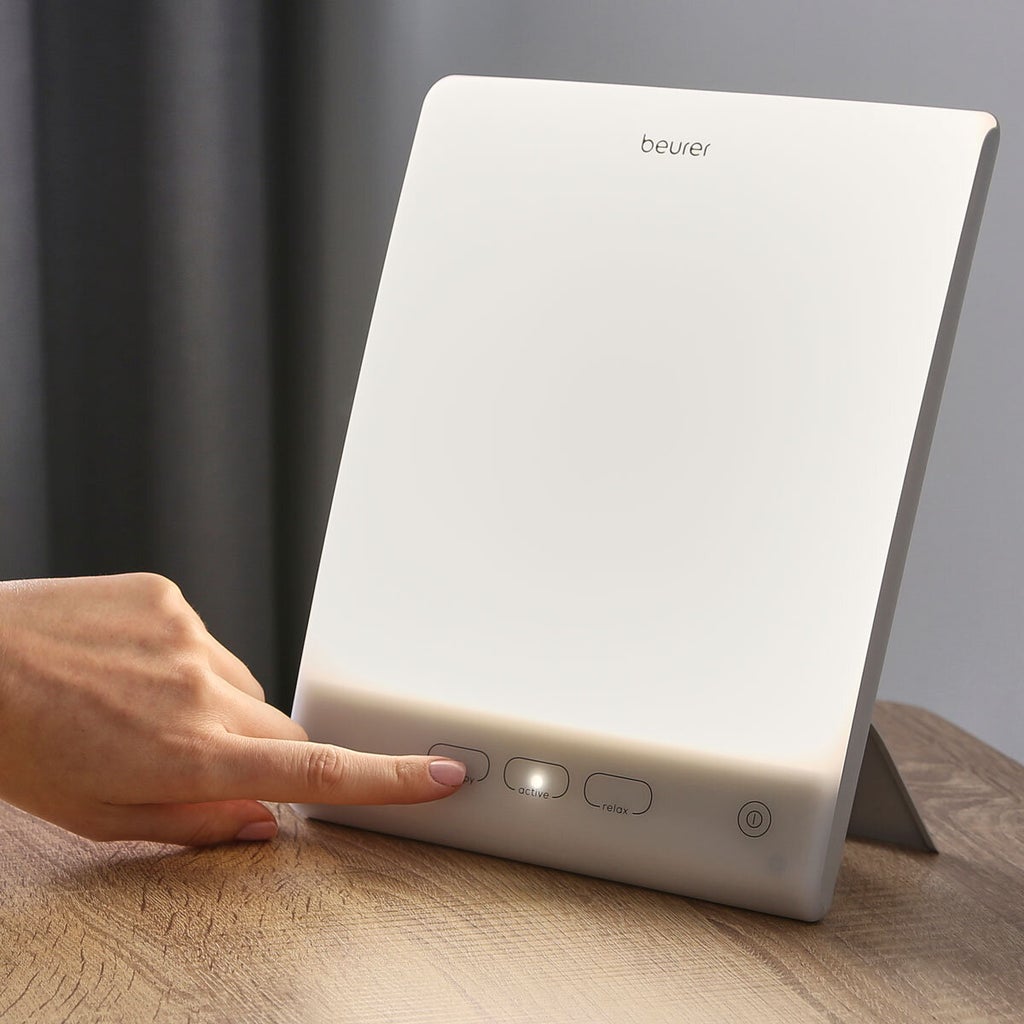 "I've always struggled with getting out of bed in the morning and it's so much worse in autumn and winter, when daylight is scarce and there's misery hanging in the air. I often wake up at a reasonably early time, scroll through Reddit and TikTok, and go back to snoozing until it's absolutely time to get up. With this Beurer lamp I hoped to break my toxic AM routine and develop better habits. The light is pretty easy to switch on, with three modes: active, therapy and relax. The relax mode is a warmer low light, while active gives a colder, white glow. Therapy mode is the brightest setting.
"In the mornings, I place the light on my bedside table and turn it on to active mode for at least half an hour as soon as I open my eyes. Since it's getting dark so early, I also use the relax mode when I'm working in the afternoons, instead of turning on the overhead lights. I wouldn't say the lamp has completely cured me of my SAD but it's very helpful to have a gentle but bright light source at eye level. In some ways, it's like having an accountability partner: I feel more awake and alert, and I don't drift off to check my phone as much when it starts getting dark. I also appreciate the price point of this lamp, which is considerably cheaper than many high-tech SAD gadgets out there." — Venus Wong, Senior Travel Writer
"Despite being Scandinavian, I have yet to hack cold and dark winter mornings. Getting out of bed has always been a struggle for me so I was pretty disappointed when the Beurer WL50 didn't live up to my expectations. Don't get me wrong, the lamp looks great on my bedside table and doubles nicely as a portable speaker/light but that's about all I'll use it for. Though beautifully designed, it is quite small, meaning I had to place it on top of a stack of books for it to be level with my bed. Even still, I spent many mornings being jolted awake by the alarm sound, wondering whether the sunrise simulator had come on.
"At first I thought maybe the light just isn't bright enough but then I asked my boyfriend (who wakes up earlier than me) if he had ever noticed the light come on and he said no. After triple checking I had it set up correctly, I've settled on the fact that I must have received a faulty device because to this day, whether the sunrise simulator comes on or not is up to fate. As for the alarm, the sound options are limited and the volume is fixed. I found it far too loud and was even concerned that my downstairs neighbours might be able to hear it through the floor. It's a shame. I was really hoping to love this lamp but there are certain design flaws I simply can't overlook." — Kristine Romano, Associate Editor, Photo & Design
"As a self-diagnosed sufferer of SAD (I know, I know — this technically doesn't count), I was curious to see if Lumie's Brazil could lift me out of my lethargy during the winter months. As I WFH, rarely venturing from a dark room with tiny windows during the day, and am usually sleep-deprived at night (young children), I am in perpetual need of a pick-me-up. I've been impressed. When I first switched it on, the warm glow emanating from the huge light box (it's the biggest in Lumie's range) gave me an instant boost. I've tended to use it in 30-minute bursts to avert the mid-morning or post-lunch slump and in order to recharge my batteries. Since introducing the Brazil into my daily routine, I have noticed an upturn in my concentration. A worthy replacement for nicotine and caffeine!
"I would recommend this to others, despite its hefty price tag. The only drawback is that it is quite big and particularly ugly when it's turned off, so you'll want to keep it hidden away when not in use." — Zanny Ali, Director, Commerce and Partnerships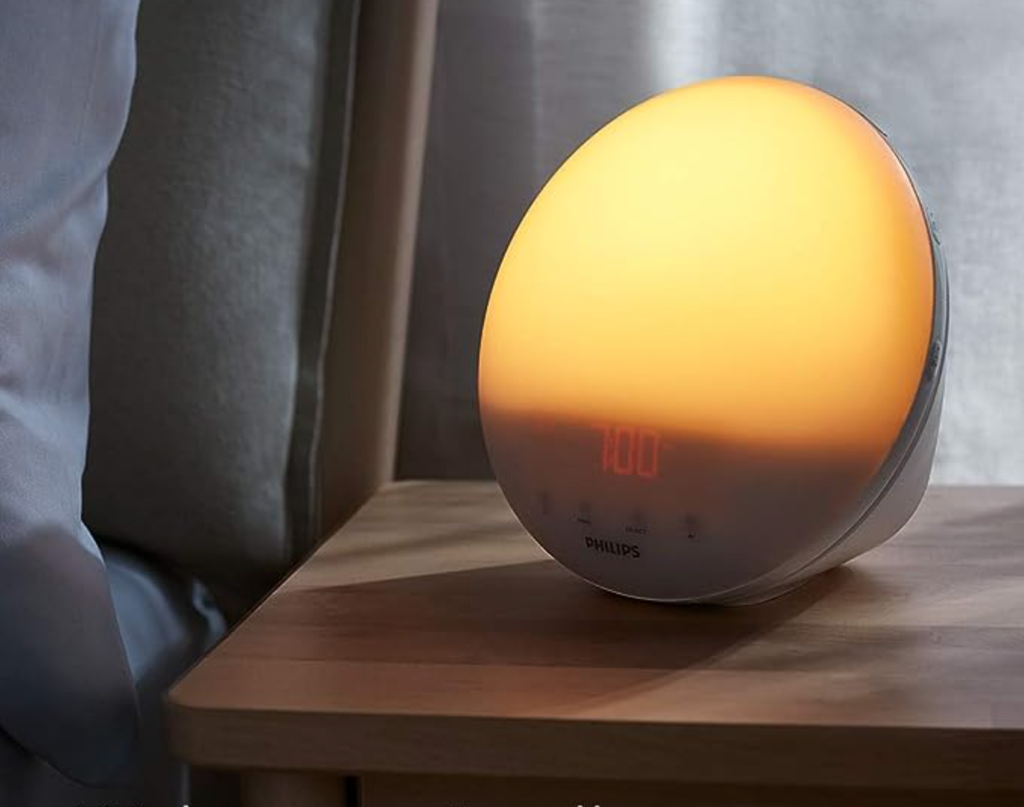 "The Philips SmartSleep Wake-Up Light gives off the loveliest warm glow but the real selling point is how customisable it is. I've been using this lamp mainly as a wake-up light and as someone who feels especially sensitive to light and sound, having the ability to adjust both to my liking has been a game-changer. The lamp has over 20 light intensities to choose from and you can set your sound level as well. There are only five sounds available but I've settled on 'Forest Birds', which doesn't sound too dissimilar to the birds chirping outside my window.
"After waking up well past my alarm time, I did learn the hard way that there is a minimum sound level for certain sounds that will cause the alarm to go off with no sound at all. While you can find this information in the troubleshooting manual, I do think this is a feature that could be improved. I also find that turning the alarm off can be a bit fiddly with the placement of the buttons — but it certainly gets me up in the morning!" — Kristine Romano, Associate Editor, Photo & Design
"How can a Lumie lamp help an already pretty good sleeper? (To all the insomniacs out there, I'm sorry!) But it was an instant question that crossed my mind when I opted in to trial it out. I already have a solid sleeping routine: I'm in my bed by 10/10:30pm — I read for a wee bit — then lights out and I'm asleep by 11/11:30pm.
"But then the clocks changed, November arrived and the dark mornings set in. I surely can't be the only person who conveniently forgets as we go through spring, summer and autumn just how beastly it can be to get out of bed come winter? Well, the Lumie Sunrise Alarm has certainly helped me to get up and get going. It currently sits on my bedside table in an easy-to-reach position. It's very lightweight, which surprised me, and in all honestly I would've preferred a more sturdy option. It offers up six wake sounds: blackbird (my preference); tree frogs (hello, rainforest); goats (okay, sure); kittens (cute!); osprey (the more birds, the better) and beep (for the old school-ers out there). I can assure you that being woken by the sound of birds chirping away is very pleasant. The best part? My phone is no longer the first thing I touch in the morning, and the last thing at night.
"Before I touch my Lumie to switch it off, a gorgeous glowing light shines across my bedroom. It's meant to emulate a sunrise and, in my opinion, it works. You can also use it to showcase a sunset in the evening, too. And it has incorporated coloured mood lighting. So if you fancy your room glowing red, green, blue, pink, orange or light blue in the evening as you wind down then why not? My own big grievance with it though is the bright red light that tells me the time. I find it to be a bit harsh — to the point that it can actually keep me awake. I'm not the only one who's mornings have become brighter — quite literally! — after introducing one of these lamps into their lives. Every time I've mentioned this new addition to my life in a group setting, someone chimes in agreement on how such a small device can and has simply made dark winter mornings easier to navigate. I have a feeling the January blues won't be a problem for me come 2024." — Susan Devaney, Life Director
"Despite living in a flat that feels like it's made of 70% glass (a key design trait I thought would make it great for natural light but really means it's freezing cold and has little room for light bulbs), it's pretty grey and dark, so I was hoping an SAD lamp would solve all of these issues with one flick of a switch. Of course, this is quite a tall order, especially from someone pretty sensitive to the lack of sunlight; but the Beurer TL30UK does seem to be helping, even if only slightly. The bright white light measures in at around 10,000 lux, which Google tells me is the lower end of the natural daylight spectrum, with no flickering, dimming or wavering. And, unlike the sun, you can look directly into it without burning your eyeballs, though I don't recommend this. It's incredibly easy to use with one button turning it on and off (no fiddling around for the right setting) and its compact size (similar to a Kindle) means it can be placed almost anywhere, whether upright or on its side.
"As it's the first SAD lamp I've ever tried, I'm pretty impressed but there are a couple of things I think I would look for if buying again next time. Firstly, to fully reap the rewards of the 10,000 lux, the brand says it should sit 10 cm away from your face. This is a pretty small distance when also trying to work, cook or do almost anything other than just sit down. Also, as waking up in the dark is one of the things I most struggle with, I'd love it if it had an alarm clock feature like some other options do so it can wake you up with faux sunlight. But, for my first-ever SAD lamp I do think it's making a positive impact, so anyone else looking to test the waters with one will probably think so too. Especially as the TL30UK is on the more affordable side of the market." — Lauren Cunningham, Affiliate Freelance Writer
"I was expecting big things when I received my Lumie SAD Desklamp in the post. Firstly, because of its size, but secondly because I already have a Lumie alarm clock and let me tell you, it changed my life.
"Careful what you wish for, because the desk lamp is huge. Way too big for my (large) desk, and frankly, it's not very aesthetically pleasing. While it doesn't look like the Pixar lamp cartoon (Pixar is cuter), it definitely feels personified, as its large presence makes me feel like I'm being watched. This didn't change my mood for the better, since it just made me feel irritated.
"It was easy to set up and use, but I'll admit that I found it hard to test as I strongly dislike having it on. To me, the light is pretty jarring. I do suffer from SAD from time to time during the winter months. Yet while the lamp has five different brightness settings, the colour is too white — I think a softer, amber glow would make me feel more at ease. It probably doesn't help that I was recently informed by my optician that I have large pupils, which makes my eyes sensitive to bright light, which might explain why I find it so jarring.
"Unfortunately, I wouldn't recommend the Lumie Desklamp to a friend, however I am obsessed with the Lumie wake alarm clock (see my glowing review above), which I use religiously and rave about to anyone who will listen. More amber glow, less white glow please, Lumie! And please, reconsider your sizing." — Kelly Washington, Social Editor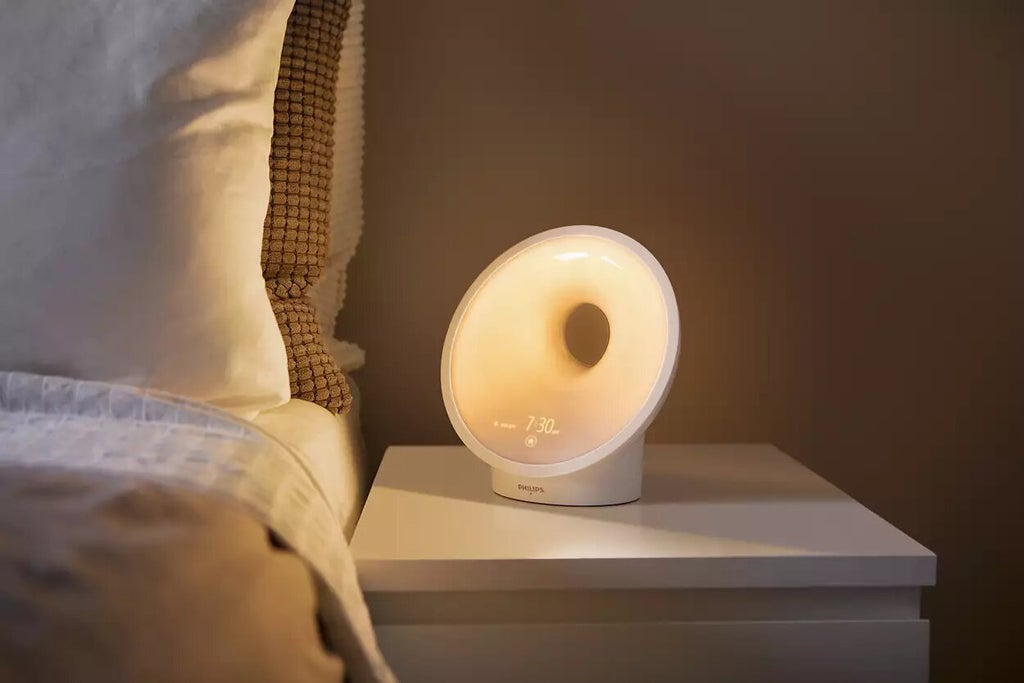 "I'm not sure I'll ever be a morning person but I'll try, try and try again. I've tested a few SAD lamps by now (see above) and the Philips SmartSleep is by far my favourite. Not only is the design super sleek (I love how it looks on my bedside table!), the level of customisation it offers is great for someone like me who finds themselves especially sensitive to both light and sound. I definitely prefer being woken up gently than jolted out of bed so having the ability to set my ideal light intensity, alarm volume and alarm sound has made all the difference. I've actually found myself waking up just a few minutes before my alarm rings which is a major win in my book.
"The SmartSleep also has three additional features: sunset simulation, midnight light and guided breathing, the latter of which I was especially excited about. I occasionally follow guided breathing exercises on Youtube to help me unwind, so to have a similar feature integrated into my bedside lamp is something else. It means I can actually put my phone away when decompressing before bed — though I'll admit, this is very much still a work in progress." — Kristine Romano, Associate Editor, Photo & Design
Like what you see? How about some more R29 goodness, right here?
Autumn Survival Guide: From Vitamins To SAD Lamps
"It's Dark For 3 Months": SAD In The Extreme North
SAD Is Different In 2020. Here's How To Cope