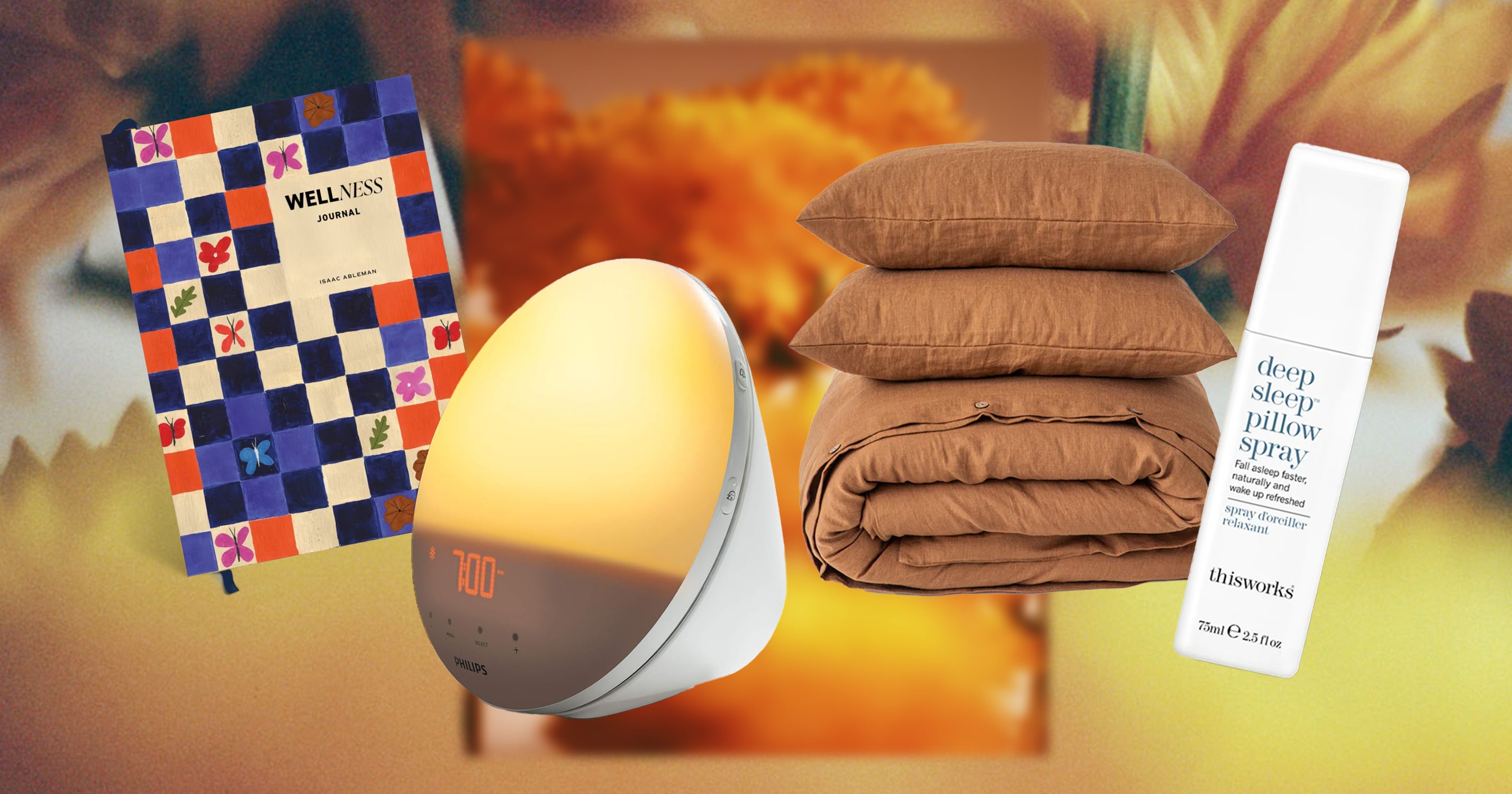 Is it me or does everyone have a cold at the moment? I've just emerged from a week of sniffles, hot soup, duvet days and Bake Off reruns. It was my first illness in a year and I had almost forgotten how to look after myself.
Getting ill and struggling with self-care right now isn't really surprising. Many of us have been non-stop busy, enjoying the summer heat and all the opportunities it brings, so it's only natural that the sudden drop in temperature is forcing us to slow down. It's truly a time when the phrase, 'under the weather', takes on new meaning.
And so, its the perfect moment to take stock and readdress your autumn and winter self-care rituals — to build up your immunity after its taken such a toll. Especially before its too late and you're missing out on those holiday festivities you're excited about. To help, we've put together in depth guide to looking after yourself during cold and flu season; how to keep both your body and mind healthy and happy. We talked to the experts — doctors, nutritionists and psychologists — about the best vitamins and supplements, sleep routines, lifestyle changes to combat SAD, and more.
At Refinery29, we're here to help you navigate this overwhelming world of stuff. All of our market picks are independently selected and curated by us. All product details reflect the price and availability at the time of publication. If you buy or click on something we link to on our site, we may earn a commission.
How to boost your immune system in the autumn & winter
We all know that a combination of healthy eating, exercise, sleep and relaxation is the best way to boost your immune system. A rich, varied and colourful diet of fruit and vegetables does wonders for the body and soul but we can always use a helping hand, especially as we live such busy lives.
Dietician Lola Biggs, suggests adding health supplements and vitamins that blend vitamin C, zinc and selenium into your routine, like the Together Health Immune Capsules, £11.99. "Vitamin C helps fight off free radicals that can weaken the immunity and zinc helps control and regulate immune responses," she explains. "Selenium is an antioxidant that helps lower oxidative stress in the body, which reduces inflammation and strengthens the immunity." Also try Botanycl's Plant-Based Vitamin C, £14.95, which is 100% naturally derived from a blend of acerola cherry, rosehip and camu camu berries, and Solgar's Ester-C Plus Tablets, £31.99, which, though more expensive, are free from salt, sugar and starch and is a gentler form of vitamin C which is best suited for those with sensitive stomachs.
The best vitamin C supplements
Lola also recommends juicing and soups as quick and easy ways to get your daily vitamins in one hit. "For smoothies, think beetroot, carrot, apple, ginger, orange and turmeric," she notes. For soups, she recommends sweet potato (a source of vitamins C and A), button mushrooms (vitamin B and selenium), broccoli and spinach (vitamin C, potassium, magnesium and iron). No time or energy to cook? Consider a quick fix of supplement powder. Lola likes KIKI Health's Organic Nature's Living Superfood, £57.50, as its packed with cold-pressed green foods. Simply mix into your water or juice, or sprinkle over your breakfast porridge every day.
Besides vitamin C, vitamin D is an autumn and winter wellness must and one that often gets forgotten. In fact, from September to March, it is actually recommended by the NHS that everyone in the UK should consider taking a Vitamin D supplement.
"We get vitamin D through sunshine and that strengthens our immune system," says Lola. "A lack of this during the winter months means our vitamin D levels dip, leaving us more susceptible to colds and flu," she explains. "Dietary wise, I'd suggest eating more oily, fatty fish like salmon, sardines and mackerel. Egg yolks are another good source as they are full of vitamins and minerals." For vegans especially, incorporating something like Together Health Vitamin D3 Tablets, £6.99, or Botanycl Vegan Vitamin D3, £28.95, into your morning routine can do wonders. Not a fan of pills? There's also BetterYou's D3000 Vitamin D Daily Oral Spray, £9.45, or Solgar's Vitamin D3 Liquid Complex, £10.44.
The best vitamin D supplements
How to cope with SAD (Seasonal Affective Disorder) in autumn & winter?
A lack of vitamin D and sunshine during winter doesn't just impact our immune systems, it can also cause Seasonal Affective Disorder (SAD). Symptoms include a persistent low mood, lack of motivation and energy, irritability, feelings of despair and unworthiness, and lethargy. According to a survey by YouGov and The Weather Channel, up to 29% of British adults are affected.
Go easy on yourself & listen to your gut
According to Psychologist and best-selling author of Happy Life 365, Kelly Weekers, the best way to cope with SAD during the colder months is to slow down and give yourself some grace. "Learn to listen to your inner voice," she says. "If you feel low, often times our body or mind just wants to tell us something, whether that's needing a walk to get out of a negative circle or reaching out to a friend." It's also key not to put extra pressure on yourself — to remember that not every day has to be your 'best day'. Putting the bar too high for your mood, especially if you're prone to SAD, is only setting yourself up for failure.
Get into a good routine
Practically speaking, keeping to a good routine is great for battling SAD — all the experts I talked to are big on maintaining structure, whether thats getting outside for a walk at the same time each day, booking an exercise class to get you out of the house every week, planning meals or organising regular coffee dates with loved ones. "Do what needs to
be done regardless of if you feel like it," advises Kelly. "If your week is planned, then it's harder to negotiate yourself out of the things that are healthy for you."
Start journaling
Kelly swears by journaling for supporting mental wellbeing. "By doing some structured journaling every morning and evening, or even for only five minutes a day, you are focusing on positivity, self-confidence, gratitude
which leads to better regulation of emotions — positive and negative — and an improved immune system," she explains. "It's a daily ritual that really helps you start and end your day in the best way possible." Not sure where to start? For guided journals, I personally swear by I'm Proud Of You's Let It Go journal — unlike a blank diary, it's prepped with 100 prompts that help guide your writing. Ideal for when SAD has zapped you of your energy and brain power. According to TikTok and the Amazon review section, the 5 Minute Journal from Intelligent Change Store, £30 is also a game changer if you're strapped on time. Prefer a blank page to pour your soul out? You can't go wrong with a classic Moleskine. "Search for the glimmers in your day; the moments of gratitude," Kelly says. "Create a list of 10 things that make you the happiest — they are mostly the little things that we can enjoy daily — and actively seek these out."
Try new hobbies that spark excitement
Shaking yourself out of a low mood is hard, but introducing a fun, new hobby — one you've been wanting to try for ages — could be just the ticket. What better way to fill up the long, dark evenings than with a craft (especially one that results in a beautiful gift for yourself) or a spot of baking (yes to sweet treats)? During the winter of lockdown 2020, I started embroidery as something to keep my mind and hands busy, and off my phone doomscrolling. Once you have an embroidery hoop, some scrap material, thread and a needle, each of which are easy to find at your local craft store or on Amazon, its pretty low maintenance, low mess and doesn't require too much space. Even better, I can do it in front of the TV, whilst on the phone to a friend or even on my morning commute, and now I can craft my own personalised gifts for family and friends.
Get yourself a SAD lamp
For those who need an extra boost of energy, a SAD lamp can be a lifesaver once the clocks go back. SAD lamps replace some of the sun that we miss during the winter. They work by sending daylight-spectrum light to the brain's neurotransmitters, balancing out the production of melatonin (the sleep-control hormone) and serotonin (the mood-boosting hormone), which becomes disrupted by the lack of sunlight. This corrects the cause of SAD and helps the body get back on track.
The best SAD lamps
To help you make your decision (as it is a very important and personal decision), we tested out the best SAD lamps and wake-up alarm lights on the market — you can read our full reviews here.
If you just want a quick overview, our testers found that the Beurer TL 50 SAD Therapy Light, £79.99 and Lumie Vitamin L Slim SAD Light, £99, were the best for boosting mood and energy; whilst the Lumie Halo, £219, though vastly more expensive, was the most stylish SAD lamp on the market and worth the money (if only as a beautiful desk light as well as a functional winter must-have).
The best wake-up alarm lights
We also tested out wake-up alarm lights, which are essentially bedside lamps that replace your alarm clock or phone in waking you up gently; using gradual lightening to simulate a rising sun. Many also have 'sunset' settings to help relax you at night. The winners from our reviewers were the Lumie Bodyclock Glow 150, £119 and Philips' SmartSleep Wake-Up Light, £149.99, which both also have nature-inspired ASMR sound functions. Soothing alternatives to the piercing iPhone alarm, especially when it's still dark outside.
Given that every single expert I talk to (no matter their profession) recommends getting outside and seeing real sunlight first thing, these wake-up lamps are a great alternative, especially for those of us who wake up before the sun, don't have the time to go for a pre-work walk or who live in especially dim homes. Personally, having lived in a basement flat for the past few years, my own Lumie Bodyclock Glow is a lifesaver.
With wake-up lamps, it is recommended to use them within the first hour of waking up for about 20 to 30 minutes. You can use them with your eyes open, but — just like the sun — don't look directly at the light. So, it's the perfect opportunity to wake slowly with a cup of tea and a few pages of your book before the day begins.
How to improve your sleep in the autumn & winter
Key to boosting your immunity is getting plenty of sleep. But not just any sleep. Truly restful sleep, the kind that allows your body and mind to relax and focus your energy on fighting off illness. Samantha Briscoe, Lead Clinical Physiologist at London Bridge Hospital's Sleep & Respiratory Services, says that sleep helps our bodies produce important proteins. "When we sleep, our bodies release cytokines, which ultimately tell our immune system what to do," she explains. "These small proteins are vital in the control and growth of the cells that make up our body's natural defences." Lack of sleep can also affect our ability to fight infections when we do get ill, she continues. "When we sleep, there is less of the stress hormone cortisol in our system, which is what allows our immune system to detect and fight infections."
How to start a good sleep & nighttime routine
With the clocks changing in October, darker nights drawing in and less daylight hours, it's easy to feel out of sync at this time of year — which is especially harmful to our physical and mental health according to Dr Laura Falvey, Clinical Director at Roczen, a medical programme dedicated to helping chronic conditions. "Our bodies are circadian, which means they run on an internal biological clock that responds to light and dark. When we're running well on the cycle, it improves our digestive process, body temperature and hormone production," she explains.
According to Samantha, there isn't one easy way to improve your sleep. "A good sleep routine can look different for everyone so it's important to find what works for you and to stick to that," she advises. "Try not to overwhelm yourself with too many changes at once when it comes to your nighttime routine. Start with small changes to work yourself towards healthier sleep habits." Some things she suggests considering include regular sleep and wake times (so as not to disrupt your circadian rhythm) and creating a relaxing sleep environment. Try to avoid devices for about an hour before bedtime to let your brain wind down. Minimising distractions in your bedroom (such as removing your TV and laptop) may also help. Also, cutting down on caffeine in the afternoons.
Tailoring your perfect sleep self-care ritual and routine should also excite you and get you in the mode to relax, and so its also about incorporating things that make you feel good. For myself, I find a self-care shower is the perfect start (lights off, candles lit, my Neom Wellbeing Pod Oil Diffuser, £105 going, and some soft, chill music playing via waterproof speakers. Usually it's Taylor Swift's evermore). Then, I'll spend extra time on my skincare and body care routine, make myself a herbal tea (I love Pukka's Night Time Blend, £4.75) and sip whilst journaling. I find that thought-dumping all my worries before sleep helps stop these thoughts plague me at night. I also put my phone in another room so I'm not tempted to doom scroll into the wee hours.
The best sleep supplements with magnesium
Our diet can also help us sleep more solidly. "Research shows that magnesium can have a relaxing effect on the brain and body, which may help improve sleep quality," Lola explains. "This may be partly due to its ability to regulate melatonin production and increase levels of gamma aminobutyric acid (GABA), which is a brain messenger with calming effects." Magnesium-rich foods that she recommends include almonds, walnuts and oily fish, the latter of which contains amino acid tryptophan, something our brains use to synthesise the sleep hormone melatonin. Taking a magnesium supplement before bed can also help.
What if I need even more help getting to sleep?
For those who need a little extra boost in the sleep department, there's a wealth of products out there which promise to soothe stressed out minds and contribute to a restful night. As someone who suffers from stress-related insomnia and sometimes needs a little more than a magnesium supplement to send me off, I swear by a tried-and-tested combination of a weighted blanket and aromatherapy oil. My favourite weighted blanket is Aeyla's Mela Weighted Blanket, £139, which uses deep pressure therapy to calm the nervous system, prompting a release of dopamine and serotonin (the feel good hormones) and a decrease of cortisol (the stress hormone).
The best weighted blankets
Upgrade your bedding
Even if you're not a weighted blanket kind of person (I get it, they can feel too heavy and suffocating if you're not used to the feeling), bedding is a great place to start your winter refresh. You're about to spend a lot of time in bed this season anyway, whether that's long lie ins on the weekends, too scared to face the cold, or early evenings curled up with a Netflix binge. In fact, Dr Jaya Gowrisunkur, a consultant psychiatrist at Priory Wellbeing Centre Harley Street and Priory Hospital Altrincham, advised swapping your light, summer sheets for thicker, cosier bedding and a winter-specific duvet. With an ultra-soft throw and a mountain of cushions, getting into bed at the end of the day will feel less like a chore and more like a treat — even if thats super, duper early at 6 pm.
Best natural sleep aids (aromatherapy oils, sprays and candles)
Samantha recognises how helpful sleep products can be. "The key to a good sleep routine is feeling comfortable, relaxed and ultimately sleepy enough to drift off," she says. "I would advise against using any products that have chemical fragrances listed in the ingredients. These fragrances are commonly found in sleep candles and sprays, and can damage our respiratory systems, cause headaches and prevent sleep."
For natural sleep aids, we especially love This Works' soothing combination of lavender, camomile and vetivert oils — our Shopping Writer Alexandra described their Deep Sleep Pillow Spray, £15.75 as 'modern day fairy dust' and the answer to her own sleep issues. Even better, you can enjoy the same scent in a myriad of ways, whether that's as a rollerball or balm to apply to your pulse points, as part of your evening skincare, as a classic aromatherapy oil (which I recommend adding to your oil diffuser in the evenings), or even as a candle (light one in the hour or so before bed to relax into the evening).
I also swear by Indi Supplements Rest Natural Sleep Remedy. I've only been using this natural blend of chamomile, valerian and ashwagandha for a few weeks but I swear its magic — one drop 30 to 60 minutes before bed and I sleep like a baby.
Whichever sleep aid you opt for though, Samantha urges caution. Candles must never be left unattended or allowed to burn overnight, and she would only ever use oils in moderation. "If you're struggling to sleep over a long period of time, it might be your body's way of telling you that something is out of balance," she explains. "It's always advised to seek a medical professional's help."
Like what you see? How about some more R29 goodness, right here?
Will Working Out In The Cold Make Me Sick?
Top-Rated SAD Lamps & Wake-Up Lights Reviews 2023
5 Coat and Jacket Trends For Autumn 2023