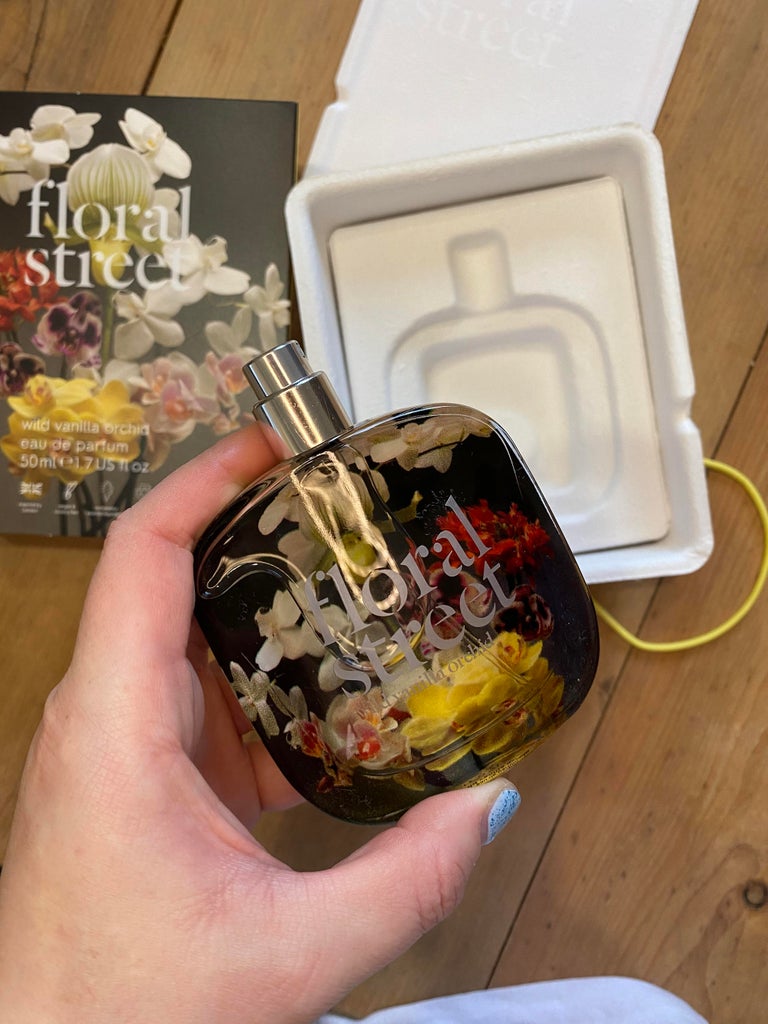 There is truly no compliment like being chased down to be asked what perfume you're wearing (of course, it goes without saying, chased down in a polite, non-scary way). This has happened to me not once, not twice, but three times, and each time with the same perfume: Floral Street's Wild Vanilla Orchid Eau de Parfum. The first was by a new acquaintance at a surprise party, the second was by my oh-so-cool and oh-so-hard-to-impress little sister, the third out at a restaurant by a stranger who cut across her date to demand the name.
I don't blame them: Vanille Orchid is a warm, inviting scent. It's sweet and enticing without being cloying or so sugary sweet that it's headache inducing. Plus, it lasts for ages — way longer than some more expensive fragrances I own — and is noticeably cheaper too (£28 for a 10ml bottle, £68 for 50ml and £108 for 100ml). Even better, the brand is a good 'un that is dedicated to sustainable practices, from its reusable, recyclable and biodegradable packaging to the actual contents of its perfumes (vegan, cruelty free and with responsibly sourced ingredients).
And so, already the veritable Floral Street convert, spreading the good word everywhere I waft, I decided to take this to the next level: testing out the entire range to see if any of their other scents were worth running after someone (I take exercise very seriously, you know). Read on for my reviews of nine Floral Street bestsellers, including my beloved Vanille Orchid — and just in time for Christmas (aka prime perfume gifting season), whether that's a full-size bottle for someone special, a 10ml spritzer for your BFF's Secret Santa, or as a self-treat for yourself.
At Refinery29, we're here to help you navigate this overwhelming world of stuff. All of our market picks are independently selected and curated by us. All product details reflect the price and availability at the time of publication. If you buy or click on something we link to on our site, we may earn a commission.
Why Floral Street?
If my tempting tease of an opener to my new favourite fragrance hasn't swayed you, let a little background information on the brand do the trick. Floral Street is a London-based brand founded in 2017 by Michelle Feeney. By her own accounts, Feeney has the kind of background that inspired Absolutely Fabulous; before founding Floral Street, she worked in PR and with some of the biggest names in the beauty industry (Estée Lauder, MAC Cosmetics and St Tropez). Sustainability was at the heart of Floral Street from the start and the brand was the first to use its now signature embossed-pulp cartons to house the glass bottles. Made from recyclable and biodegradable paper packaging (that's certified by the Forest Stewardship Council) and held together with a reusable boldly coloured band, this box can be repurposed to house keepsakes or used as a seed tray for plants and herbs. It's since been certified plastic neutral by CleanHub and offset its carbon footprint via a partnership with The World Land Trust.
What goes into its perfumes is just as important. Not only does Floral Street work with master perfumer Jerome Epinette — aka the nose behind some of the most iconic fragrances from Phlur, Byredo, Boy Smells, and Vilhelm Parfumerie — but it works with Robertet; a world leader in sourcing sustainable, natural raw materials through ethical practices that support local ecosystems and communities to ensure traceability at every stage. Each of its scents are vegan and cruelty free (certified by PETA and The Vegan Society).
How do I choose the right Floral Street scent for myself?
While I've done my best to describe each perfume, as well as the world I feel it inhabits and any fragrances it reminds me of, we all know how personal scent can be. And so, Floral Street has put together its own online quiz to help guide your tastes towards the perfect match. And if that fails, Floral Street's Discovery Set, £18, includes sample testers of eight bestsellers — any rejects make for perfect stocking fillers, FYI.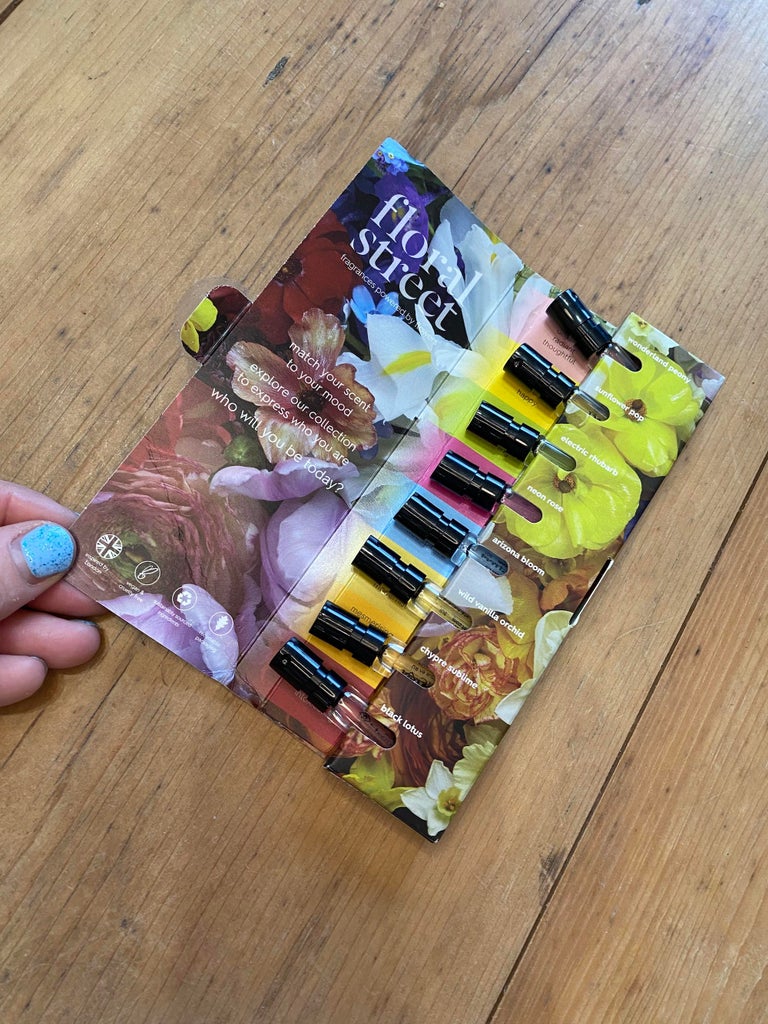 Floral Street perfume reviews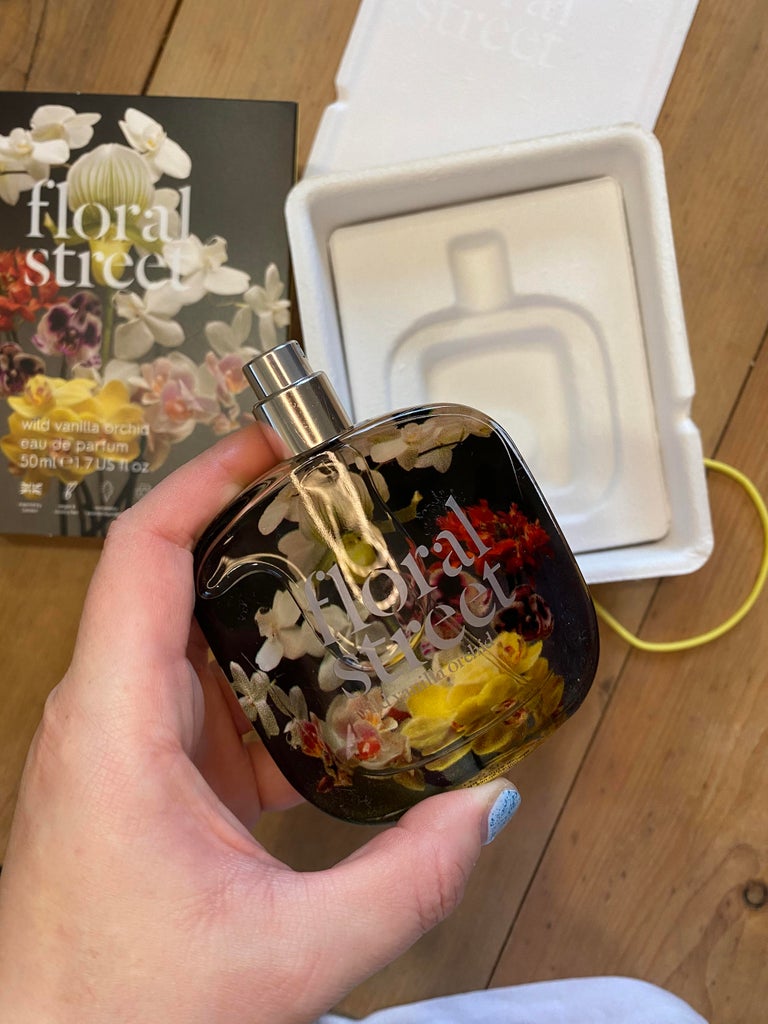 If you love warm, inviting scents then this is the Floral Street perfume for you. Unlike other vanilla scents which tend to focus on the ultra sweet and gourmand aspect of the note, this is sophisticated and sensual; not too sweet as to give you a headache or make you feel bored after a few minutes. In fact, it reminds me of my favourite candle: Diptyque's Vanille. Why? Both make use of the vanilla bean pods and their earthiness and depth. Instead of feeling too heavy or heady though, Wild Vanilla Orchid mixes these creamy vanilla bean notes with Indian Jasmine Sambac, harvested before the flower buds open, which adds a clean, green floral "lightness" (so imagine if Diptyque's Vanille had a baby with Gucci's Gorgeous Jasmine Eau de Parfum). Notes of patchouli add a hint of spice, lemon a fresh zing, cassis (aka a blackcurrant-like fruit) adds fruitiness, and sandalwood and Ambroxan a woody base to ground everything together. This also lasts for ages on the skin and especially on clothes. Since spraying on my winter coat a week or so ago, I catch a whiff every time I pull it on. All in all the perfect winter scent in my opinion.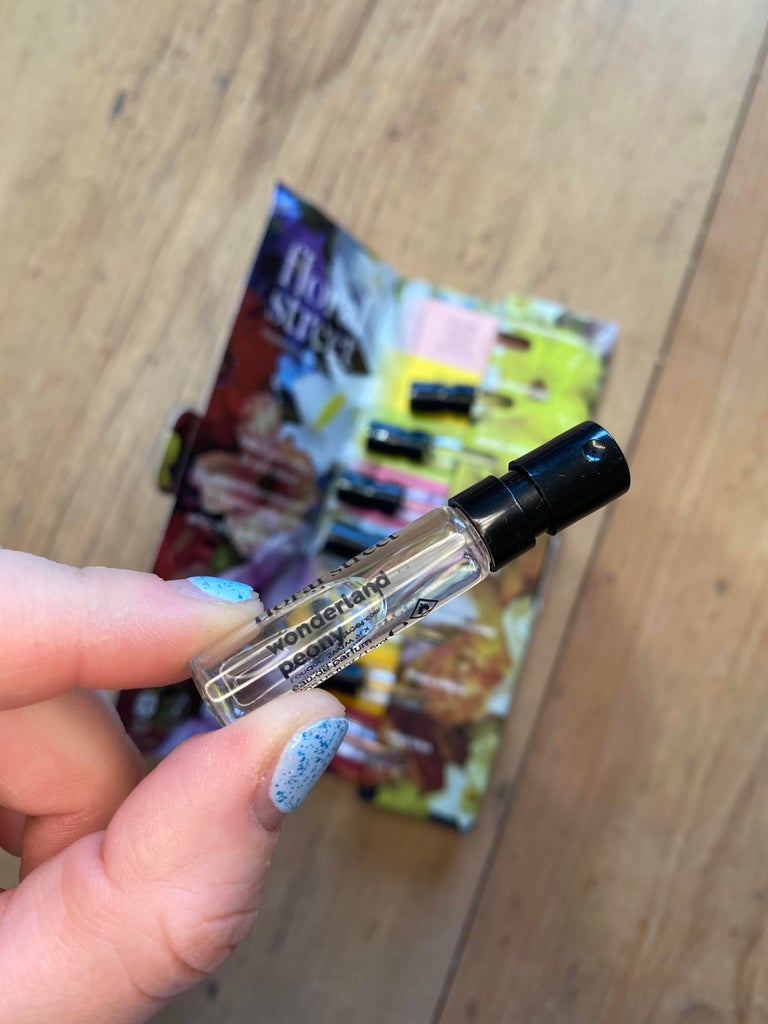 Before I spritzed my tester, I was dubious — I had read online that one of the notes in Wonderland Peony is cotton candy and, as someone who dislikes anything too sweet, that doesn't really appeal. I should have definitely given Floral Street more credit. Wonderland Peony doesn't smell overly saccharine at all, rather like an inviting cloud of fresh-floral goodness. Or just like wandering into a flower garden at the height of spring, all the blooms bursting with life and scent; bees buzzing, butterflies fluttering around you, birdsong overhead. Along with the peonies come bouquets of violets, handfuls of blackcurrants, raspberry flower and pink guava for a fruitiness, pink peppercorn berries and cedarwood notes for a woody earthiness and vetiver which, I think, adds a light grassy scent. Just like someone has freshly mowed the lawn nearby. If you like Jo Malone's Peony and Blush Suede Cologne, then you'll love this. In fact, since testing, I've found Wonderland Peony competing for top spot with Wild Vanilla Orchid and my tester bottle is almost finished — I'll be in dire need of investing in a full size bottle very soon!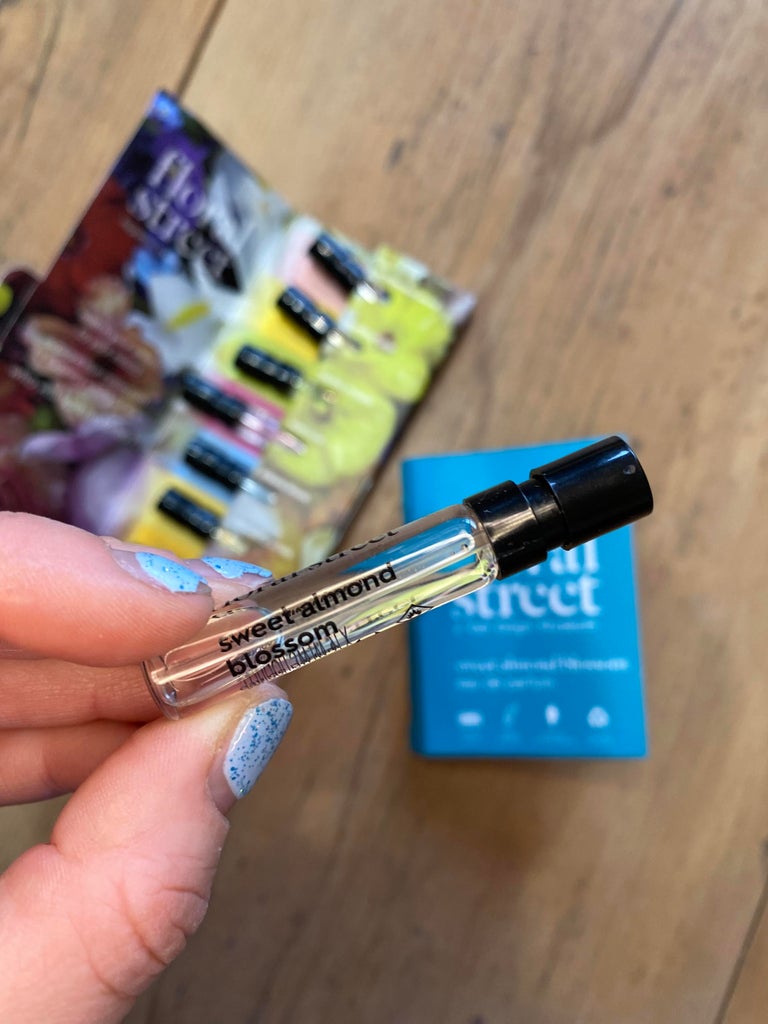 Sweet Almond Blossom is, just as the name suggests, a sweet, juicy fragrance that sits on the fence between what experts nickname "floral" and "green scents". In simple terms, this just means it doesn't stray too far into either territory. Lush pomelo fruit (sort of like grapefruit) and passionfruit combine for a sparkling, citrus top note which eases down into sweet apple blossom and vanilla bean, nutty tonka bean and then a base of crisp, grassy green matcha tea. All in all, I find it a creamy, delicate scent that's perfect for daytime wear (read: fresh enough not to irritate your coworkers). I actually already included this in our best 2023 summer scents roundup and I stand by that decision. This truly does capture the best of early summer, reminding me of those first long, languid days while the scent of blossom plays on the air.
The cherry on top of the cake is the packaging. This fragrance — Floral Street's latest — was created in partnership with the Van Gogh Museum and is inspired by Vincent van Gogh's oil painting Almond Blossom.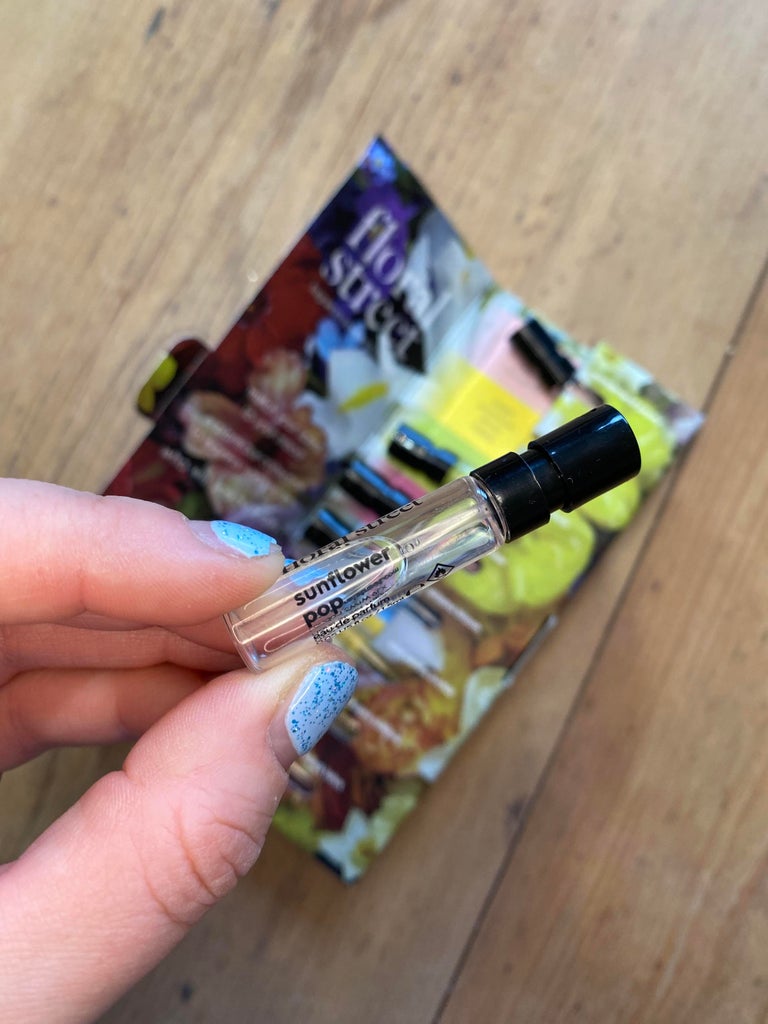 Simply put, this is sunshine in a bottle. Another of Floral Street's collaborations with the Van Gogh Museum (and of course, taking inspiration from Van Gogh's most iconic paintings), Sunflower Pop is a light, sun-soaked citrus scent that will brighten even the dullest winter day and pierce even the strongest of SAD-fuelled, gremlin-girl, bed-rotting-for-days moods. Fresh zingy mandarin and Calabrian bergamot meet vegan honey and bellini accords to create a truly uplifting and refreshing fragrance. In fact, this had me smiling every time I caught a whiff throughout the day. Spritz whenever and wherever you need a pick-me-up — your pillow, your go-to scarf, your home-office — and daydream of summer freedom (only a few more months, everyone…).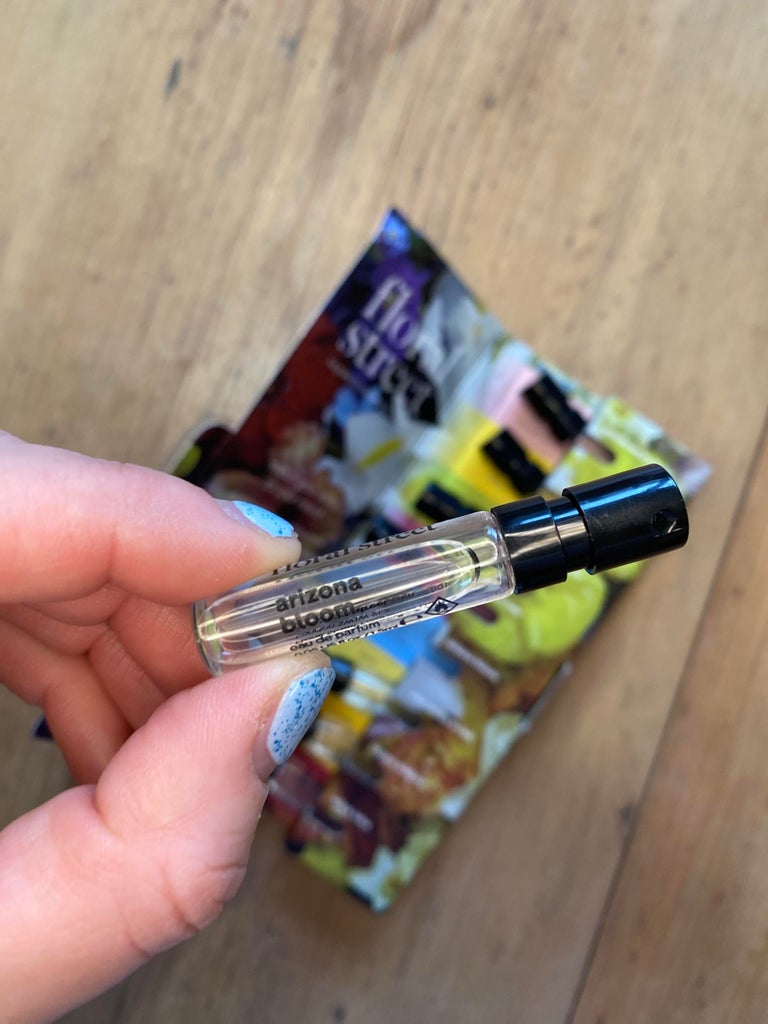 We're taking a trip to the plains of the Arizona desert via the tropics. I don't know how to describe this fragrance apart from that it smells dry — not dry in a bad way, but dry in a sense that reminds me of the desert lands that inspired the name; the sun hot on your skin, the air heady and warm. Compared to your usual zesty citrus scents, green earthy notes, fragrant florals or sweet gourmands, Arizona Bloom is totally unique in my books. It mixes coconut and salted musks (hence the tropical, seaside vibe) with floral amber and cashmere (hence the dry, desert feel) and jasmine petals and fig leaves (for the sweet warmth) to create a musky, grown-up perfume with real depth. This is the most unisex of Floral Street's perfumes that I tested. I don't think it will be for everyone and even though I like it, I think I'll only wear it occasionally and mostly in the evenings. And so, I recommend trialling this out via a sample in the Discovery Kit before investing in a full size bottle. On the other hand, I can also see this piquing the interest of someone who is over smelling the same as everyone else and gaining fans because of how different it is.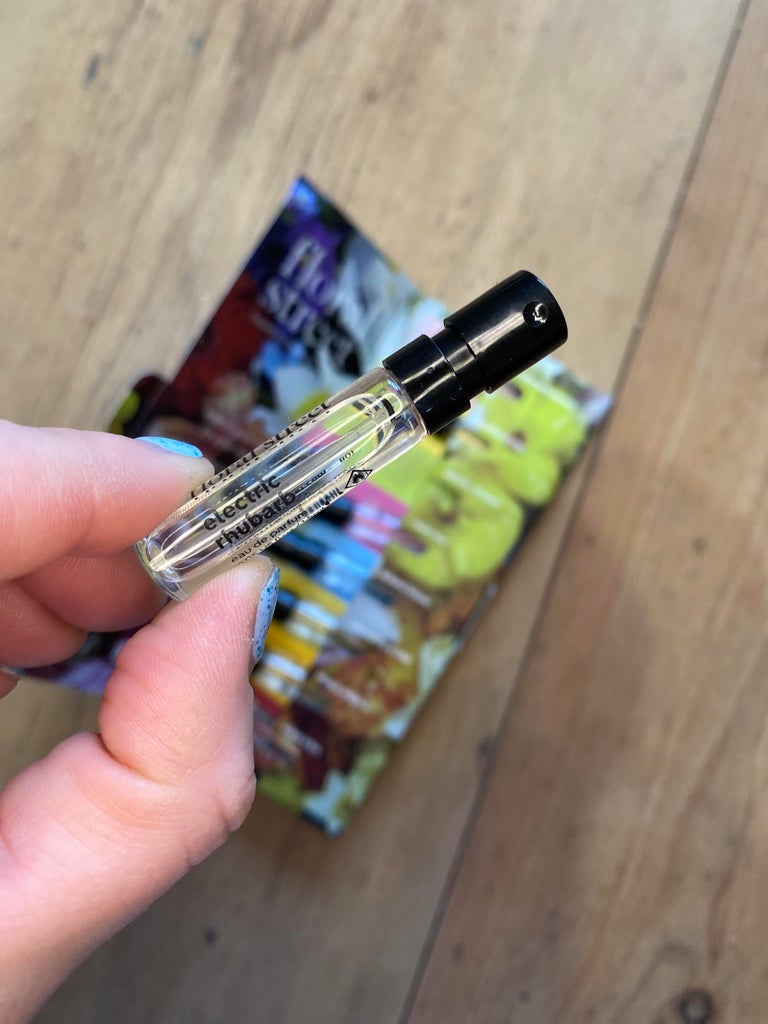 Imagine it's summer. You're sitting out on the deck of a seaside hotel. It's dusk and the fairy lights lining the decking are twinkling above you. You can hear the sound of the ocean below, the chatter of your fellow guests murmuring in the dimming light. There's a glass of chilled Prosecco in your hand, a bunch of gardenias blooming on your table and you have not a care in the world. Now bottle all of this and you have Floral Street's Electric Rhubarb, created in collaboration with the UK's Royal Horticultural Society. The brand really is truly on it with their names — this fragrance really does sparkle with vibrancy, all thanks to the light, airy mix of fruit (rhubarb), flower (that gardenia I mentioned earlier plus other blooms you would typically find on the coast, like frangipani) and marine-inspired notes (sea salt).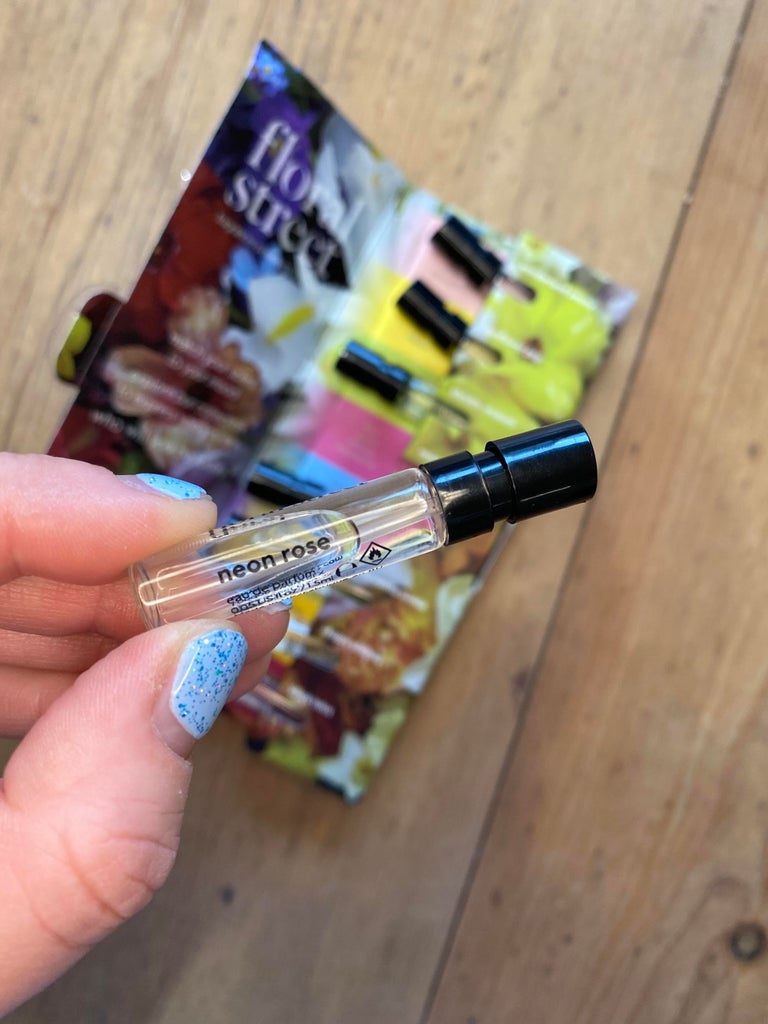 Rose perfumes often get a bad rep, touted as being too old fashioned, too powdery, too "grandma". I for one am a fan of rose scents when they're done well, aka modernised and given a fresh edge. Floral Street's Neon Rose falls into this category for sure, probably because it doesn't actually include any rose. Rather, I was surprised to find that Floral Street crafted a "reimagined" rose scent by mixing zesty bergamot, spicy Sichuan pepper and juniper berries, fruity pear and peach nectar, musky angelica, a plant called galbanum (which has a balsamic scent), and cyclamen flowers. You'll like this one if you're already a fan of fresh rose scents like Jo Loves White Rose & Lemon Leaves or Byredo Young Rose.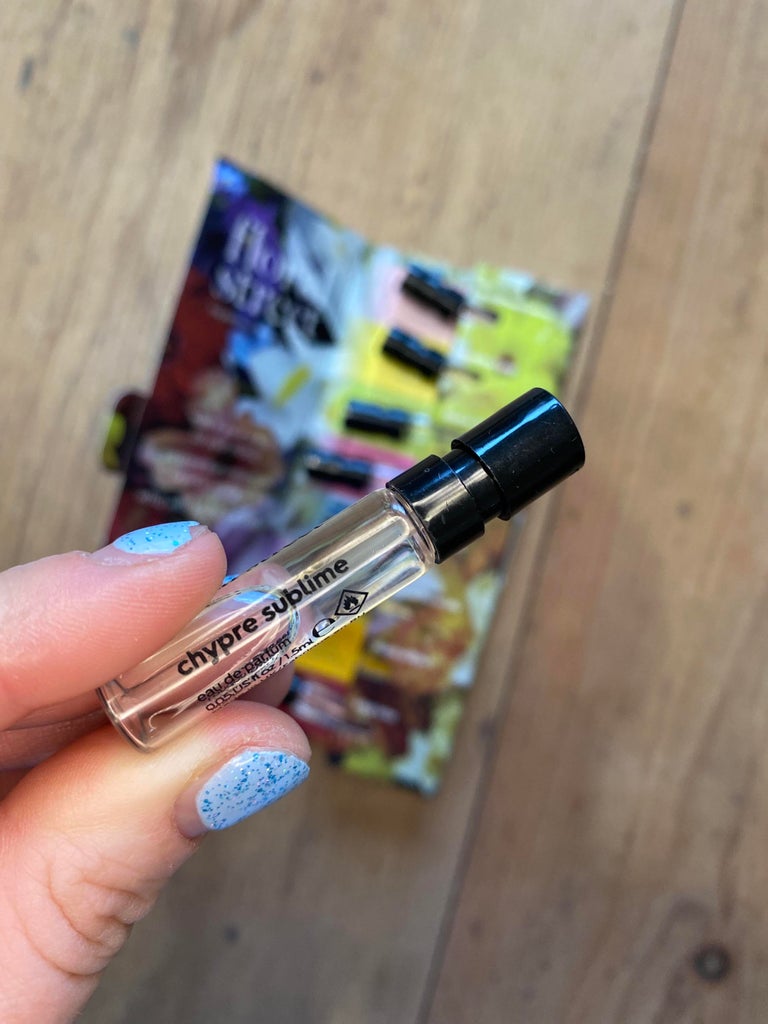 Here's the true rose scent that can divide opinion. On the face of it, each of the notes in Chypre Sublime could be considered overpowering and off-putting, especially when together: Damask Rose, patchouli, midnight violets, incense, olibanum (aka frankincense), benzoin (a rich gum resin that smells sweet and smooth like vanilla) and warm, leathery labdanum (which you also find in Tom Ford's Rose de Chine, Maison Francis Kurkdjian's Oud Cashmere Mood and Le Labo Labdanum 18). In reality I don't find it so — none of these powerful notes are competing with each other, rather mixing to create the perfect dark, glamorous evening scent. It transports you away to another world and it's exactly what I imagine an Old Hollywood starlet would wear with all her silky satins and glittering diamonds. Though I would advise testing out first if you're not a fan or used to these heavier, deeper types of perfumes.
Black Lotus doesn't just have a similar name to Tom Ford's Black Orchid, both share a similar scent story: floral notes playing over rich, warm spices (patchouli), leather notes, and earthy woody bases. So, if you like one, you'll probably like the other. If you're not familiar with either, I would describe Black Lotus as a rich, honeyed-spice scent that lasts for ages thanks to the leather and musk notes. It's a lot stronger than some of the other Floral Street perfumes I've tested and while I mostly was complimented by others, I did get two comments about how overpowering the scent was (so word of warning if you live or work in a small space). This I'll be keeping for the deepest of winter and the darkest of nights — I imagine it'll come into its own for Christmas Eve dinner or yuletide drinks.
Like what you see? How about some more R29 goodness, right here?
10 Unique Perfumes You Can Be Sure No-One Else Has
7 Autumn Perfume Trends As Predicted By Experts
Why Phlur's "Father Figure" Perfume Is Going Viral