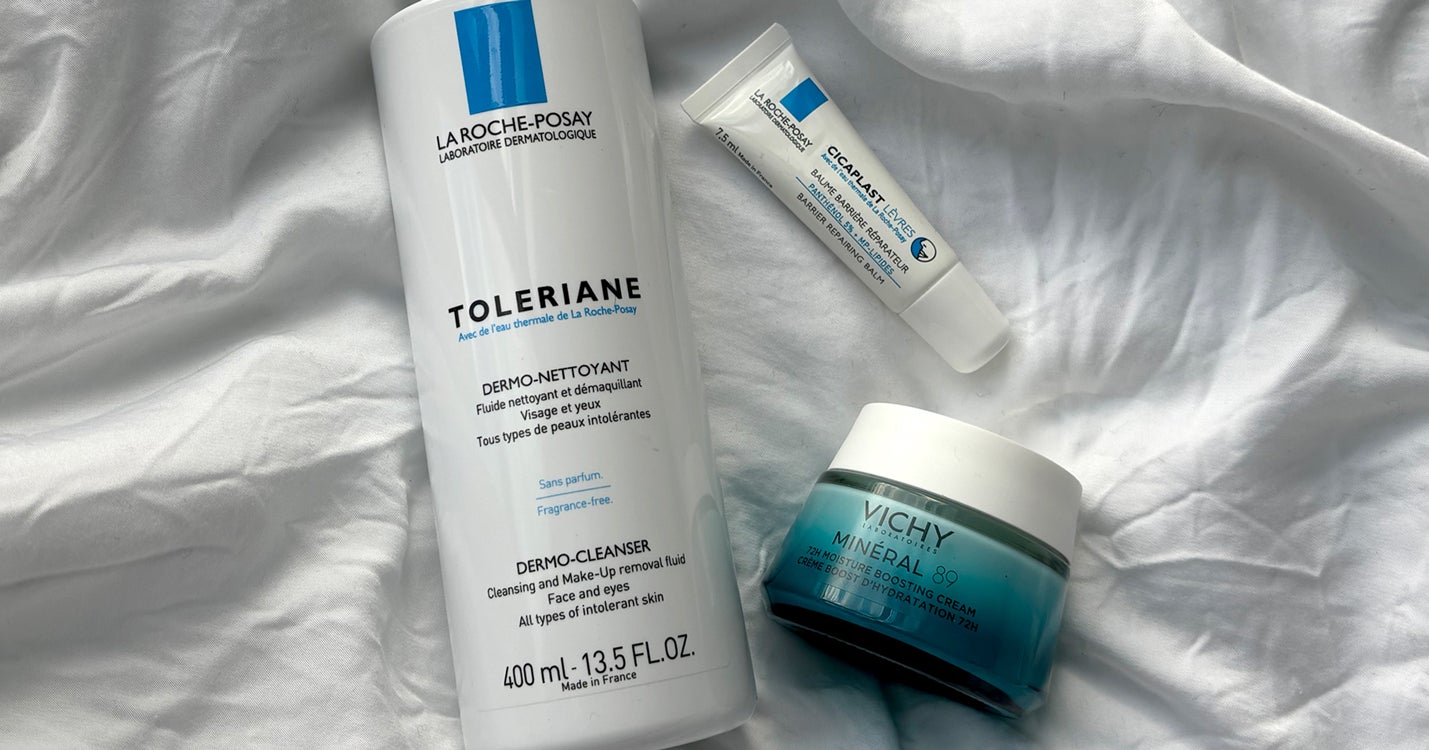 For a while now, my face has felt like it might crack at any given moment. The skin has become tight (although I moisturise twice daily) and is bestrewed with patches of flaky skin (especially around my nose and mouth). But it seems like I'm far from the the only one.
"Why is my skin so dry even when I moisturise?" and "best moisturiser for dehydrated skin" have been common searched queries in the past week. It makes total sense. Cold weather and central heating can sap humidity from the environment, leading to transepidermal water loss, where water evaporates from the skin. If yours is feeling especially parched, this could certainly be a reason, but the wrong skincare products (think: too many active ingredients like retinol and exfoliating acids, a stripping cleanser or heavily fragranced products) can also exacerbate dry, dehydrated skin.
With the mercury set to drop even further, it's imperative to nail down the right routine to keep your skin barrier (the outermost layer of your skin, which prevents water loss and stops harmful things getting in) as happy as possible. But where should you start? On a recent trip with La Roche-Posay, I went shopping with consultant dermatologist Dr Justine Hextall. With her expert advice and guidance, here's everything I chose for my dry, dehydrated skin ahead of winter.
1. A gentle cleanser for AM and PM
"A lot of people say that a cleanser doesn't matter in your skincare routine," said Dr Hextall, "but I think it's the most important thing in your regime." It pays to get the formula right, though. While foaming cleansers are beneficial, particularly if you have very oily, acne-prone skin, they aren't the best option for everyone. In fact, we quickly realised that my foaming cleanser was far too strong, and that it was messing with my skin barrier.
"If you over-strip the skin at the beginning of your regime and make the skin dry, it's going to start losing lots of water as the day goes on," said Dr Hextall, who told me it's actually a myth that if your skin feels tight, it's just very clean. This means the pH of your skin has changed, said Dr Hextall, and while it may look plump, smooth and clean, it's actually swollen — and the barrier is damaged.
If this sounds familiar, consider swapping your cleanser for something gentle yet effective. Dr Hextall loves the La Roche-Posay Toleriane Dermo Cleanser, £15, a creamy cleanser with a lightweight lotion texture. After just a few days of using this morning and evening, my skin feels infinitely better. (It cuts through heavy foundation and mascara quickly, too.) Like me, Dr Hextall is also a fan of CeraVe. R29 rates the Hydrating Cleanser, £11.50. Also try the new No7 Derm Solutions Comforting Cream Cleanser, £14.95, which leaves skin feeling comfortably clean, not squeaky.
2. A serum with humectant ingredients
If your skin is on the tight side, it's likely dehydrated. "If the skin becomes dehydrated, the only defence it has got is oil," said Dr Hextall, so it may produce more of it. (This explained my forehead breakouts.) In this case, you might want to supplement your morning and evening routine with a hydrating serum which boasts humectants. These are ingredients which draw water into the skin, like hyaluronic acid, niacinamide, panthenol (vitamin B5) and urea.
My new moisturiser (more on that later) already contains hyaluronic acid, so I settled on panthenol, which reinforces the skin barrier and prevents skin from drying out. I picked up La Roche-Posay Cicaplast B5 Face Serum, £39, (Dr Hextall's recommendation) but one of my favourite hydrating serums is The Ordinary Amino Acids + B5, £7.90. Other experts I know extol the virtues of Medik8 Hydr8 B5 Serum, £45, if you have more to spend. Dr Hextall has a top tip for boosting moisture: If you've cleansed your skin, leave it slightly damp and then apply your hydrating serum. It's essentially skin flooding. "Sealing in hydration is the key to stopping it from leaving your skin," Dr Hextall told me. You could also use a mist like Avène Thermal Spring Water Spray for Sensitive Skin, £15.50 (another brand Dr Hextall likes).
Once your skin no longer feels tight, uncomfortable and irritated, you might want to think about replacing this with an antioxidant serum, such as vitamin C, which will protect your skin against environmental aggressors like pollution. Dr Hextall likes La Roche-Posay Pure Vitamin C10 Serum, £45. If your skin is reactive (like mine) and you want to steer clear of vitamin C entirely, try something with niacinamide (vitamin B3) — also an antioxidant. "Niacinamide is great for someone with skin that is prone to pigmentation," said Dr Hextall. "It's particularly good for acne-prone skin if your acne leaves behind marks," she added. It also prevents water loss from the skin.
3. A moisturiser with emollient ingredients
To keep that moisture under lock and key, Dr Hextall recommended looking for a moisturiser with emollients — ingredients which act like a barrier on the surface of the skin to stop water from escaping. I picked up Vichy Minéral 89 72HR Moisture Boosting Cream, £22, which features moisturising squalane and glycerin, plus hyaluronic acid for an additional hydration hit. Using this in the morning and in the evening has been transformative; it takes away tightness, makes skin feel soft and smooth, primes skin for makeup and doesn't break me out. I like to apply a generous layer on my lips, too.
If you'd rather spend less, try CeraVe Moisturising Cream, £5 (I also picked this up on our trip) or The Ordinary Natural Moisturising Factors + HA, £5, both of which contain ceramides, another emollient which Dr Hextall recommends for repairing dry skin.
4. A sunscreen with UVA and UVB protection
Don't be fooled into thinking that sunscreen isn't necessary in autumn and winter. Regardless of the weather, the sun emits UVB rays (responsible for sunburn) and UVA rays (behind premature ageing and skin cancer). UVA rays can even penetrate glass in windows. What's more, there is evidence that 80% of UV rays can pass through clouds, so wearing a high-factor, broad-spectrum sunscreen all year round is a good habit.
I love L'Oréal Revitalift Clinical SPF50+ Invisible Fluid, £19.99 (currently £9.99 at Boots) and Bondi Sands Sunscreen Lotion SPF 50+ for Face, £6.99, if you'd like to spend less. Dr Hextall likes La Roche-Posay Anthelios UVMune 400 Invisible Fluid SPF50+, £19.90, as it's lightweight and tolerable. If your skin needs more quenching, try Anthelios Pigment Correct Sun Cream SPF50, £31, which includes niacinamide to counteract pigmentation. For those who don't like to put too much on their skin, Dr Hextall suggests layering a serum of your choice underneath sunscreen and skipping moisturiser altogether.
5. A protective lip balm
Dr Hextall told me that applying a hydrating moisturiser onto my dry lips followed by an occlusive lip balm will further protect them from the elements. In the evening, I apply the above Vichy moisturiser generously and then a slick of La Roche-Posay Cicaplast Baume Lips, £8, on top. I also picked up Nuxe Rêve de Miel Ultra-Nourishing Lip Balm, £13, with shea butter, vitamin E and argan oil, which I use during the day. Consultant dermatologist Dr Anjali Mahto recommends this to her clients with extremely dry lips caused by acne treatment Accutane (she also uses it herself).
6. A non-greasy hand cream
Lastly, don't forget your hands. If they become dry and are prone to swelling and cracking in the cold, it's likely you're dealing with the skin condition dermatitis. A slathering of fragrance-free hand cream each time after washing your hands is a must, but if they need a little more TLC, consider a DIY overnight hand treatment. Dr Hextall recommends applying La Roche-Posay Lipikar Baume AP+M, £16, twice a week under cotton gloves. I also bagged a large tub of CeraVe Moisturising Cream, £15, but I equally like Aveeno Skin Relief Moisturising Hand Cream, £7.07, and Neutrogena Norwegian Formula Concentrated Hand Cream, £4.15.
At Refinery29, we're here to help you navigate this overwhelming world of stuff. All of our market picks are independently selected and curated by the editorial team. If you buy something we link to on our site, Refinery29 may earn commission.
Like what you see? How about some more R29 goodness, right here?
7 Skin Tweaks An Expert Told Me To Make For Winter
"Acne Safe" Is BeautyTok's Most Misleading Trend
Do You Really Need Vitamin C For 'Good' Skin?