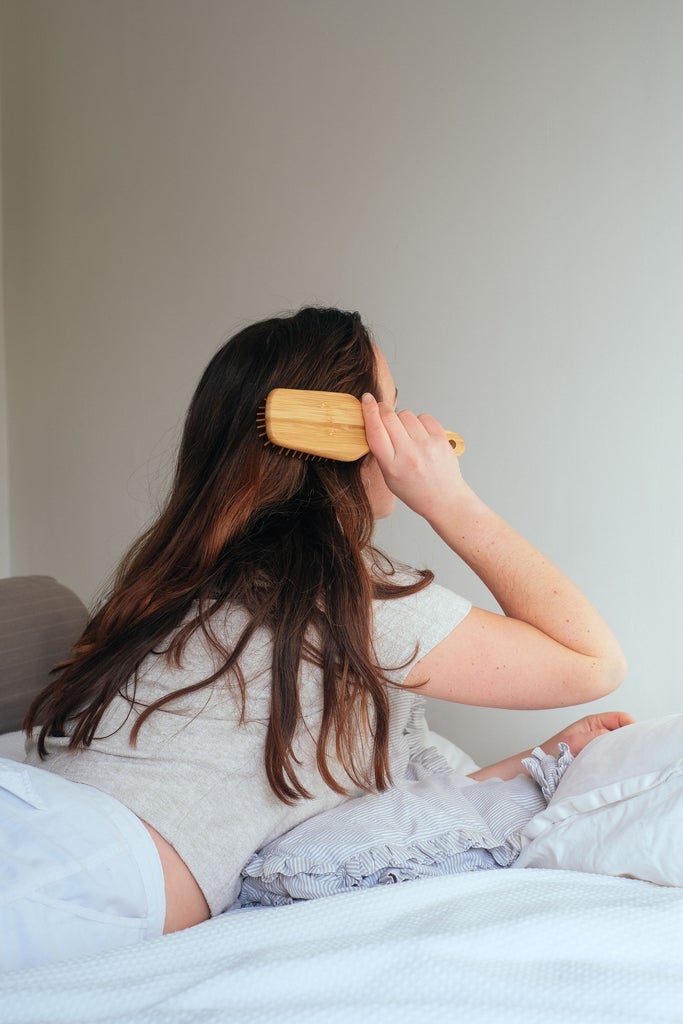 Anything Angela Onuoha doesn't know about healthy hair isn't worth knowing. As a board-certified trichologist and Tangle Teezer ambassador, hair science is her thing — and she certainly isn't afraid to let you know where you might be going awry.
Onuoha's refreshing honesty has gained her a huge, loyal following on Instagram as well as TikTok, where she regularly busts myths, reviews viral products like K18 and Olaplex and shares the invaluable tips she's learned throughout her career.
With the weather about to take a turn, Onuoha's advice couldn't come at a better time. If your lengths feel parched, your scalp gets flaky or you're using more heat, now might be a good moment to rethink your routine. But you don't have to head out and buy all new products.
Here's everything Onuoha wants you to know about looking after your hair in the winter, including the habits she kicks herself.
Air-drying In The Cold
This year's scorching summer made using heated hair tools rather torturous. It's why TikTok's countless easy air-dried hair trends went viral. Air-drying might not be best practice when it's cold outside, though.
"I tend to avoid leaving my hair wet to air-dry," Onuoha told R29. "Not only does it take forever to dry, it also keeps the hair at its most fragile state, which puts it at higher risk of damage." When your hair is wet, it's more elastic in texture and can snap easily compared to when it's dry. That's not all. "Going out with wet hair during cold weather can literally freeze your hair and cause it to break," added Onuoha, which could explain why you might notice shorter pieces of hair sticking up (easily mistaken for frizz) during this time.
To go even further to protect your lengths in the cold, Onuoha suggests investing in a hat or beanie which is lined with something like silk or satin. "Otherwise, hats can cause friction, too, which damages your hair further," said Onuoha. "It's why I tend to avoid them." R29 rates the Only Curls Satin Lined Knitted Beanie Hat, £22, which is super soft inside but doesn't slip off.
Using Too Much Conditioner
Doing too much is a real thing, said Onuoha. "Some people might deep condition their hair three times a week, or use lots of oils. But this leads to overuse. What happens is you end up over-manipulating the hair, even if you're using the best products." Onuoha said that touching the hair too much could result in hair damage and breakage in the long run. So what do you do if your hair is increasingly parched?
"I like to use the 'sandwich' method when I feel like my hair feels more dry and brittle during the wintertime," said Onuoha. Simply apply your chosen conditioner to damp hair, let it work its magic for a few minutes and rinse. Then wash your hair with shampoo, rinse, and apply conditioner or your favourite hair mask. Be sure to rinse this out properly after a few minutes.
Exactly how you apply conditioner or a hair mask is key, too. "Always squeeze out the water first," advised Onuoha. "This prevents the conditioner from sliding off, because the water acts as a barrier." Giving your hair a quick squeeze allows more room for your hair to suck up all of the conditioner's benefits, said Onuoha. Otherwise, you're quite literally washing your money down the drain.
Blow-drying Very Wet Hair
The last thing any of us want to do when it's cold is to stand around in a towel. You'd be forgiven for making a beeline for your hairdryer as soon as you step out of the shower but blasting sopping wet hair with heat is a no-go, said Onuoha.
"Using that much heat on soaking wet hair heats up the water on the hair strands before it is able to evaporate," explained Onuoha. "This will literally make it boiling hot." Not only are you essentially cooking your hair strands, Onuoha said you're drying out your scalp, too, potentially resulting in itchiness and flakes.
So what to do? "Using a microfibre towel, make sure you soak up the majority of the water," said Onuoha. Try the Noughty Hair Towel, £10.39, or the Only Curls Towel Turban, £14, and squeeze your wet hair very gently.
"Saturate your hair in heat protectant," added Onuoha, "and then blow-dry."
Ditching Silicone In Hair Products
According to Onuoha, it's actually a myth that hair becomes drier in cold weather. "If hair is already damaged, it might look dry, and this is down to weather and humidity changes," said Onuoha. "In winter, there's less sunlight during the day. The sun naturally reflects light, which makes your hair appear more shiny over summertime compared to the colder months."
Onuoha rates rich, natural oils over hair serums for imparting shine (think argan oil and jojoba oil) but she also likes silicone-based oils. Silicone is a great ingredient which is often unfortunately demonised, with reports of it weighing down hair, creating buildup and making hair greasy. Nowadays, most silicones used in haircare are lightweight and very easily washed out — their benefits by far outweigh any negatives. "Silicone-based oils can help lubricate the hair shaft, making it look and feel smoother," said Onuoha, "all while protecting it from the outside environment."
R29 rates OGX Renewing+ Argan Oil of Morocco Extra Penetrating Oil, £5.99, ARKIVE The Good Habit Hybrid Oil, £9.33, and Sol de Janeiro Brazilian Glossy™ Nourishing Anti-Frizz Hair Oil, £33. "Think of oil like a top coat after painting your nails," said Onuoha. "It acts as a barrier, helping to reduce friction and protect the hair while lending a glossy finish."
While your hair might not get dry, your scalp (just like the skin on your face) probably will. "I always like to up the TLC with a nice scalp serum and a scalp mask every now and then," said Onuoha. Try OUAI Scalp Serum, £48, or ARKIVE The Root-Ine Scalp Serum, £9.33, if you want to spend less.
Washing Hair Less
There are a couple of reasons why you might consider washing your hair fewer times a week during the winter. Firstly, you're probably sweating less. Then there's the common misconception that cold weather dries out your hair (which Onuoha disproved above). Regardless, Onuoha said that it's a good idea to shampoo your hair at least once a week and to really focus on the scalp while you wash it.
Healthy hair grows on good soil, says Onuoha. "Your scalp is the soil your hair grows on. Making sure the scalp is a clean and healthy environment for the hair follicles contributes to that." Onuoha would recommend a scalp massager like the Tangle Teezer Scalp Exfoliator & Massager, £6.40, to help loosen the buildup from hair products, oil and pollution on your scalp. "The gentle pressure also increases blood circulation," said Onuoha, which experts say contributes to better growth.
Using Bristle Brushes Too Often
From the air cut to bangs with benefits, so many trending hairstyles require styling with a bristle brush to achieve the desired volume. If you're getting regular trims, using heat protector sprays and treating your hair to conditioner every time you wash it, you're doing all the right things. But there are a few more tweaks you might want to make.
"I'm personally not the biggest fan of boar bristle brushes," said Onuoha. "Visually, they create amazing hairstyles, but due to the amount of excessive heat and brush strokes needed to achieve the look (as well as the material of the bristles), you're at a high risk of damaging the cuticle by over-brushing your hair." Onuoha said that bristle brushes can tear away sections of the hair cuticle, weakening it in the long run.
There is a way around this, though. Instead of brushes with hard bristles, Onuoha suggests opting for a gentler brush with flexible teeth. "This limits the amount of tension and friction on the hair and really focuses on giving you the quickest (and in this case less damaging) blow-dry." Onuoha likes the Tangle Teezer Tangle Teezer The Ultimate Blow-Dry Hairbrush, £16. "This brush is beginner-friendly, high performance and minimises the amount of damage to the hair — without interfering with an amazing hairstyle." She also uses the Ultimate Detangler Brush, £14, to get through her thick hair. "It leaves my curls looking defined and voluminous."
At Refinery29, we're here to help you navigate this overwhelming world of stuff. All of our market picks are independently selected and curated by us. All product details reflect the price and availability at the time of publication. If you buy or click on something we link to on our site, we may earn a commission.
Like what you see? How about some more R29 goodness, right here?
How To Find A Good Hair Gel Or Wax Stick
Can I Actually Train My Hair To Be Less Oily?
7 Skin Tweaks An Expert Told Me To Make For Winter