My hair has had a good summer: It's been in the sea, in the pool, drenched in sunshine, tonged, dyed and re-dyed. So, when Refinery29's deputy beauty director Jacqueline recently asked if I wanted to cut my long hair into a "choppy bob", it didn't take me long to say yes. I really love having longer hair, but boy, those split ends were done. Call it a cliché, but as we enter autumn, I'm ready for a hair change and I'm keen to feel that cool breeze on my neck.
The bob haircut — and its various iterations — are everywhere at the moment. In fact, various magazines have dubbed 2023 "the year of the bob cut". Zendaya has got one (total hair goals) and Hailey Bieber, too, so naturally, many have followed suit. What's more, plenty of stylists are rejigging the classic cut, bringing it into the TikTok era. So far we've seen the "Italian bob", the "boyfriend bob" and the "preppy bob" all trending online.
What is a choppy bob?
But what of the trending choppy bob? The clue is in the title: It's all about texture and movement, and far less about being neat. "It's more to do with not looking so 'done'," agrees London-based hairstylist Ryan Wilkes, who I was booked in to see at Hershesons Belgravia. "It's about having chunkiness with 'shattered' ends," he adds, which aren't blunt or straight across. Rather, they are slightly fluffier. and more voluminous. When I think of the choppy bob, which is increasing in Google searches this month, my mind instantly goes to the queen of effortless cool: Alexa Chung. The look was also spotted on various street stylers at London Fashion Week recently.
How is a choppy bob cut?
Wilkes doesn't believe in being too prescriptive with the choppy bob. "I want to create a shape where you can wash and go, so you don't have to style it everyday," he explained to me in the salon chair. This was music to my ears as I am particularly lazy when it comes to styling my hair.
In Wilkes' opinion, a hairdresser should adjust the choppy bob style to suit the face shape and hair texture of the client. Happily, it's a versatile cut that can be customised to complement everyone. Take inspiration from this style by Kiyotaka Tsutsumi, this one by Philip Johnson Salon and this cut on model and digital creator, Amy Julliette Lefévre. I have an oval face and have been told numerous times by hairdressers that I have quite fine hair, but lots of it. The choppy bob also has a slight wave to it. This is great if you have naturally wavy or curly hair and want to embrace your hair pattern without relying on styling tools or extra products.
Wilkes' eyes lit up as soon as we started talking about the cut. "I love doing a bob," he enthused, particularly because the change is often an incredible one. Mine would certainly be a transformation considering my hair is on the long side. After eyeing up my lengths, Wilkes announced that he'd like to cut off up to five inches.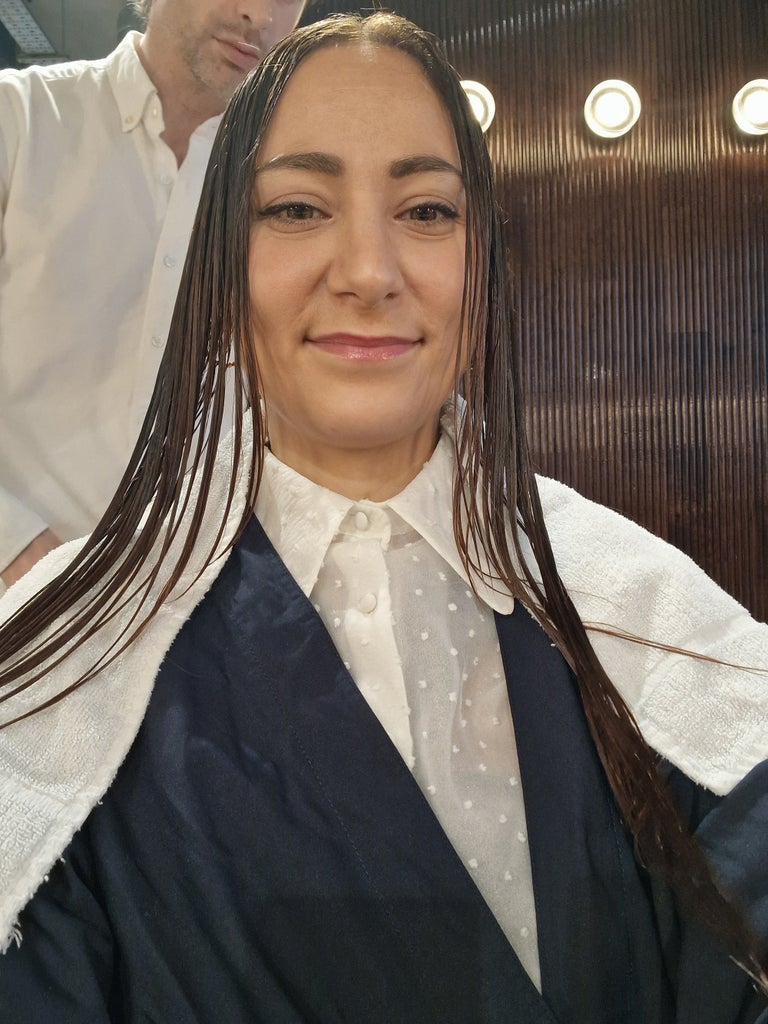 After getting rid of the length, Wilkes then worked his way round the ends with thinning scissors to take out some weight from underneath. This reduces bulkiness, he explained, and provides a bit more of that signature texture to the style. Despite the bob's choppy nature, Wilkes steered away from adding any layers and relied on the "shattered" ends technique. This is when a stylist 'point cuts' hair, essentially vertically cutting into the ends with sharp scissors. By taking weight out the front of the cut, Wilkes was also able to fashion a natural shape, which perfectly framed my face.
A squeeze of Hershesons Almost Everything Cream, £14, was applied throughout my hair and then Wilkes gave my hair a speedy blast with the Hershesons Great Hairdryer, £295, which is as light as an iPhone Max (and beauty editors say rivals the Dyson). By giving my lengths a quick rough-dry, Wilkes was able to see how my hair sat with the new cut. With a keen eye, he then cross-checked the length side by side and snipped the ends further to break them up a little. "This is so it doesn't look so 'clean' and is more effortless," he told me, much like Chung's accidentally perfect style.
How do you style a choppy bob?
Wilkes wanted the cut to offer complete versatility, especially in regard to future styling. "I want you to be able to switch it around to different partings and have it still look good," he explained. My parting is slightly off centre, but I could quite easily flip it further to the side for more volume. Wilkes tucked my hair behind my ears and demonstrated how it could still be styled in a sleek, straighter way, but thanks to the shattered ends, it's easy to muss up the hair with your fingers and a little texture spray to come back to a more tousled vibe. As a finishing touch, Wilkes lightly twisted some strands of my hair with his fingers and used his scissors to snip the ends to lend even more movement.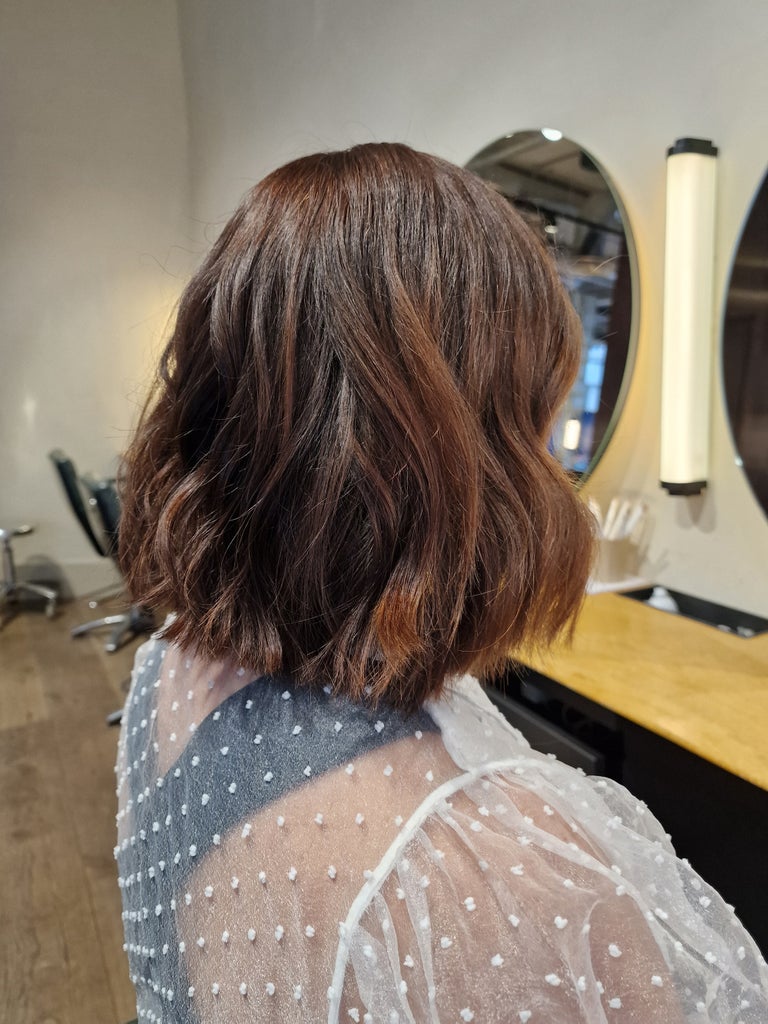 During my cut, Hershesons' stylist Damian Gray popped in to take over as he wanted to show me how the salon's newly launched The Wavemaker, £149, can be used for foolproof waves and curls. Not dissimilar to the much lauded Dyson AirWrap, £479.99, the Wavemaker curls hair for you (once you've dropped a section into the slot and pressed a button, that is). As I mentioned, I am pretty low maintenance when it comes to styling my hair (read: wash, condition and leave to air-dry), so this tool is not only fun to use but it is exactly the level of effort I'd be up for.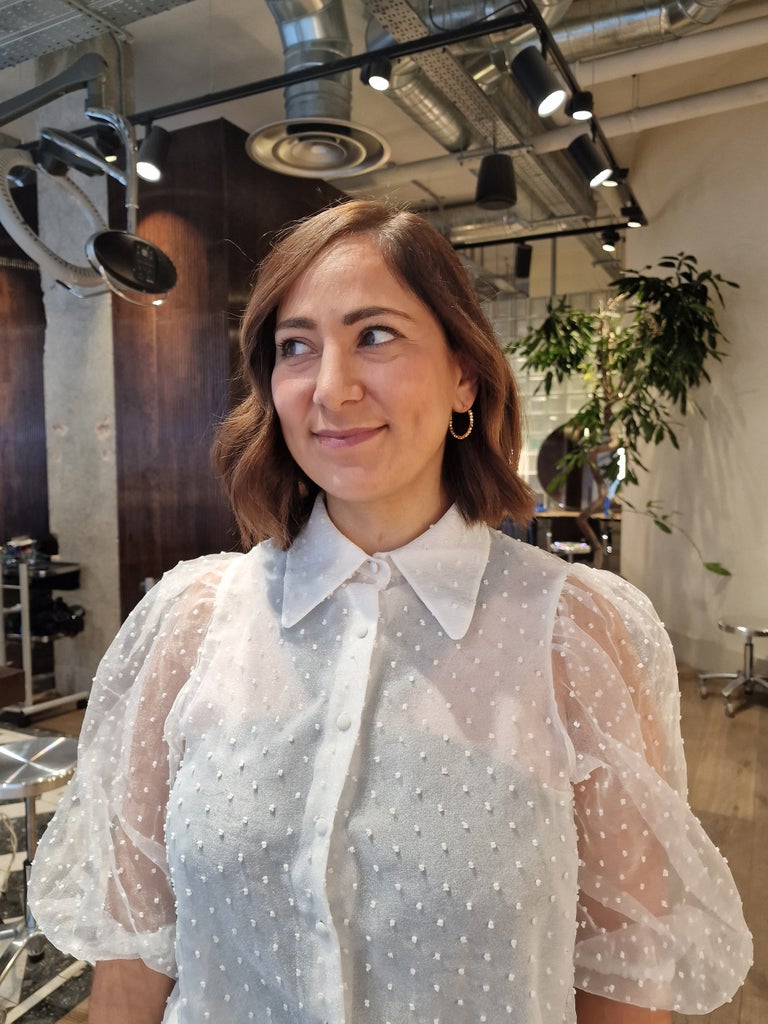 The final result
I was quite aware that having longer hair provides a sense of comfort. A bob is haircut territory that I'm not naturally confident in, having had some disastrous versions years ago (I'm sure many of you can also relate). The last thing I wanted was a staid, lumpy bob, so the prospect of going for something a little more relaxed and textured was reassuring.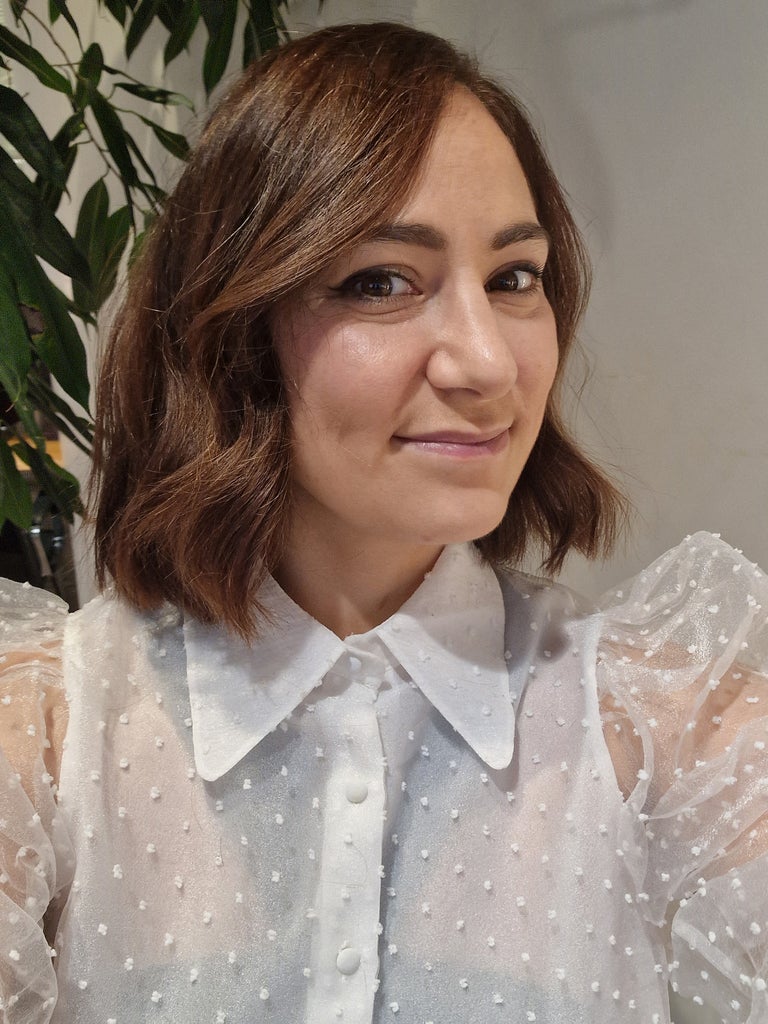 Stepping out of the salon I was surprised by how much I felt like myself despite having my security blanket quite literally cut away. I was also assured that I'll still be able to put it up into a (teeny) ponytail and get it off my face for when I do sports, which is crucial for me.
Honestly, I love the bob and I enjoyed the whole experience of Wilkes adjusting the choppy style to suit my face shape, hair texture and lifestyle. Happily I'm not the only one to think this; I got lots of compliments with my mum topping it off with an approving nod and declaring, "It's really nice." Thanks, ma.
At Refinery29, we're here to help you navigate this overwhelming world of stuff. All of our market picks are independently selected and curated by the editorial team. If you buy something we link to on our site, Refinery29 may earn commission.
Like what you see? How about some more R29 goodness, right here?
I Got A "Preppy Bob" Haircut For Autumn
Wait, Did You All Hate My Bob Haircut?
How To Pull Off The Highly Requested French Bob