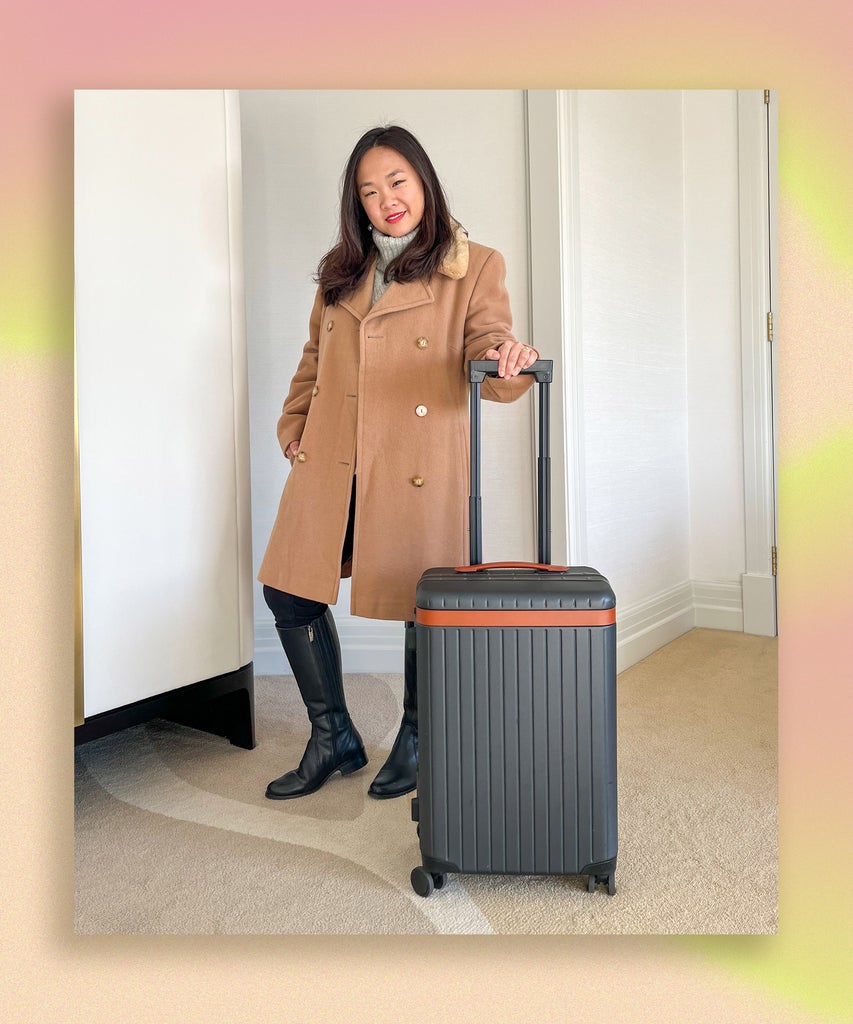 The discourse around the quiet luxury trend has really taken over the zeitgeist this year, helped of course by that Succession finale everyone couldn't stop talking about. Besides the endlessly memed insults and sucker punch of an ending, it wasn't just the show's lavish filming locations that got us talking; it was the characters' excellent luggage game courtesy of London travel brand Carl Friedrik.
I first took notice of Carl Friedrik in the penultimate episode of season three, when a flurry of staff carried Shiv and Tom's luggage into their fancy Tuscan villa. The Carry-On, along with Shiv's luscious leather Palissy Weekend Bag, immediately caught my eye. Upon rewatching the season three premiere, I also spied the brand's black Carry-On and Check-In suitcases in Logan's hotel room, when the disgraced media tycoon was hiding out in Sarajevo.
The suitcases, in the classic "trunk" style, are predictably stylish (they are good enough for the Roys, after all). The most popular colour combo is the dark-grey case with cognac Italian details, but the brand has just launched a sleek all-black version of its popular Carry-On Pro (which comes with a front laptop sleeve) and Large Check-In styles. This timeless colour way will look especially slick with a business suit, whether or not you're brokering multi-million media company mergers.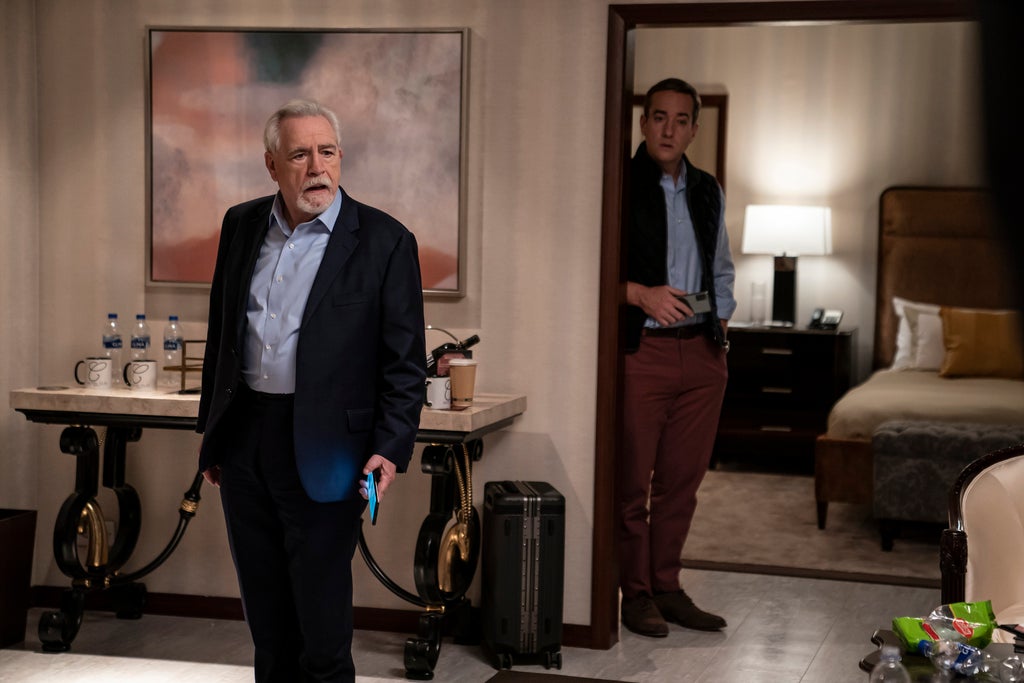 Of course, Roys' glamorous, high-stakes lifestyle is far from most of our realities, but as Refinery29's resident travel writer, I know quality, durable luggage when I see it. They're the perfect "stealth wealth", logo-less designer items that speak to the taste level and status of characters so many of us admire; and they have serious potential as travel investments. As a Succession fan myself, it's the perfect combination — there was no question that I had to give the brand a proper test-run. I will flag that the brand has prices better suited to the Roys than the average Joe, but lucky for us Carl Friedrik is set to hold its biggest sale of the year: up to 30% off sale for Black Friday from November 24 to 27. Just in time for Christmas gift shopping or prepping for winter getaways.
Here's my honest account of what it's like to travel like a Roy, using the Carl Friedrik Carry-On for three recent long weekend trips — in my best "CE-bro" getup. Keep reading to see whether the Roys' favourite suitcase lives up to the "quiet luxury" hype.
At Refinery29, we're here to help you navigate this overwhelming world of stuff. All of our market picks are independently selected and curated by us. All product details reflect the price and availability at the time of publication. If you buy or click on something we link to on our site, we may earn a commission.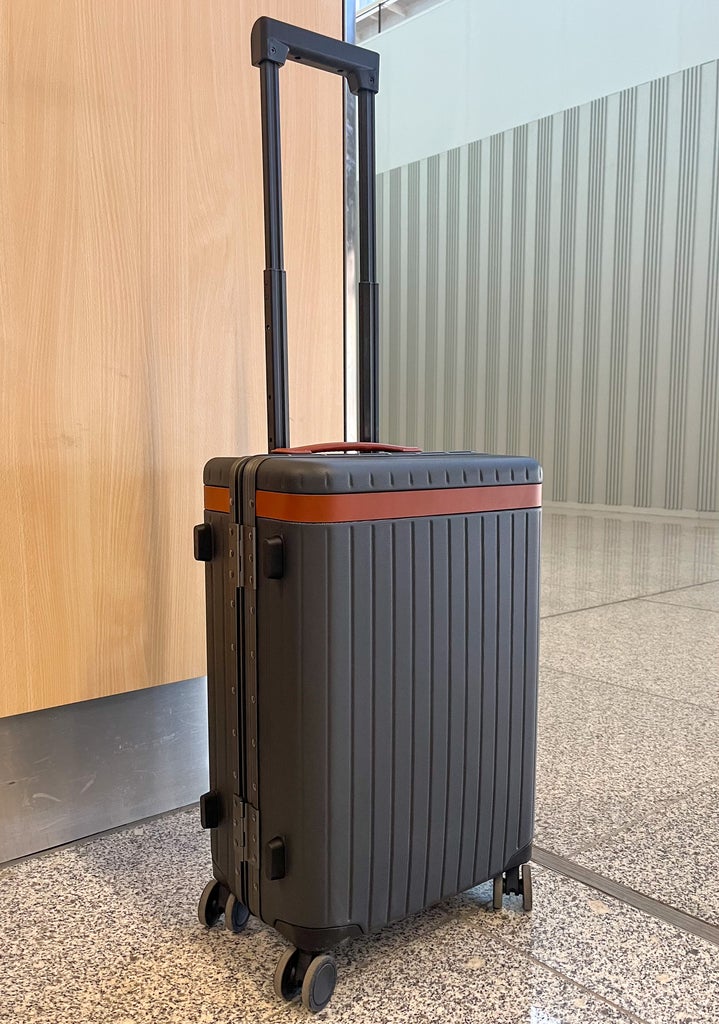 When I wheeled my Carl Friedrik Carry-On into a hotel lobby for my girls' staycation, I was immediately stopped by my bestie for the brand deets. I don't blame her: the suitcase has one of the most elegant designs I've ever seen and that's saying something (I test out a lot luggage for the Most Wanted team).
I really loved how the gunmetal grey hardshell contrasted with the tan leather details though as you can see in my photo below, this did easily show off dust and dirt picked up by my travels. Also, I'm not fully convinced by the quality of materials. Though the exterior is a polycarbonate case — a thermoplastic that scores high in both durability and weightlessness — held together by a rectangular aluminium frame, it's not as totally indestructible as it looks (as you can also see from the dents in my case below). I love all the design details though: the stripe and handles are made from vegetable-tanned Italian leather and the exposed nails dotting along the edges looked super-smart.
The vertical ridges on the shell reminded me of a Rimowa suitcase, another high-quality travel brand favored by the rich and famous (it's worth noting that at £385, this carry-on is almost £1,000 cheaper than Rimowa's signature cabin luggage).
At 14.6 x 21.6 x 9.5 inches, the suitcase has an impressive amount of storage compared to others. I credit this to the boxy shape and angular corners, which help max out every inch of internal real estate without violating airline size guidelines. I was able to pack four to five thick winter outfits on just one side and still have plenty of room on the other half after fitting in an extra pair of shoes and a big toiletry bag.
There are two sets of compression straps, along with one removable compression pad, to make cramming more efficient. While I liked that there are two small zipped pockets inside, I do think the suitcase could benefit from including a laundry bag — which, for £385, you would expect to be included. The two snap closures, both with password-protected locks, are a nice feature if you don't like fidgeting with zippers.
For how much it can hold, the suitcase itself didn't feel heavy at all, and the weight felt evenly distributed when it was full; I was able to lift it with ease. A special shoutout goes to the quiet-as-a-whisper Hinomoto wheels. If you're familiar with travel bags at all, you'll know that these are the crème de la crème of wheels, and they made pushing the baggage around virtually seamless.
Another potential drawback I can point out is the telescopic handle — it feels a bit hollow and rickety. I would also have preferred if it were more ergonomically designed to mould to the curve of my hand.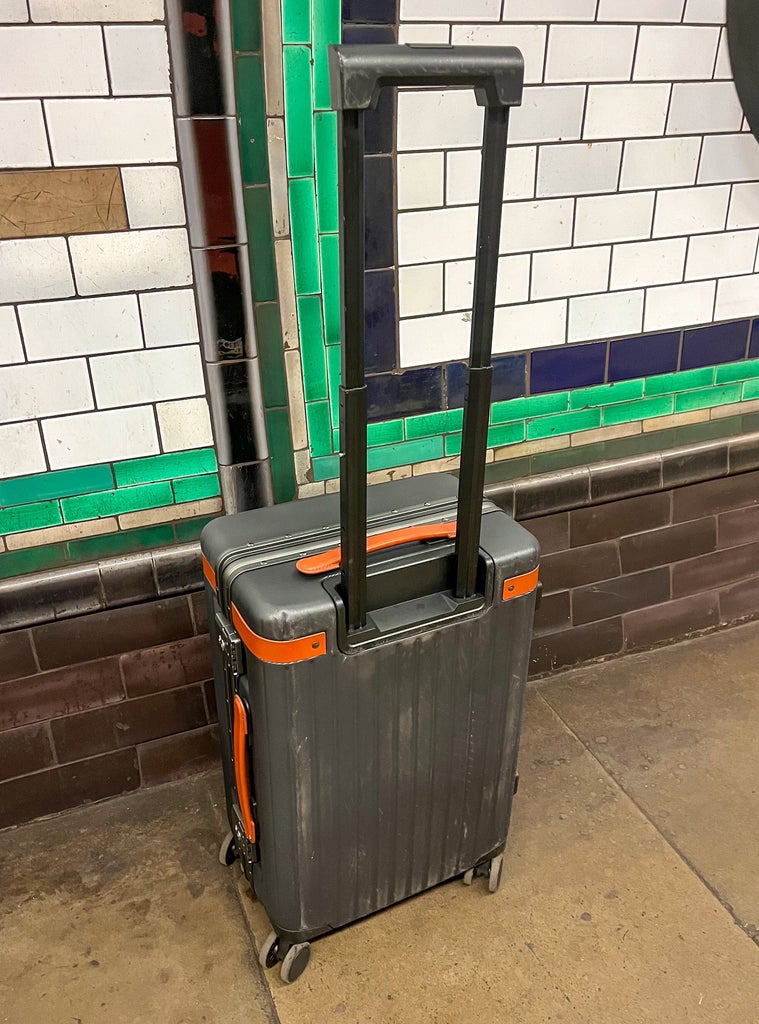 The suitcase held up nicely on my three short trips, but the ultimate test was an accident. I was making my descent into a Tube station when I tipped over the bag and sent it tumbling down an insanely long escalator. The suitcase made its way down what must have been a two-story height before crashing into a wall (not very Roy of me, I know).
Thankfully, no one was hurt and my bag was remarkably intact after this whole episode. Though, of course, not completely unblemished. Lucky for me the dirt and dust collected was easy to clean off, and the dents disguised by the textured, lattice pattern on the exterior.
This whole experience really sealed the deal for me: I may not be the owner of a billion-dollar media conglomerate, but this carry-on made me look — and feel — like one. This suitcase is the opposite of a ludicrously capacious bag, if you will. It has a stylish construction and a solid enough construction (despite my accident-prone self's best efforts to ruin that) to back up the price tag without screaming to the world that it's a bougie designer item. To me, that's what quiet luxury really is.
Shop the Carl Friedrik luggage seen in Succession
Like what you see? How about some more R29 goodness, right here?
Inside The New & Improved Solgaard Suitcase
29 Rolling Suitcases That Guarantee Smooth Travels
We Found The Best Luggage For International Travel