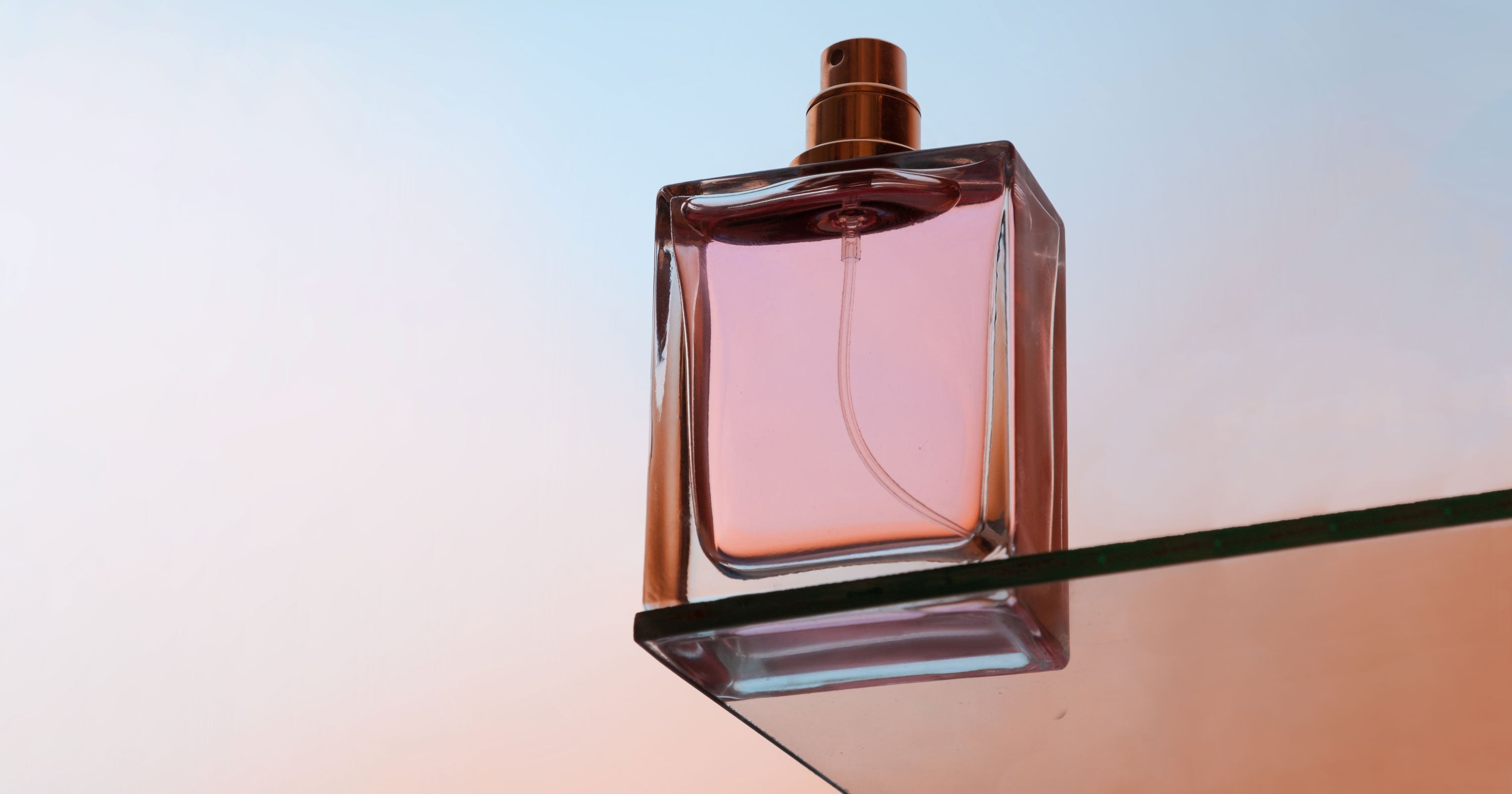 I follow a fashion and beauty influencer who appears to share every aspect of her life on social media. From the granular details of her house renovation to the ins and outs of her diet, it feels as though there isn't a single thing I don't know about her. Apart from the perfume she wears, that is.
She often sings its praises in "Get ready with me" videos, many of which earn hundreds of thousands — sometimes millions — of views. She even spritzes it on camera, though it's always concealed in a labelless bottle. A quick scroll through the comments reveals a handful of followers who, like me, are desperate for a big reveal. "Why won't she just tell us what it is?" one asks. Some are convinced that her lack of replies is intentional: "She's gatekeeping."
The influencer in question doesn't owe us a name. But it's difficult to ignore that lately, "gatekeeping" is being used increasingly in the context of perfume. On TikTok, the phrase "gatekeeping my perfume" has 32.7 million views and counting. A quick scroll serves up videos in which perfume lovers are reluctant to divulge the name of their signature scent, while a handful of others question the notion of keeping it under wraps.
What is gatekeeping?
A thread on Fragrantica, an online perfume magazine and community for like-minded perfume enthusiasts, titled: "Your opinion about people that gatekeep their signature scent?" also ruffles feathers. "A great fragrance can't hide a crappy attitude," writes one. Another says: "I think it's a bit petty. I've found it can get awkward and embarrassing, both for the asker and the 'gatekeeper'." A similar thread on Reddit amasses equally strong opinions, with posters referring to those who "gatekeep" their perfume as "pretentious" and "immature".
"Perfume gatekeeping" is clearly provocative, but is it actually gatekeeping? According to The Cambridge Dictionary, gatekeeping is the "activity of trying to control who gets particular resources, power or opportunities and who does not". In actuality, gatekeeping is detrimental — particularly for marginalised people — rather than something that beauty obsessives do on the internet. Somewhere down the line, though, the semantics have changed. The Urban Dictionary proves that it has become more colloquial: "Gatekeeping is to make your interests exclusive in order to protect them from becoming mainstream," reads one entry.
Why do people "gatekeep" their perfume?
Regardless of what you call it, one thing is true: Choosing to keep your perfume entirely to yourself divides opinion. So why do we do it? Pia Long, perfumer and cofounder of unique fragrance supplier and consultancy, Olfiction Limited, says that all aspects of our lives are exposed and scrutinised, particularly in the age of social media. It's little wonder, then, that many of us want to keep some mystery. "As a perfumer, I should be advocating for people to shout from the rooftops about their perfume," says Long, "but I totally respect people's right not to broadcast their personal scent choice online or even in person." The word "personal" is key here. On a deeper level, perfume is inextricably linked to identity, suggests Long. "People can also use perfume to signal something about themselves very deliberately," she adds, like a facet of their personality. For some, holding back their perfume retains a sense of uniqueness in a world dictated by trends.
On the other hand, flippantly spritzing on a perfume you like is a typical way for a lot of people to wear perfume, says Long, and there is nothing wrong with that. "It's a nice, laidback attitude," she adds. But for many others, perfume is considered and highly significant. "The way that many people build a collection of scents, or find a perfume that has some meaning to them, can make wearing a fragrance much more about identity," continues Long. In some ways, it can become incredibly intimate. Take Phlur Missing Person Eau de Parfum, for instance, a perfume that went viral on TikTok for reminding wearers of the loved ones that they desperately miss, be it long distance partner, a best friend or a parent. At the height of its popularity, it wasn't unusual to come across a TikToker in tears upon first spritz. Its ability to stir up poignant feelings of nostalgia means that Missing Person became so much more than a simple fragrance.
If a perfume means something to you, it makes sense that you might want to keep it close to your chest. But when Missing Person gained viral status (and subsequently a 100,000 person waiting list once it sold out) it ceased to be exclusive. Eudora Nwasike, certified fragrance specialist by The Fragrance Foundation, believes that exclusivity is the common denominator among those who don't like to share the name of their perfume. As the old adage goes, imitation is the sincerest form of flattery — but no one likes a copycat.
Why does everyone smell the same?
A conversation with a friend summarised this perfectly. I have a special knack of identifying which perfume someone is wearing as soon as they step into a room, but this time, I drew a blank. With a theatrical lean across the table, my friend revealed the name in hushed tones. "I don't want it to become the next Santal 33 or Baccarat Rouge," she whispered. I understood immediately. Maison Francis Kurkdjian Baccarat Rouge 540 in particular has gained as much (if not more) notoriety than Missing Person thanks to TikTok. Its bitter almond, sweet jasmine and smoky saffron even swayed me. Now, though, I catch a plume of it at the gym, in restaurants, on the Tube — everywhere. "It's like turning up to a party in the same outfit as someone else," my friend continued. "It makes me cringe." Among TikTokers, one of the most common reasons for keeping a fragrance a secret is so that others won't smell like them. "I will give [friends] the shirt off my back. I will let you wear my clothes, shoes, bags. Anything you want, you can have it," says one TikToker. "Don't ask me for my fragrance," they add.
Owning something that others don't can certainly make us feel special, but Marina Barcenilla, perfumer and founder of AromAtom: The Smell of Space, suggests exclusivity is an impossible feat. "If you've bought a perfume — be it niche or mass produced — so have many hundreds, thousands or hundreds of thousands of other people," she says. You may identify with the fragrance, the perfumer and the story behind it, adds Barcenilla, but it's your subjective interpretation and experience of the perfume that makes it unique, rather than the actual perfume itself, she says.
Chasing exclusivity is why Nwasike believes that fragrance personalisation will be one of 2024's biggest perfume trends. British perfumer Penhaligon's offers "fragrance profiling", for example. Think of it like perfume speed-dating, where you're asked a series of questions and then matched to a selection of fragrances intended to suit your taste. Nwasike pinpoints Ex Nihilo, which also provides a customised scent experience — The Osmologue — where you can blend your own perfume in store. Then there's the Experimental Perfume Club, which allows you to play alchemist at home. Regardless of whether you willingly share your signature scent or keep it under wraps, Nwasike reminds me that we all have different body chemistry, and that most perfumes will actually smell slightly different on everyone. If you're not convinced, she suggests trying perfume layering — combining fragrances you already own to create a scent with a little more unique flair.
Are perfume dupes ever as good as the original?
If total exclusivity is elusive, why else might one hold back the name of their perfume? I put the question to Long, who told me that some may feel embarrassed, particularly if the name gives away how much — or how little — their fragrance might cost. A quick whip round fragrance-obsessed friends and colleagues proves a common reason for withholding the name of a perfume is because of the eye-watering price. "I don't want to be judged or scolded for spending a quarter of my month's rent on perfume," one told me.
At the other end of the spectrum, cheap fragrance 'dupes' are big business. Take Aldi's beauty brand, Lacura, which is best-known for its perfumes with striking similarities to designer versions like Tom Ford Santal Blush, Yves Saint Laurent Black Opium and Thierry Mugler Angel. Lacura's Tom Ford dupe is just £4.99, a snip of the price of its high end counterpart, which retails at £220 for 50ml. But dupes are a controversial topic. On one hand, they are seen to democratise beauty, making trends and products more accessible. On the other hand, brands which "dupe" products have come under fire for passing off the work of bigger, more established brands as their own to gain a profit. This, says Barcenilla, is essentially plagiarism. While some may proudly exclaim that the fragrance you've just complimented them on was a bargain, others might not feel comfortable admitting so.
What are the best affordable perfumes?
With costs rising left and right, it's important not to judge where a person might choose to spend their money. If you'd rather steer clear of dupes, though, there are countless impressive perfumes which won't leave a dent in your wallet.
When it comes to luxury perfume, Barcenilla believes that, often, you're paying for packaging, publicity and perhaps a celebrity endorsement, not the actual juice itself. Zara's Cities collection, (£25.99 and under) was created by renowned perfumer Jo Malone. All eau de parfums, rather than weaker eau de toilettes, the staying power is akin to most designer fragrances I own (Magnificently Dubai, £25.99, is my go-to). Beauty editor friends of mine can't get enough of & Other Stories' chic fragrances, all under £30. Then there's Discover, Autograph and Provenance available at Marks & Spencer. The latter serves up niche-adjacent eau de parfums (think musky, woody, floral notes) for just £7.50, and the five star reviews speak for themselves.
All in all, the experts I spoke to for this story are sharply divided in their opinions. It's certainly a compliment to be chased down the street or stopped by a friend who's keen to know why you smell so good. In fact, it affirms your personal taste. But keeping it confidential is, of course, entirely your prerogative. All is fair in love and perfume.
P.s. Mine is Diptyque Orpheon.
At Refinery29, we're here to help you navigate this overwhelming world of stuff. All of our market picks are independently selected and curated by the editorial team. If you buy something we link to on our site, Refinery29 may earn commission.
Like what you see? How about some more R29 goodness, right here?
Which Floral Street Perfume Is Right For Me?
I'm Not Gatekeeping — I Don't Owe You Everything
10 Unique Perfumes You Can Be Sure No-One Else Has