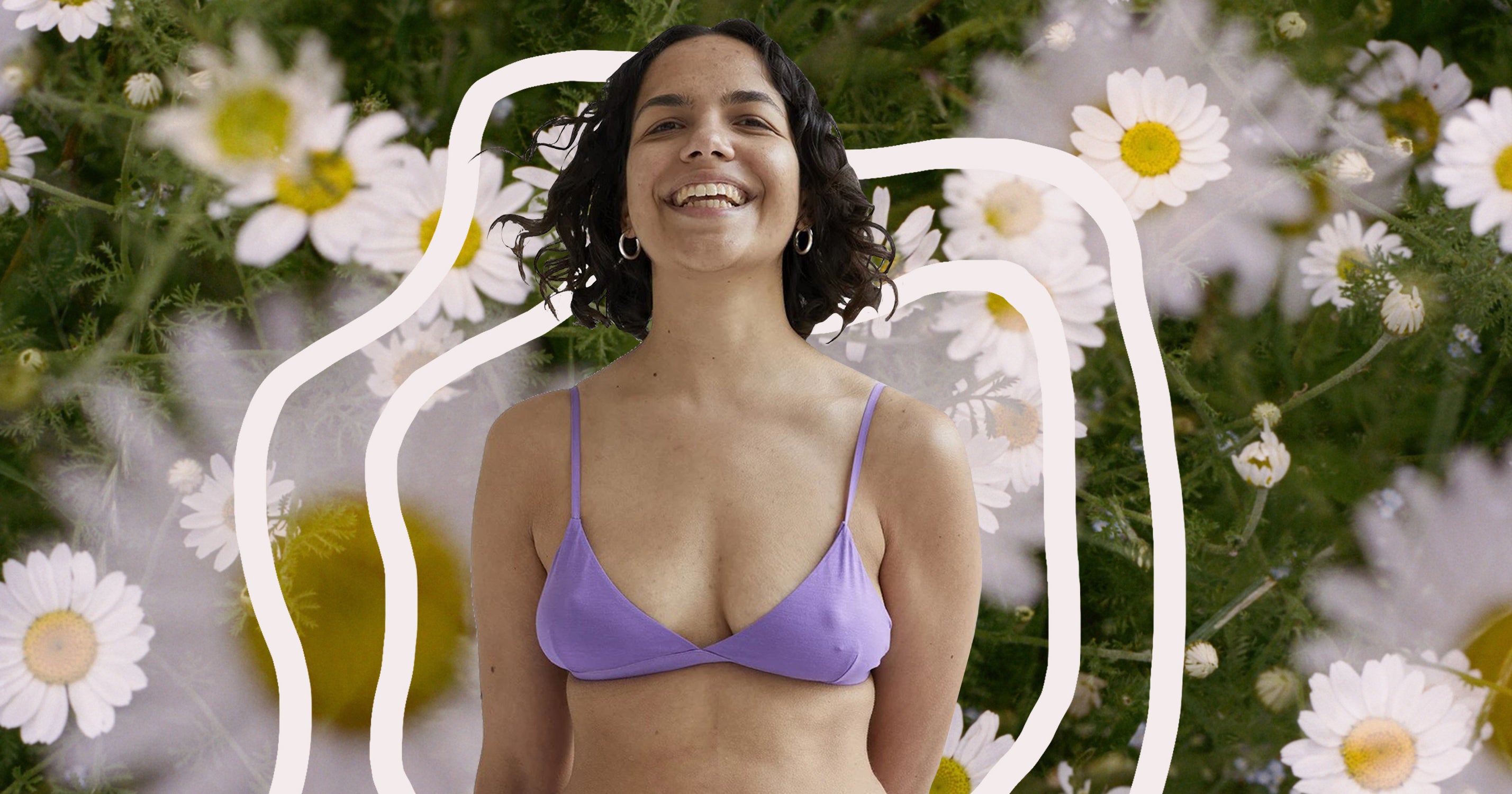 Ever since lockdown officially killed off the bra and work from home introduced us to the wonders of bralettes, we have been stout converts. Wire-free support, extra soft materials and comfort without anything pinching or digging in — as Hannah Montana sings, they're the best of both worlds. Perfect for our post-pandemic, remote-working world where loungewear sets and easy, breezy dresses are wardrobe essentials.
Despite popular opinion, bralettes aren't just for members of the itty bitty titty committee. From simple, seamless, cami-style designs to pretty lace pieces that you'll want to show off, plenty of brands are designing bralettes for bigger busts that don't skimp on support or style.
To make your search easier, we've done some digging to find the comfiest, most supportive and most stylish designs on offer for every bust size. From household names on the lingerie scene to the high street, indie and sustainable brands and plus-size lines, read on for the best bralettes to shop now.
At Refinery29, we're here to help you navigate this overwhelming world of stuff. All of our market picks are independently selected and curated by us. All product details reflect the price and availability at the time of publication. If you buy or click on something we link to on our site, we may earn a commission.
How do I find the right bralette?
First-things-first, we're going back to basics with Tanya Robertson, founder of inclusive lingerie retailer womanhood. According to Tanya there are three design features to take into consideration.
1. The underband
"The thicker the underband, the better the support. Underbands should have some stretch to them so they can move and adjust to your rib size effectively. Our top tip: look for a ruched underband as these are really effective at offering support."
2. The straps
"A similar principle applies: the thicker the strap, the better the support. Straps shouldn't dig into shoulders so if you have a bigger bust, look for straps that have a slight padding to alleviate the pressure on the shoulders."
3. Specific design features
"Some bras offer a cross stitching inside the bra that supports from the inside (Moons and Junes do this!). Another feature to look for is boning, which is essentially support to the side of the bust."
Best bralettes for small boobs
There's no better bra design for small boobs than a wireless bralette. Triangular designs especially are great as they are designed to follow the natural shape of your bust, meaning you don't have to worry about any material gaping around your ribcage or armpits. Lucky for you, there's plenty of choices out there, with extra pretty designs featuring lace, mesh or sheer materials.
Day-to-day, ultra-soft, unpadded triangle bras like these from Baserange and Sloggi offer a second-skin feel with just enough support to feel confident and comfortable. For small-busted girls looking for an extra oomph in the chest area, try bralettes with removable pads like the India Bra from Pour Moi or a lifting halter neck design like the Gilly Hicks Lace Halter Bralette from Hollister.
Best bralettes for medium boobs
Those in the mid-range of sizes have a tricky line to tread; you need more coverage than the non-wired, non-padded, tiny triangle bralettes but aren't quite filling out the full cup, longline designs. What you need is the middle ground: triangular designs with an extra underband for support, slightly thicker straps and back straps than your small-boobed sisters, and racerbacks that take some of the pressure off your shoulders.
Best bralettes for big boobs
For those with bigger busts, there are supportive bralette options out there, it's just a case of knowing what to look for. First up, a longline bralette like the Unlined Lace Crop Bralette from Torrid is brilliant. It not only doubles up as a cute, lace crop top but that extra material on the bottom offers lots of support, as does the high back. Likewise the Raised Lace Fuller Cup Bra from Lemonade Dolls — it has concealed double-layer mesh panels so, while it looks elegant and delicate, with the statement lace overlay taking all the attention, its in reality extra supportive; held up with double-width straps and a wide elasticated under-boob band.
Another feature to look out for is an inner sling: a separate piece of fabric on the interior (or exterior) of the bra which can also include a thin yet sturdy piece of cord that holds the two cups at the front, just above the underband. Both provide yet another level of support that keeps you in place. You can find them on the likes of Cosabella's Soire Curvy Sheer Mesh Bralette and these Lively's Wireless Spacer Bra. They prove that the classic triangular bralette look can be worn by bigger busts as well as small.
Best plus-size bralettes for support
Much of the advice for bigger boobs applies to plus-size babes, too. The material under the cups and round your back is just as important as that holding your bust, a higher back or racerback design reduces the pressure on your neck and shoulders, and an extra soft underband means no uncomfortable rubbing.
Best lace bralettes
Pretty, sexy lingerie needn't be uncomfortable, as these gorgeous lace designs prove.
Best white bralettes
Every lingerie drawer needs one or two quality white bralettes. Whether you're a scoop-front, cami kind of girl or you like the plunge-front look, they're an essential everyday piece – especially in the summer under your fave white T-shirts and blouses.
Best black bralettes
Another essential, there's no end of choice when it comes to black bralettes, from lacy pieces to simple, seamless designs for everyday. Statement pieces like this one from Underprotection double up as a date night top when worn with a pair of high-waisted jeans and a blazer.
Best seamless bralettes
Soft, comfortable and supportive enough to wear all day, these simple, seamless bralettes are the MVP of the work from home uniform.
Like what you see? How about some more R29 goodness, right here?
Bralettes Do Exist For Larger Cup Sizes
Yes, Ditching Your Bra Could Be Good For You
Comfy Bras To Buy If You're Done With Underwire